Kucherov, Lightning beat Devils 3-1, end first-round series
The Tampa Bay Lightning understand what it takes to be successful in the Stanley Cup playoffs.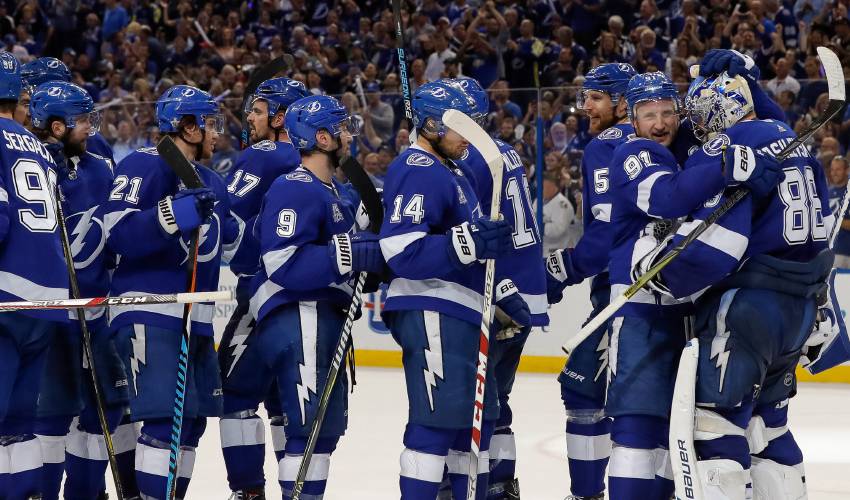 TAMPA, Fla. — The Tampa Bay Lightning understand what it takes to be successful in the Stanley Cup playoffs.
"You need your best players to be the best players, and they rose to the occasion," coach Jon Cooper said Saturday after the top seed in the Eastern Conference beat the New Jersey Devils 3-1, ending their first-round series in five games.
"People are going to look at this series and say: 'Oh, 4-1. Tampa took it to them.' Anybody that was actually watching these games knew clearly that's not what happened in this series," Cooper added. "It was fought from the drop of the puck to the end. We just happened to get big goals at the right time."
Nikita Kucherov scored his 27th career post-season goal and Andrei Vasilevskiy stopped 26 shots for the Lightning, who advanced to a second-round matchup against either the Boston Bruins or Toronto Maple Leafs.
Kucherov, the NHL's third-leading scorer during the regular season with 100 points, had five goals and five assists in the five games, setting a franchise for points in a playoff series. He also tied Vincent Lecavalier for second-place on the club's all-time post-season scoring list.
"I thought he elevated (his play) throughout the series, no question," Cooper said of the 24-year-old, two-time All-Star, who has 27 goals and 25 assists in 50 career playoff games.
"He's an extreme competitor," New Jersey coach John Hynes said. "When you look at a guy like Kucherov, he has talent but he's not a perimeter player. He's very strong on the puck, he competes hard, he's got good hockey sense. He's the type of offensive player you need to have success if you're going to have a chance to win the Stanley Cup."
Mikhail Sergachev became the youngest player in Lightning history to score a playoff goal and Ryan Callahan, back in the lineup after missing the previous two games with an upper-body injury, sealed it with an empty-netter for the Atlantic Division champions with 1.7 seconds remaining.
"Feels great, especially at home in front of our fans," Kucherov said. "I think we played well defensively, and teams that play well defensively move forward."
Tampa Bay won the first two games at home before splitting a pair of the road, returning to Amalie Arena after Kucherov had two goals and an assist to key a 3-1 victory in Game 4
The right winger's sizzling shot past goalie Cory Schneider put the Lightning up 2-0 at 12:27 of the third period of the clincher.
The 19-year-old Sergachev, meanwhile, became the youngest player in franchise history to score a playoff goal, giving the Lightning a 1-0 lead in the first period.
Schneider did all he could to give the Devils a chance to extend their first playoff appearance since 2012.
The goalie, who lost his starting job after being injured in January, stopped 35 of 37 shots, including Tyler Johnson's breakaway that kept New Jersey within striking distance after Patrick Maroon trimmed Tampa Bay's lead to one goal with three minutes left.
Will Butcher and Taylor Hall assisted on the only goal for New Jersey, which played without injured defenceman Sami Vatanen.
"I felt good and enjoyed playing, but at the end of the day I didn't get the job done," said Schneider, who replaced Keith Kinkaid during Game 1 and started the last four games. "I didn't extend the series, and I didn't get us the win, so a little bit for naught."
New Jersey kept it close, killing off four consecutive penalties in the second period, when the Lightning outshot the Devils 18-4 but couldn't expand its one-goal lead.
Schneider had two more saves early in the third as Tampa Bay sputtered on a fifth power-play opportunity.
"We have to stay out of the box better than we did tonight," Hynes said. "It sometimes disrupts the flow of the game, but I think if you look at the penalty kill, those guys played their hearts out. I thought Cory was fantastic. . Those guys kept us right in the game, right to the end."
Notes: The Lightning was 0-for-10 on the power play in Games 4 and 5, yet won both games. ... Vatanen, New Jersey's top defenceman, was injured during the opening period of Game 4 when he was checked high by Kucherov. The Devils also played without RW Stefan Noesen, who was scratched with a lower-body injury. ... Callahan (upper body) returned after missing Games 3 and 4. "It's always tough watching your team play, especially in the playoffs," he said. "To be able to get back out there and play was big."
___
More AP hockey: https://apnews.com/tag/NHLhockey
Fred Goodall, The Associated Press
Note to readers: This is a corrected story. A previous version listed an incorrect goal scorer.