Leafs' Matthews out at least 4 weeks with shoulder injury; doesn't need surgery
Auston Matthews knew things weren't right as soon as he felt the contact.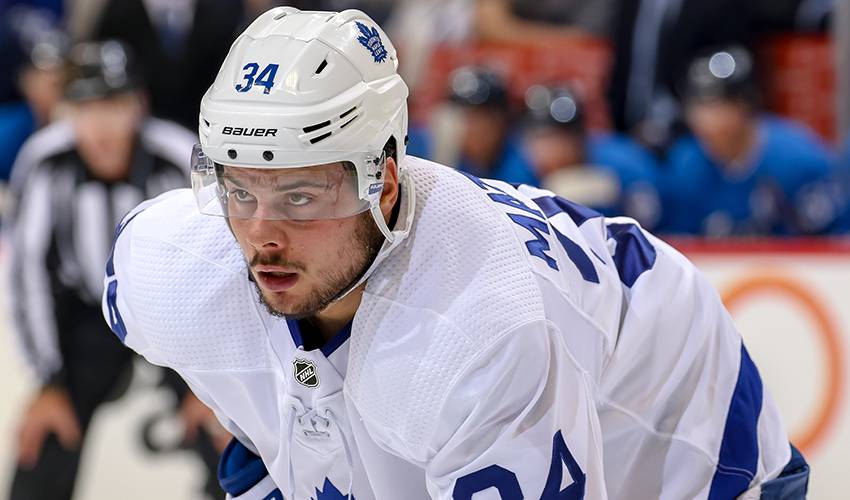 TORONTO — Auston Matthews knew things weren't right as soon as he felt the contact.
Now the Toronto Maple Leafs will have to do without one of their star centres for at least four weeks after announcing the 21-year-old has been placed on injured reserve with a sore left shoulder.
"It's frustrating," Matthews said Monday. "There's not much you can do. It sucks, but it's part of the game.
"I'm going to work as hard as I can to get back as soon as possible."
Matthews was hurt early in the second period of Saturday's 3-2 comeback victory over Winnipeg when Jets defenceman Jacob Trouba delivered a shoulder-to-shoulder check as the Leafs forward tried to cut in front of the net.
"I knew the guy was coming," Matthews said. "(I was) trying to get a shot off, but you don't really know what to expect because you're so close to the goalie.
"He took body, which is what you're supposed to do, and just caught me on a weird angle."
Matthews, who won't require surgery, immediately skated to the bench before heading to the Leafs' locker-room.
Toronto trailed 2-0 after 40 minutes against Winnipeg at Scotiabank Arena, but rallied for the victory minus its best player. The Leafs hosted the Calgary Flames on Monday night.
Matthews, who earlier this month became just the third player in NHL history to record seven straight multi-point games to start a season, had been held off the scoresheet in three consecutive outings plus a period before suffering the injury.
Heading into Monday's action, the third-year pro still was tied for second in the league with 10 goals and tied for sixth with 16 points following his red-hot start to the season.
Based on a minimum four-week timeline, Matthews will miss at least 13 games, with his earliest possible return date being the Boston Bruins' visit Toronto on Nov. 26.
Matthews, who played all 82 games in his rookie season before sitting out 20 times in 2017-18 with various injuries, said the mental grind is the most difficult aspect of the rehab process.
"You want to be out there so bad," Matthews said. "Watching the game is probably the worst part. (Not) being around your teammates, being a part of something, I think that's kind of the hardest thing."
Leafs head coach Mike Babcock, whose team sat 8-3-0 heading into the game against Calgary, said he talked to his player about dealing with this setback.
"When things don't go the way you want and they affect you mentally how are you going to handle it?" Babcock added. "Be around the group, do what you do, train real hard.
"Be better when you come back than you were."
Matthews suffered the same injury to his right shoulder last February and missed 10 games — the third time he found himself on the sidelines in 2017-18 following back and concussion problems — but still managed to finish second on the team in goals (34) and points (63).
"He did a ton of work this summer on his shoulders to make sure he was a stronger," Babcock said. "These things happen.
"It's too bad for the kid and yet it's an opportunity for someone on our team to play more, it's an opportunity for us to dig in and continue to get better."
With Matthews on the shelf, No. 3 centre Nazem Kadri has been reunited with wingers Mitch Marner and Patrick Marleau — a trio that had plenty of success in the second half of last season.
"My game doesn't change," Kadri said. "I've got to be responsible defensively and have that offensive flair, especially with the guys I'm playing with."
The newly formed line of John Tavares, Zach Hyman and Kasperi Kapanen rounds out Toronto's top-6 forward group heading into the game against the Flames.
The Leafs also remain without the services of skilled winger William Nylander, who was supposed to play alongside Matthews and Marleau this season, as the restricted free agent continues to try to hammer out a new contract with the club.
Kapanen took the spot usually occupied by Matthews on the Leafs' first power-play unit at Monday's morning skate, while Andreas Johnsson looked set to return to the lineup after two games in the press box. Babcock said that, at least for the time being, Toronto wouldn't be calling up an extra forward from the American Hockey League.
"Everyone's got to pick up the slack," Kadri said. "I don't think it falls on the shoulders of one specific player. Collectively as a group everybody can do a little bit more. We have the depth to temporarily fix the situation.
"(Matthews) is a player that you can't replace, but we'll hold the fort until he gets back."
---
Follow @JClipperton_CP on Twitter
Joshua Clipperton, The Canadian Press