Twenty years later, Dan Snyder's legacy continues to be felt by many
Dan's memory is inseparable from the arena, scholarship and awards named in his honour.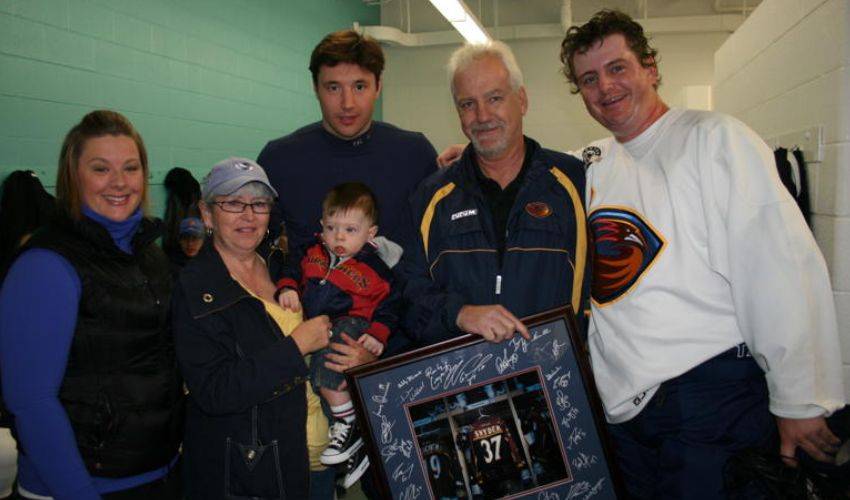 ---
How do you define a legacy?
How do you measure a life lived, especially if that life ended far too soon?
Every time a young boy or girl walks through the doors to Dan Snyder Memorial Arena at Woolwich Memorial Center in Elmira, Ontario, the memory of Dan Snyder flourishes as his legacy grows.
Every year when local student athletes apply for the Dan Snyder Memorial Scholarship, the measure of his life grows through new generations – even though current scholarship recipients were almost all born after Snyder passed away on October 5, 2003.
In some ways, though, things like legacy and the measuring of a life well lived are more subtle.
Like the moments Jake Snyder stands behind the bench in the arena that bears his brother's name and stares up at the banner honouring Dan in the rafters.
There is always a moment or two standing behind the bench in the Dan Snyder Memorial Arena or sitting up in the stands when Jake Snyder will be moved by the history, the memories and, of course, the loss.
He has also noticed that his sons Reed, 15, a goalie and Drew, 13, a forward, seem to have adopted their own rituals and routines when they play in the arena named for an uncle they never met but nonetheless know intimately.
"I guess it's hard to describe. It's kind of been overwhelming but in a good way," Jake Snyder said of the moments inside that arena.
If there are sometimes notes of melancholy at being at that rink, it is always overridden by the pride, not just in having Dan Snyder's name above the doors, but at the experiences that literally thousands have walking through them.
"Dan always made people feel that his success was a shared success," Jake Snyder said.
Whether it was Jake or their sister, Erika, their parents, Graham and LuAnn, or friends and teammates.
Or, in this case, an entire community.
"Anything that he did was always shared with everyone else," Jake added. "He liked to make people feel a part of it."
And so it was in life, it is now equally so two decades after Snyder's passing.
It was nearing the end of training camp in 2003 when Snyder was involved in a tragic car accident on September 29, 2003, with then Atlanta Thrashers teammate Dany Heatley.
During many of the subsequent days, head coach Bob Hartley would visit Snyder at Grady Hospital in downtown Atlanta. He remembers how tiny the room felt with all the machinery hooked up to the gravely injured forward.
Doctors encouraged Hartley to talk to Snyder about the thing that was central to both their lives – hockey.
So, Hartley would tell the unconscious Snyder that he had played a great game and he was good in practice and how proud he was of the player he was becoming. It was all true. In fact, Snyder was on the cusp of his first full-time NHL opportunity with the Atlanta Thrashers.
"And you could see [on the monitors] the heartbeat go up," Hartley said. "The doctors would give me the thumbs up."
After nearly a week it did appear Snyder was showing signs of improvement as doctors believed the swelling in his brain was diminishing.
On October 5, Hartley had been at the hospital and Snyder's mother, LuAnn, seemed upbeat. Hartley and his wife, the team's trainer and forward Ilya Kovalchuk went to watch an Atlanta Braves game at the team's stadium just east of downtown.
In the fourth inning, Hartley got the call that Snyder had died.
"That's impossible I said," Hartley recalled saying. He had just seen Snyder hours earlier. And then he broke down in the stands.
"I said, 'we need to go, Danny's dead.'"
At the hospital Hartley joined LuAnn for one last visit to Snyder's hospital room, a room that now seemed incredibly large with the machines and tubes and cords all being employed elsewhere.
"We prayed and we cried," Hartley said.
On the way out, LuAnn took her son's watch, broken into three pieces in the accident, and gave one piece to Kovalchuk and one to Hartley while she kept the clock face.
The watch would bind all three forever.
Wherever his coaching career has taken him, the piece of Snyder's watch gifted to him by a grieving mother is always with him.
Always.
"It's so tragic. I have great memories of Dan. But at the same time this is the nightmare of my hockey career, of my coaching career," Hartley said.
The team flew to Ontario days later and took buses into Elmira for the funeral.
Along the streets leading to the church where the service was held, young players and families from the community lined the streets in their hockey jerseys, tapping their sticks as the funeral procession passed.
"To me, that was representing who Danny Snyder was," Hartley said. "Dan was making noise. You knew that he was around. He was having fun and his energy was contagious."
It did not take long after Snyder's death for the family and those in their close-knit circle to begin making plans to ensure that from these moments of loss would spring something good.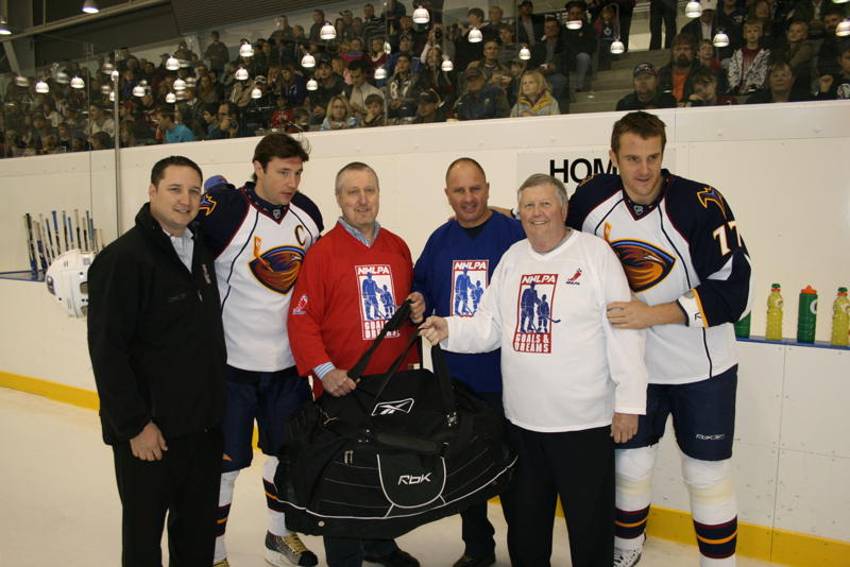 Rick Weiss was, for a time, the branch manager for a bank in Elmira, and then was part of the bank's sports and entertainment program before continuing his work in that field as Senior Estate Planning Consultant with One Sports and Entertainment Group.
Snyder was one of Weiss' clients dating back to Snyder's junior days in Owen Sound.
The two played golf together and became close.
Snyder had always wanted to give back to the community and had been working on some potential community projects with Weiss at the time of his death. The family decided they would try and raise money to build a new rink in Elmira where Snyder had grown up and played his youth hockey, and later Junior B hockey with the hometown Sugar Kings.
A charity golf tournament was the principal source of revenue for what would become the Dan Snyder Memorial Foundation.
Celebrities from across the hockey world rallied behind the tournament. Iconic Canadian band The Tragically Hip wrote a song about Snyder and were also supporters of the tournament and the foundation.
The tournament was held for five years, and the foundation helped raise an incredible $750,000 towards the building of what is now the Dan Snyder Memorial Rink at Woolwich Memorial Center.
The foundation has also funded a wide range of community initiatives. When it recently looked like it would be winding down, Graham Snyder discovered that the foundation was gifted more funds via an inheritance donation – and so the work will continue.
"There's lots of good places where we can help," Graham said.
Separately, with the help of the National Hockey League Players' Association, the Thrashers and Detroit Red Wings all wore a patch with Snyder's No. 37 on their jerseys during a 2003 New Year's Eve game in Detroit.
Those jerseys were auctioned off and the money raised by the NHLPA helped the Snyder family establish the Dan Snyder Memorial Scholarship.
The first scholarships were awarded in the spring of 2004. Every year, three student athletes, almost all from the Elmira area, receive contributions towards their post-secondary education. The total amount donated to dozens of students is now approaching $90,000 in scholarships.
"It's very, very grassroots," Weiss said.
Applicants who may excel at a variety of sports, not just hockey, must include a written piece describing why or how they possess some of the qualities that made Dan Snyder such an integral part of the teams and communities in which he played.
Graham and LuAnn, along with Weiss and a colleague, go through the applications and the NHLPA is also kept abreast of the process every year.
If, at some point, the family is not able to administer the scholarships, the NHLPA has agreed to take over administering the scholarship.
"Dan was an amazing young man and his family is very special to us," said Devin Smith, NHLPA Senior Director of Marketing and Community Relations, and someone who was on the ground helping get those jerseys back from Detroit after that game.
"The members of the NHLPA along with the NHLPA staff felt it was important to honour Dan's legacy," Smith added. "We are confident the scholarship is one of the many fitting ways to honour Dan, knowing the students who have received the award have shown an amazing work ethic and character just like Dan had."
When the recipients are notified, there is a presentation ceremony held at the Snyders' home in Waterloo, Ontario. LuAnn usually bakes a cake.
"It's just a nice evening," Graham said. "It's always very fulfilling."
"These young people are pretty impressive," he added. "They're very grateful."
When the funeral procession made its way through Elmira that day in October 2003, among those lining the street in her jersey and tapping her stick was Caelen Rank. Her father, Richard, and Graham Snyder were good friends and old hockey playing pals.
"That was such a powerful moment," Rank recalled. "And such a testament to Dan and the whole family."
Years later, Rank was co-president at her local high school. She had played hockey in the local youth program all the way through her teens, was an all-around athlete and volunteered at a local hospital.
She followed in her two older brothers' footsteps and was awarded a scholarship in 2010.
One of her brothers, Garrett, was a top amateur golfer and is now an NHL referee.
"I was so blessed and grateful to receive the scholarship," Rank said.
She obtained a nursing degree from Queen's University in Kingston and now works in the labour and delivery ward of a local hospital in Kitchener, Ontario. She has a son who is 16 months old, but does not cross paths with the Snyders as much these days.
As luck would have it, though, after Rank's niece's hockey team recently had a successful season they received a donation for an event through the Dan Snyder Memorial Foundation where Rank ran into LuAnn and Graham and got to introduce her son.
"They're incredible," she said.
These days, the student athletes who show up at the Snyder house were not even born when Snyder passed away. It is more likely parents of the recipients grew up or played alongside Snyder. Soon, the scholarship applicants might be grandsons and granddaughters of people who might have known Snyder.
"This has gone so deep [in the community] that even if you wanted to stop it, we couldn't," Weiss said.
Despite the passage of time, the business of giving back to people and groups and communities by a family who found a way to turn loss into giving, goes on.
"They're unbelievable people," Hartley said. "The strength that they showed throughout this tragedy is just unbelievable. I had a hard time to cope with this and I was drawing energy from them when it should have been the opposite."
"It's who they are," Hartley added. "They're simple people doing great things. They lost their son but they kept him alive by giving to others."
At the same time, the business of honouring and remembering Dan Snyder goes on equally undeterred by time's relentless passage.
Sometimes it is personal. Like when former teammate Ben Simon and his wife reach out on special anniversaries and dates during the year with long letters or emails reminding the Snyder family how much Snyder meant to them and how they will never forget.
Sometimes those messages are on a broader template.
Each year, the Owen Sound Attack gives out the Dan Snyder Memorial Award for Positive Outlook to an Attack player.
The Ontario Hockey League's former humanitarian award is now known as the Dan Snyder Memorial Trophy.
In Chicago, the Wolves continue to honour Snyder with the Dan Snyder Man of The Year Award that goes to the player who displays the most dedication to community service.
The latter award in his name is especially appropriate, given how integral Snyder was to community efforts when he played there.
Whether it was visiting sick children in hospitals or going to schools to do learn to read programs, Snyder was always all-in.
"The little things that meant a lot to other people, that I think resonates with me most with Dan," said Simon who was often at Snyder's side for these outings.
The Winnipeg Jets have continued an annual tradition started by the Thrashers with the Dan Snyder Memorial Award, honouring a player annually who "best embodies perseverance, dedication and hard work without reward or recognition, so that his team and teammates might succeed."
Kevin Cheveldayoff was the GM of the Chicago Wolves at the time, and when the Thrashers moved to Winnipeg in the summer of 2011, he took over as the Jets' GM.
Along with the Snyder award, Cheveldayoff also kept alive the franchise tradition that no one would wear No. 37 after Dan wore the jersey number. When Connor Hellebuyck raised the idea of wearing the number as a way of honouring Snyder, Cheveldayoff informed the netminder he needed to first clear it with the Snyders.
"I was really grateful that the Snyder family was allowing me to use 37 cause it's been a retired number," Hellebuyck said in 2016.
Graham Snyder insisted there was never any issue with Hellebuyck wearing the number and the contact has led to a nice relationship between the goalie and the Snyder family.
John Manasso covered the team for the Atlanta-Journal Constitution at the time of the accident and later wrote about the aftermath in "A Season Of Loss, A Lifetime Of Forgiveness: The Dan Snyder and Dany Heatley Story".
"As I was writing the book and speaking in depth to those who knew Dan best, one of the things that struck me was what a deep impact he made on people. This was not someone whom you forgot," Manasso said.
"It stood out more because on his NHL team, he was a role player – albeit one who had the potential to become a leader. It's a cliché but he was a larger-than-life personality."
"So it's fitting that someone who was so memorable has had an enduring legacy," the former journalist added. "The beauty of naming of trophies, scholarships and arenas after people is that long after the person is gone, it gets people to learn about the individual for whom they were named. The fact that the Dan Snyder Memorial Award goes to the Winnipeg Jets player 'who embodies perseverance, dedication and hard work without reward or recognition, so that his team and teammates might succeed' will inform generations of fans about Dan's character. And that's a tribute that most of us would be lucky to live up to."
Although Thursday marked the 20th anniversary of Dan Snyder's death, nothing really changes for the many that remain in his orbit.
This evening, on October 7, at Dan Snyder Memorial Arena, the Sugar Kings and the fans will pause before their game for a moment of silence to honour Snyder.
LuAnn and Graham will be in attendance. As always, when they head to the rink whether it is for one of their grandchildren's games or to see the Sugar Kings or for some other event, there will be a mix of emotions.
"There's a lot of pride there," Graham Snyder said. "There's a lot of, let's call it joy, there."
Jake Snyder is not sure if he will be able to make it. His son Drew has a hockey tournament in Hamilton, so they may be playing their own game.
It kind of all fits, doesn't it?
"I'm certain Dan wouldn't mind," Jake said with a laugh.
In fact, it is hard to imagine Dan Snyder would be anything other than ecstatic that his brother was at an arena watching his nephew play the game that continues to bind so many together even 20 years after his passing.