Knies determined to make a name for himself on Maple Leafs roster
Matthew Knies is eager to build off an impressive 10 games played with the Maple Leafs last season.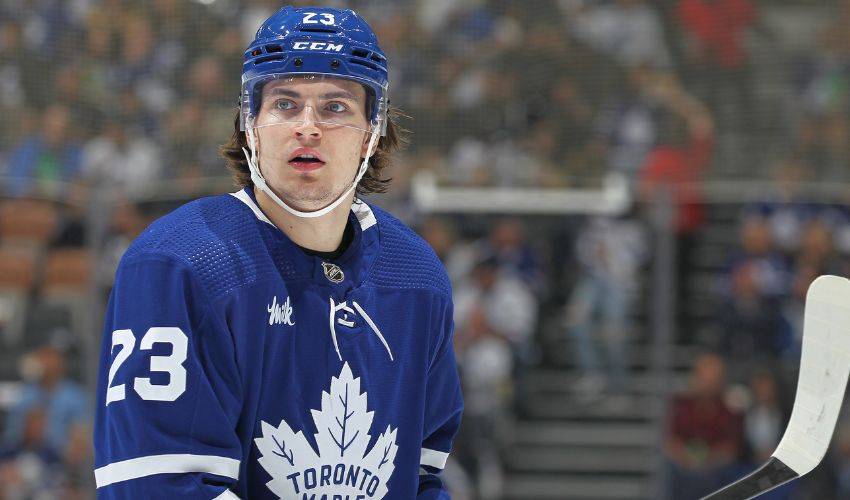 Feature photo: Getty Images
---
Matthew Knies is ready to take the next step with the Toronto Maple Leafs.
Making his NHL debut last season with three regular-season appearances, in addition to seven in the playoffs, the 20-year-old forward is now looking to build off his impressive start with the Maple Leafs.
"There are a lot of guys who welcomed me early and that makes everything so much easier," said Knies, who was selected by the Leafs in the second round (57th overall) at the 2021 NHL Draft. "Everyone made the whole experience so easy and made me feel comfortable. I think it was my job to come in and just play hockey, to be myself and go out there and focus on the game. The guys took a lot off my plate when it came to a lot of things off the ice and also looked out for me on the ice."
Knies earned the trust of his coaching staff early on, taking regular overtime shifts during the 2022-23 postseason. Knies was on the ice for three of the team's overtime winners in the First Round against Tampa Bay, which included an assist on captain John Tavares' series-winning tally in Game Six – a goal that sent the Maple Leafs to the Second Round of the Stanley Cup Playoffs for the first time since 2004.
Knies views those performances as a team effort.
"A lot of the credit goes to the guys and the coaches as well, who gave me a huge opportunity to just be myself on the ice. It's a terrific place to play hockey and I'm very lucky to have come into a situation where the guys have been so welcoming and encouraging. I felt like I was part of the family very quickly."
The native of Phoenix, Arizona, also became a part of another family.
Tavares and his wife, Aryne, welcomed the rookie into their home and gave Knies a place to stay once he earned a roster spot.
"I was super lucky," recalled Knies. "I moved in two weeks before they had their first daughter [Rae], so it was amazing that they had that generosity during a very hectic time in their lives. It meant a lot to me. It helped me adjust to the pro lifestyle and NHL hockey. I thank them a lot. I was very fortunate to be able to live with them and learn so much from a terrific athlete in John."
Now, Knies, who played for Team USA at the Beijing 2022 Winter Olympic Games, will look to build upon an encouraging introduction to the NHL.
"I feel lucky to have been given those opportunities last season. It's a new season. I want to have a good camp, work hard every minute and help the team be successful."
He is getting that chance now that the puck has dropped on the NHL preseason.
One of those games will be taking place in St. Thomas, Ontario, at Joe Thornton Community Centre as part of Kraft Hockeyville – an annual contest in which small communities bid on their chance to bring NHL hockey to their town and win $250,000 in arena upgrades. As part of Kraft Hockeyville celebrations, the NHLPA Goals & Dreams fund also donates $10,000 worth of hockey equipment to local hockey associations. This year's winning community was awarded to nearby West Lorne, Ontario.
"It's exciting and fun to be a part of," said Knies upon arriving in St. Thomas. "I grew up skating in a small rink, that's where everyone learns to play the game … it's fun to get back to these kind of places [small towns] and just see the joy on kids' faces here."
It is another chance for the hockey world to see why high praise seems to follow Knies wherever he plays, including his two seasons spent at the University of Minnesota where he earned a nod as a finalist for the 2023 Hobey Baker Award.
He is eager to start the next chapter.
"I have confidence in my game. I try to use my skating and my size to make a difference. That's my goal every shift, to make a difference."