34 rookies and prospects take part in 13th annual NHLPA Rookie Showcase
The group included Connor Bedard, Leo Carlsson, Logan Cooley and Matthew Knies.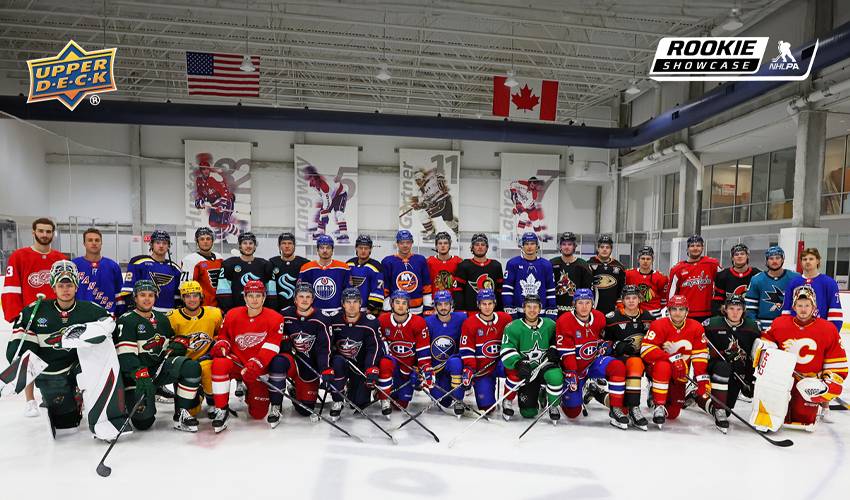 Feature photo courtesy of Upper Deck
---
The 13th annual NHLPA Rookie Showcase played host to nearly three dozen of the top NHL rookies and prospects at the annual event in Arlington, Virginia.
For Upper Deck, the official trading card partner of the NHLPA and the NHL, the primary purpose of the event is to obtain photo and video of the players in their respective NHL team jerseys to be used for their first official rookie hockey cards, as well as additional promotional materials throughout the season and beyond.
"It's great, this event really sets the stage for us at Upper Deck, to create new Upper Deck product with the next young crop of rookies," said Paul Zickler, Senior Brand Manager for Upper Deck. "Getting them out on the ice, wearing their official uniforms for the first time and getting those photos really goes a long way. The season starts right around the corner, so everyone's excited."
"Growing up I was a big card guy. I loved opening packs and stuff, so I think that would be cool," added Connor Bedard, the 2023 first overall pick by the Chicago Blackhawks.
Along with having their photos taken by Upper Deck and signing autographs for limited-edition cards and memorabilia, the impressive group of players – which included Bedard, Leo Carlsson, (2023 second overall pick by the Anaheim Ducks) and Logan Cooley (2022 third overall pick by the Arizona Coyotes) – had an opportunity to spend time together off the ice to compare their hockey backgrounds, discuss their summers and talk about the upcoming 2023-24 hockey season.
"It's been a lot of fun doing this, getting to meet some new guys and running into a few familiar faces," said Cooley, a Hobey Baker finalist last season at the University of Minnesota. "There's a lot to take in, but I think the one thing that stands out is getting to put that jersey and full equipment on for the first time. Signing the autographs on Sunday was pretty special also. It's a lot of fun to be here."
A sentiment echoed by fellow Coyotes prospect Conor Geekie, the 2022 11th overall draft pick.
"Seeing all the guys has been a highlight for sure," said the centre, who played the past three seasons with the Winnipeg Ice in the Western Hockey League. "Coming in, I didn't know too many of them, so it's nice to introduce yourself, have some laughs, and meet the guys who you are going to end up playing against one day."
On Tuesday, at MedStar Capitals Iceplex, the players worked through the event's numerous on- and off-ice stations with Upper Deck, as well as EA Sports, throughout the day, and they were also each interviewed by media members who covered the NHLPA Rookie Showcase. Afterwards, the players took to the ice for a light scrimmage session.
"You always look forward to getting out on the ice," said Carlsson, who recorded 25 points in 44 games with Orebro HK of the Swedish Elite League before being drafted by the Ducks. "It's been a great time, the two days, spending time with the other players. Everyone had a good time."
With training camp on the horizon and the new NHL season drawing ever closer, some players will look to increase the number of NHL games they played in during 2022-23, while others will look to have a strong camp and crack the lineup for the first time.
Ridly Greig, selected 28th overall by the Ottawa Senators in 2020, was one of the players in attendance who remains focused on building off an impressive start to his NHL career.
The native of Lethbridge, Alberta, scored his first NHL goal on February 19, and played in 20 games with the Senators in 2022-23.
"I'm excited to get into camp and get things going," said Greig. "We have a pretty young corps and some great veteran guys, which gets you pumped for the season. There is a lot to look forward to."
The future stars had rave reviews for the jam-packed, two-day experience.
"Everything has been great," said Matthew Coronato, the 13th overall draft pick of the Calgary Flames in 2021. "You get to see old friends and a lot of new faces too. Being able to meet everyone and take part in all of the things they have for the players has been awesome. It's been great to be part of it all."
This year's group of NHL rookies and prospects included Owen Beck (Montreal Canadiens), Connor Bedard (Chicago Blackhawks), Zachary Bolduc (St. Louis Blues), Tyler Boucher (Ottawa Senators), Xavier Bourgault (Edmonton Oilers), Leo Carlsson (Anaheim Ducks), Logan Cooley (Arizona Coyotes), Matthew Coronato (Calgary Flames), Sebastian Cossa (Detroit Red Wings), Will Cuylle (New York Rangers), Zach Dean (St. Louis Blues), William Dufour (New York Islanders), Luke Evangelista (Nashville Predators), Ryker Evans (Seattle Kraken), Brock Faber (Minnesota Wild), Sean Farrell (Montreal Canadiens), Tyson Foerster (Philadelphia Flyers), Conor Geekie (Arizona Coyotes), Ridly Greig (Ottawa Senators), Vincent Iorio (Washington Capitals), Tye Kartye (Seattle Kraken), Marco Kasper (Detroit Red Wings), Matthew Knies (Toronto Maple Leafs), Kevin Korchinski (Chicago Blackhawks), Denton Mateychuk (Columbus Blue Jackets), Filip Mesar (Montreal Canadiens), Pavel Mintyukov (Anaheim Ducks), Brennan Othmann (New York Rangers), Matthew Savoie (Buffalo Sabres), Logan Stankoven (Dallas Stars), Stanislav Svozil (Columbus Blue Jackets), Jesper Wallstedt (Minnesota Wild), Ozzy Wiesblatt (San Jose Sharks) and Dustin Wolf (Calgary Flames).