NHL, NHLPA celebrate launch of NHL Player Inclusion Coalition
$1 million USD committed to support coalition's programs through grassroots organizations, storytelling and special projects.​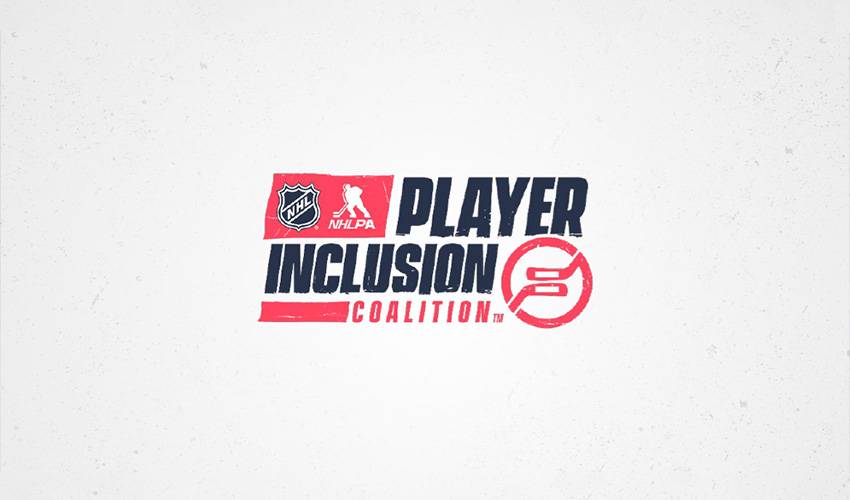 ---
NASHVILLE (June 27, 2023) – The National Hockey League and National Hockey League Players' Association today announced, the launch of the NHL Player Inclusion Coalition, a group of current and former NHL Players and women's professional hockey Players who work to advance equality and inclusion in the sport of hockey on and off the ice. As part of the launch, the NHLPA and NHL have earmarked more than $1 million USD to support the coalition's programs through contributions to grassroots organizations, Player-perspective storytelling, and other special projects.
The NHL Player Inclusion Coalition is co-chaired by NHL Alumni Anson Carter and P.K. Subban and now has 20 members with a range of perspectives across Players of color, LGBTQ+ Players, and allies. The group was first formed in 2020 as the NHL Player Inclusion Committee, where members met regularly to inform and develop recommendations to the NHL's Executive Inclusion Council on how to improve experiences for diverse Players in elite hockey.
Ongoing work together has sparked the group's evolution to a coalition, representing its transformation from a recommendations-based body to a group now focused on action. Coalition members have led and contributed to initiatives that accelerate social change through and within hockey. These initiatives include conducting inclusion experiences and educational sessions for NHL on-ice officials, NHL rookies and minor professional hockey; bringing voice to diversity and inclusion issues impacting hockey on personal platforms and networks; and leading and supporting hockey events to connect with and inspire underrepresented youth. A new website, NHL.com/Player-Inclusion-Coalition, is now live with more information about the group's members and efforts to date.
"Every member of the NHL Player Inclusion Coalition shares a passion to bring diversity and inclusion to the forefront of the hockey community. It has been incredible to work together to amplify the role of Players as advisors, ambassadors, and catalysts for real change, which benefits underrepresented groups in the game," said Anson Carter, who played in 674 NHL games. "As we enter the coalition's next phase, we are excited to grow our impact by sharing more of our work with fans to invite everyone who loves hockey to join the movement with us."
As part of the $1 million commitment, through support from the NHL/NHLPA Industry Growth Fund, a $750,000 NHL Player Inclusion Coalition Action Fund has been established to further the group's mission by directing resources toward grassroots programs that welcome and celebrate diverse hockey audiences.
"The Industry Growth Fund is committed to building the future of hockey by engaging a new generation of diverse hockey participants and fans," said Rob Knesaurek, NHL Senior Vice President, Youth Development and Industry Growth. "We are proud to support the NHL Player Inclusion Coalition as they collaborate with local community leaders who champion diversity, equity, and inclusion in everyday hockey programming."
"Current Players, NHL alumni, and women's professional hockey Players in the NHL Player Inclusion Coalition are strengthening the game through new activations focused on inclusive outcomes," said Chris Campoli, NHLPA Divisional Player Representative and former NHL Player who played in 440 NHL games. "The NHLPA looks forward to working with the coalition to facilitate continued progress and growth throughout hockey."
Coalition members will celebrate today's announcement with an on-ice clinic and panel for the Nashville Predators Creating Opportunities for Racial Equality (CORE) program, which introduces the game of hockey to new players ages 4 to 9 at no cost. The CORE program will receive a $10,000 USD grant from the NHL Player Inclusion Coalition Action Fund.
Additionally, throughout the 2022-23 season, each coalition member selected an organization that supports diversity and inclusion in hockey to receive a $5,000 USD grant from the NHL Player Inclusion Coalition Action Fund. An alphabetical list of current members and their grant selections is included below:
Cam Atkinson: Ed Snider Youth Hockey & Education, a non-profit that uses the sport of hockey to educate and empower underresourced youth of Philadelphia to prosper in the game of life.
Ethan Bear: Little Native Hockey League, an annual hockey tournament that brings together First Nation youth in Ontario for community-building and empowerment.
J.T. Brown: Seattle Pride Hockey Association, an organization committed to promoting and advocating for diversity and inclusiveness in the Pacific Northwest ice hockey community, with specific attention to LGBTQ+ inclusivity.
Blake Bolden: The Empowerment Effect, a mentorship program supporting young females in ice hockey, ages 7-16, from underserved communities in the Los Angeles area.
Madison Bowey: Detroit Ice Dreams Hockey Association, a youth hockey organization that minimizes the barriers that prevent underrepresented communities from access to ice hockey.
Anson Carter: The Atlanta Jr. Thrashers, a program that offers girls in the South opportunities to play hockey and develop into strong female leaders; and the Atlanta Sparks, a program that provides a fun and safe environment for athletes with special needs to play hockey.
Julie Chu: Caroline Ouellette Girls Hockey Celebration, an organization that aims to promote and develop female hockey via an all-girls hockey tournament with fun and competitive games.
Meghan Duggan: Hockey in New Jersey, an organization that inspires diverse youth to develop life skills, succeed academically, and create positive relationships through the sport of hockey; and Madison Gay Hockey Association, an all-gender hockey league for the LGBTQIA community in Madison, Wisconsin.
Mark Fraser: Seaside Hockey, a program that provides assistance to visible minority youths in the Greater Toronto Area to help more diverse children play hockey and gain life skills.
Chris Kreider: Ice Hockey in Harlem, an organization that offers ice hockey and off-ice programming that exposes young people in Harlem to experiences that prepare them for their future.
Brigette Lacquette: Siksika SN7, a group of youth and young adults who provide hockey programming alongside peer-to-peer support for young people in Siksika Nation.
Georges Laraque: Hockey 4 Youth, an organization that provides new Canadian youth with an opportunity to play ice hockey at no cost. Laraque's grant helped launch a new program for girls in grade 5-6 in the Saint-Laurent area of Montreal.
Jamal Mayers: North City Blues, a program for St. Louis students enrolled in KIPP schools and/or Friendly Temple that provides free instruction to learn ice hockey.
Al Montoya: The University of Texas at Arlington's University Crossroads. Montoya's grant will support a scholarship for students interested in a career in sports management, to inspire students from more backgrounds to consider careers in hockey.
Sarah Nurse: Seaside Hockey, a program that provides assistance to visible minority youths in the Greater Toronto Area to help more diverse children play hockey and gain life skills.
Ryan Reaves: Ice Hockey in Harlem, an organization that offers ice hockey and off-ice programming that exposes young people in Harlem to experiences that prepare them for their future.
Abby Roque: Clark Park Coalition Hockey, a program that offers recreational, educational, social, and mentoring programs for southwest Detroit families to help youth grow into responsible, self-confident adults.
Kevin Shattenkirk: Anaheim Family YMCA Youth Street Hockey League. Shattenkirk's grant is being used to cover the registration fees for participants to help the program grow.
P.K. Subban: HEROS Hockey, an organization that uses the game of ice hockey to teach life-skills and empower marginalized youth by providing free hockey programming to youth across Canada.
Zach Whitecloud: Dakota Nation Winterfest Minor Hockey Tournament, an annual tournament that coincides with celebration of Indigenous culture. Whitecloud's grant will be used to subsidize entry fees to reduce the cost for participating youth teams.
NHL Player Inclusion Coalition Resources
Website: www.NHL.com/Player-Inclusion-Coalition
NHL Player Inclusion Coalition Event Videos:
Member Reflection Videos: