Natalie Spooner remains on top amid women's world championship
Seeing the women's game continue to grow in popularity is a source of pride for Spooner and her contemporaries.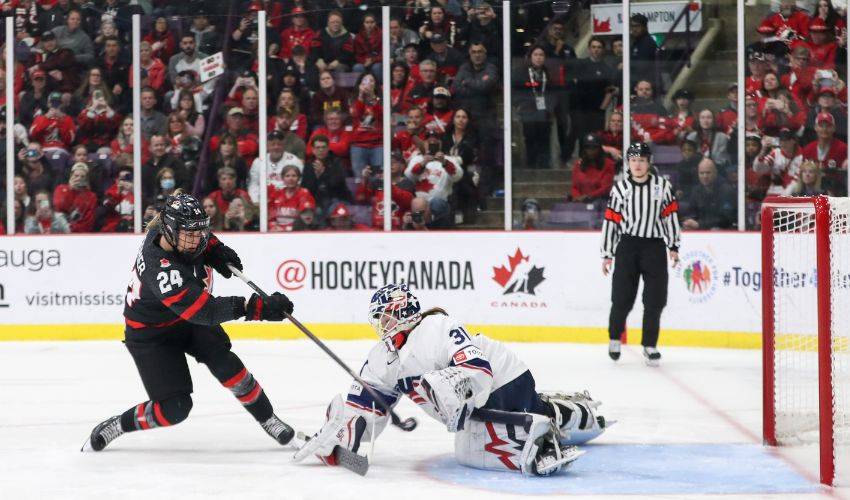 Feature photo: Getty Images
---
Natalie Spooner has the art of juggling down to a science, even if she is unsure of just how it is possible.
To say the 32-year-old Team Canada forward is leading a busy life inside and outside of the rink would be an understatement.
From becoming a first-time mother in December, to jumping back on the ice soon after to compete in Professional Women's Hockey Players' Association games, to currently skating in the IIHF Women's World Hockey Championship – Spooner's calendar is as full as it can be.
"I don't know if I've had time to think about it yet," said Spooner, who along with her husband, Adam Redmond, welcomed their son, Rory, into the world just over four months ago. "I'm sure, at some point, I'll be able to reflect. I've really just been taking things a day at a time and going with what works on that day."
Four weeks after giving birth, Spooner was back on the ice and training towards her goal of making the Canadian roster.
In all, she was absent from hockey for eight weeks for her pregnancy, one month prior and the month following giving birth.
Ahead of the world championship, Spooner was fortunate to feel comfortable enough to play in a half-dozen PWHPA Dream Gap Tour games.
"What we do is our medical staff speak directly with her, directly with her doctor and collaborate on whether she'll continue to gain speed and strength in a safe way," Team Canada Head Coach Troy Ryan told the Toronto Star in March. "All the information given to me was huge strides on a weekly basis."
If there was any question if she would be ready to keep pace against the best players on the planet, Spooner provided an emphatic answer in Canada's first round-robin test against Switzerland on April 5.
She scored the opening goal of the game and added an assist in a 4-0 Canada win, all of it with her husband and son watching from the stands.
It was yet another magical moment for one of Canada's most accomplished female players.
A three-time Olympian and two-time gold medallist, Spooner was tied for third on her team in points at 2022 Beijing Games with 11 points in seven games.
Spooner, who came into the worlds with 66 goals and 55 assists in 147 games (ranking her ninth all-time in points for Canada), is enjoying the game as much as she ever has.
"It's always amazing and such an honour when you get to represent your country. This time, I wasn't sure if I was going to make it back or make the team, so it feels extra special. And to have Rory here watching and to meet and interact with the girls – they just love him – it's been such a cool experience. We have such an amazing group and amazing culture where people can be themselves. It's been a different experience from what I'm used to, but it's been great. It's like one big family."
Seeing the women's game continue to grow in popularity, both internationally and with the PWHPA, is a source of pride for Spooner and her contemporaries.
"The opportunity that these young girls have to watch us, it's inspiring for them and it's wonderful for us. In years past, our game wasn't as widely publicized and available, you didn't get to watch the women as the girls do now. There are those opportunities now, where kids can come to get autographs and see the players on the red carpet. It's really cool."
As for what she does to unwind from her time on the ice and her role as a mother, Spooner pauses for a second.
Her response elicits a chuckle.
"I mean, I love napping, so a good nap is always nice. I was always a good pregame napper, so now that I don't have them as much, I look forward to a good nap whenever I get a chance. Other than that, I guess it would be just hanging out on the couch with my family."
All in a day's work of mastering the art of juggling.