Wyatt Johnston turns to Stars veterans in rookie season
Johnston has had a front-row seat to take in a wealth of knowledge from veterans Jamie Benn and Joe Pavelski.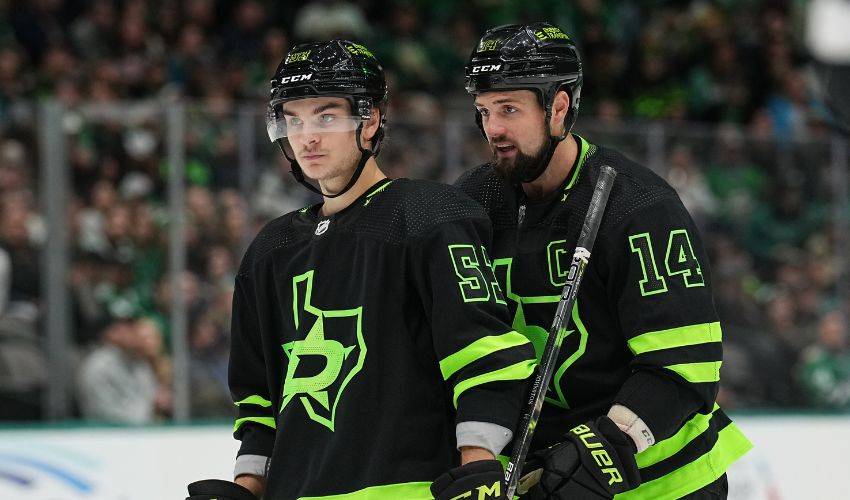 Feature photo: Getty Images
---
Wyatt Johnston feels right at home in the Lone Star State thanks to two of his Dallas Stars teammates.
Admittedly, the prospect of playing in an unfamiliar city and lining up against top-shelf competition was a little nerve wracking for the 23rd overall draft pick of the Stars in 2021.
Those feelings were quickly cast aside, thanks to a pair of NHL veterans and an offer Johnston just couldn't refuse.
"They have been awesome," said Johnston of teammates Jamie Benn and Joe Pavelski. "They have helped me from day one. I've been living with Joe the whole year. I've been able to talk to him a bunch and through that, I've been able to learn so much."
The rookie's hockey education extends well beyond the Pavelski household.
Johnston has had a front-row seat to take in a wealth of knowledge from the players who have a combined 2,220-plus games of NHL experience.
"There is definitely a lot for me to learn, so watching guys like Jamie and Joe, how they prepare for games, how they approach practice, I do my best to be a sponge and soak up as much as I can. I see, first-hand, with Joe, how he takes care of himself off the ice. All the little things he does to stay in peak condition has been a big help for me. It's a long season and it's a grind, so to see what he's able to do to stay on top of that has been something that has helped me too. I've been able to pick up some really good tips from both these guys."
Johnston carved out an impressive career of his own before he came to Dallas.
His rookie Ontario Hockey League campaign of 2019-20 produced 30 points in 53 games for Windsor. When the 2020-21 OHL season was cancelled due to the uncertainties associated with the COVID-19 pandemic, Johnston suited up with Team Canada at the 2021 IIHF World Under-18 Championship. Cast in a checking role, he contributed four points, including a pair of goals, en route to a gold medal.
In 2021-22, he topped all OHL skaters with 124 points in 68 games with the Spitfires.
And when he did make his big-league debut on October 13, 2022, against the Nashville Predators, Johnston wasted little time in reaching an NHL milestone. He became the second youngest player (19 years, 151 days) in Dallas Stars/Minnesota North Stars history to score in his NHL debut.
Once again, the 6-foot-1 forward points to Benn and Pavelski and their mentorship as a big reason for his successful first season.
"I've been playing with Jamie the whole year, so I've learned a lot from him, on and off the ice too. Having someone like that, a really good player, is great, but he brings a lot of other great things too, like his leadership and a lot of intangibles.
"To see how Joe plays the game, how committed he is to being the best player he can be, is a testament of how hard he works and how much he loves the game. It's been 17 years and over 1,200 games, and he is still playing at a top level. … And it's not just those two guys. Every single guy has been there for me. I'm a very lucky guy."
Johnston also credits living with the Pavelski family as another contributing factor to his successful first year in the league.
"Wyatt is a great kid and he has great self-awareness," boasted Pavelski of his newest family member and teammate.
Does the teenager consider himself a good roommate?
"I try to do my best. Joe has been awesome and so has his wife, Sarah, and their son Nate. They are so welcoming, and it's been a really good experience. They've made me feel comfortable here and that has been a huge for me. It makes it a lot easier on me. There has been so much change for me this season. Moving to a new city, a new country, and experiencing the NHL, has been a whirlwind. So, it helps to have people there for me and who make you feel comfortable."
As he has shown early on, he is a very valuable teammate.
Johnston's versatility allows him to excel in a variety of different scenarios, which has earned him a regular spot in the Stars' lineup and the trust of both his coaches and teammates.
"The biggest thing so far is that I think I've done a pretty good job in being able to contribute. I didn't want to just make the team, I wanted to be a contributor, to help the team win games. That's the most important thing for me. I've been used in a bunch of different situations this year. It's a tough league and there are so many good players, and you need to play well every night. And on those nights when maybe things aren't going your way, you need to find ways to do your part to help the team."
When he is not chasing those goals, Johnston is content to kick up his feet and put his mind and body at rest.
"I just like to relax. I like connecting with people back home that I don't see that much. I talk with my parents and siblings, as well as my friends. The biggest thing for me is to relax when you get those moments. ... There isn't a whole lot of time to unwind, so the best thing I can do, for me, is rest and recover."
At the rink, he does not need to look far for motivation.
"When you see the way Jamie and Joe approach the game, it rubs off on you. There is a reason they have played as long as they have and been as successful as they have. You always learn something from them every day."