Stars are set to shine at Canadian Tire PWHPA All-Star Weekend
The Canadian Tire PWHPA All-Star Weekend will take place December 9-11 in the Ottawa region.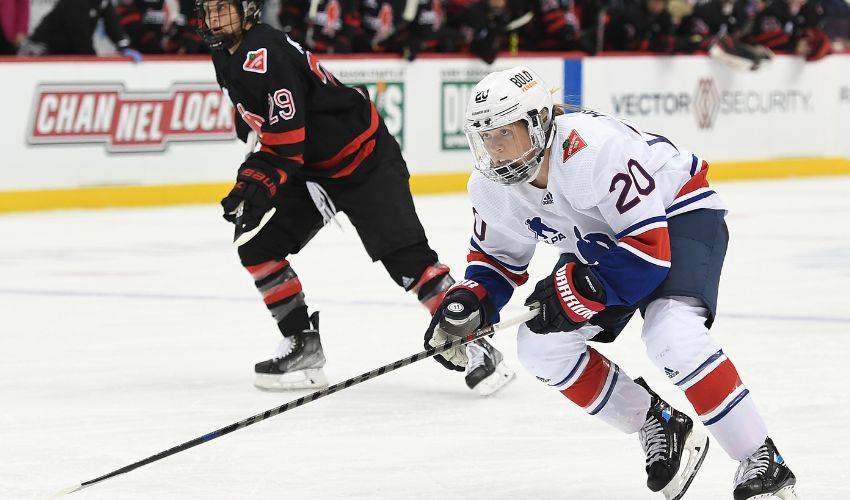 Feature photo: Getty Images
---
The stars of the PWHPA are descending on Ottawa this weekend.
The Canadian Tire PWHPA (Professional Women's Hockey Players' Association) All-Star Weekend, headlined by a skills competition and a 3-on-3 All-Star tournament and on December 11 at Canadian Tire Centre in Ottawa, will showcase some of the sport's top talents, a list that includes Olympic medallists Erin Ambrose, Hannah Brandt, Abby Roque and Laura Stacey.
Leading up to the All-Star event, all four PWHPA teams will play regular-season games in Kemptville, Ontario and Gatineau, Quebec on December 9, followed by games at Canadian Tire Centre one day later.
"We've had some great events so far, and everyone keeps getting better and better," said Team Canada forward Laura Stacey, who won silver at the 2018 Olympic Games and gold at the Beijing 2022 Olympic Winter Games. "I'm looking forward to this. Every time we have an event in Canada, it's extra special to be able to do that in front of our fans. I think we're all just really excited for this."

It is a sentiment echoed by her fellow players.
"This is going to be a really fun weekend, playing a couple of games and then on to the all-star part, with the game and the skills competition, and all of that," said Hannah Brandt, who struck Olympic gold with the United States in 2018 and won a silver medal earlier this year. "I'm really excited to be part of it. It's going to be an exciting time for women's hockey. This year has been a great showcase of that because we are all playing on the same teams and working towards having a league. It's been a really good year for us as a collective group."
The PWHPA All-Star Weekend gets underway starting with the skills competition at 11 a.m. Participating players, selected by their peers, will compete in four skills challenges: fastest skater, accuracy shooting, skills challenge and a breakaway challenge.
Following the skills contest, a round-robin tournament of six, 10-minute 3-on-3 games will kick off at 12:00 p.m. with four teams. The final two will compete in the championship.
The captains for the four teams are Marie-Philip Poulin (Team Harvey's), Hilary Knight (Team Sonnet), Sarah Nurse (Team Adidas), and Megan Keller (Team Scotiabank), all of whom were voted in by fans to represent their teams. Those players will then draft their starting line-up from a pool of 40 additional PWHPA All-Stars, to be selected by PWHPA players, coaches and staff.
PWHPA members will also take part in autograph sessions, meet-and-greets throughout the weekend and skills clinics on Saturday for both youth girls ages 6-11 and adult women 19 and over.
The weekend is just the latest initiative by the PWHPA to help amplify and promote the women's professional game.
Established in May 2019, the PWHPA's mission is to promote, advance and support a viable professional women's ice hockey league in North America, guided by its goal of providing a united voice to players advocating for the creation of a sustainable professional league. A key pillar of the PWHPA is to facilitate training needs and programming opportunities and to collaborate with partners and organizations to make hockey more inclusive for women and future generations.
"This weekend is going to be a lot of fun to be part of, a chance for us collectively to show our character and have some fun out there," said Erin Ambrose, a defenceman who played a key role in helping Canada capture Olympic gold in 2022.
The players' competitive nature is already in high gear ahead of the weekend.
"I'm looking forward to the fastest skater," said Ambrose. "Obviously, Kendall [Coyne Schofield] is known for what she did a few years ago during that event at the NHL All-Star Game, but I have my money on Renata [Fast]. I bet Abby Roque dinner. She has Kendall and I have Renata."

That sort of camaraderie between PWHPA members transcends the heated rivalry between the United States and Canada.
Despite their intense battles on the international stage, joining together to help grow the game and create a professional women's hockey league supplants any on-ice friction.
"We play Canada versus U.S. so many times throughout the year, so there is always that passion and pride on the line," said Stacey. "Those games are fierce, as they should be, because there is so much on the line. It does get intense, but at the end of the day, we respect one another on and off the ice. We're in this push for women's hockey and women's sports, in general, as a unified group. When we do that, we're so much stronger."

"It's important that we work together for that common goal," offered Brandt. "This year has been a great showcase of that because we are all playing on the same teams and working towards having a league. It's been a really good year for us as a collective group and I'm looking forward to what the future has in store."
A future that seems far more certain than it ever has.
"It's pretty special, this working together," said Ambrose. "This is something I'm going to remember my whole life. You look at how much hatred there is between the U.S. and us when we play each other. I absolutely despise Abby Roque when she wears that U.S. jersey, but she is someone I thoroughly enjoy being around. I have so much respect for Abby and what she brings to the U.S. program and to the game of women's hockey. It shows the unity we do have. We are playing for something bigger than our ourselves."
Roque, who took home silver with the United States in Beijing, agrees.
"First off, those are very kind words from Erin. I think we all feel that. Whenever we play one another, those games typically see you going at people you could be best friends with. But for that moment, they are on the team, and you want to win for your country. That's just the competitive way of our game. But getting to meet the girls from Canada through the PWHPA, there are so many great people who love the game and want to grow it. It's awesome to get to play with people you have played against, and to have that united focus on creating a pro women's league. We're fighting for something that's a lot bigger than us."
The players have seen a steady increase in awareness and fan support over the past few years, momentum they are committed to seeing carry on.

Through PWHPA regular-season and playoff games, and the upcoming all-star festivities, the players are keen on keeping the puck rolling in their quest to see their goal of a viable professional league come to fruition.
"Everyone who tunes in or shows up in person is going to see how great women's hockey is," offered Brandt. "The level that we are at right now will show the talent that our game has. Hopefully, this leads to more good things to come. It's been awesome to see the support, all the young girls and boys that come out. They want our autographs, they want or photos, and they enjoy watching us play. That's what it is all about, to give them the encouragement to chase their dreams."
"That's why we created the PWHPA in the first place," added Stacey. "We want to create something so much bigger and better that all these little girls and boys can watch, and cheer for. That's how this [PWHPA] all started, with the thought of, 'If you can see it, you can be it.' That's still our motto to this day. We've been living this showcase lifestyle for a couple years now, and we want to create the league that all little girls can dream about playing in. This weekend and all of these weekends are just another step in that direction … a lot of progress has been made, but we want to have even more."
And it will be done as a united team.
While there is still plenty of work to be done in the pursuit of a women's pro hockey league, widespread optimism from the players is at an all-time high.
"I think the real question is, 'What am I not optimistic about?'" said Ambrose. "We are finally at a place where we see a finish line. It's been a lot of years in the making and I think we sometimes forget how long it's been until you sit back and think about it. To know we're getting closer, it makes it all worth it."
Something the players will be reminded of often over three days in Ontario and Quebec.
"When we we're skating and we notice the kids holding up signs for their favourite player or their favourite team, it makes you realize why we are doing this," said Stacey. "We love the sport of hockey, but we also see the opportunity to create something beyond just ourselves. Whether we play in that league for one year, or not at all, we can all say that it has been successful and that we've created a league that's viable and sustainable for forever. It takes everyone and we need everyone to push it to that next level."
Stronger than ever, noted Roque.
"I think we're right on the cusp here of some big stuff, and it's very exciting. We'll continue to do what we've done through the PWHPA, and that's to work together for women's hockey and women's sports."