Winners of 'Future Goals Virtual Science Fair Presented by SAP' competition announced
Students in Grades 4-8 Across U.S. and Canada Submitted Sustainability-Themed Hockey Projects.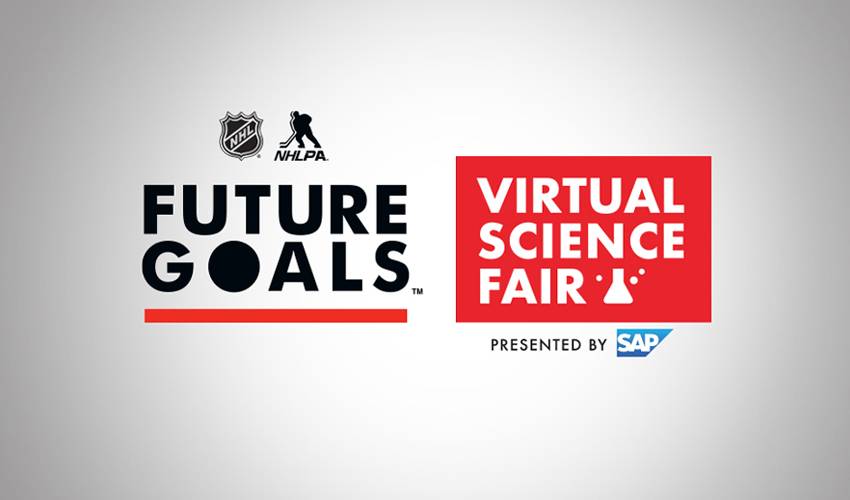 ---
IN CELEBRATION OF EARTH DAY, NHL AND NHLPA ANNOUNCE MIDDLE SCHOOL WINNERS OF 'FUTURE GOALS VIRTUAL SCIENCE FAIR PRESENTED BY SAP' COMPETITION

NEW YORK (April 22, 2022) – In celebration of Earth Day, the National Hockey League Players' Association (NHLPA) and National Hockey League (NHL) today announced the winners of the second annual Future Goals Virtual Science Fair presented by SAP.
The STEM-based (Science, Technology, Engineering, Math) Virtual Science Fair, which is the first and only competition of its kind among major professional sports leagues, identified environmental sustainability as this year's theme, in line with NHL Green's ongoing commitment to promote green business practices, and SAP's global efforts to help its partners and customers drive sustainable change.
This year, students were asked to submit a project redesigning one element of a professional-level hockey arena to make it more environmentally sustainable. This year's first-place winners were surprised with the news by special guests including NHL Alumni Wendel Clark, Andrew Ference, Mason Raymond, and Shane Willis, and former professional female hockey player Lyndsey Fry. The winning submissions are:
First place (Grades 7-8): Langstyn V., Grade 7, Massachusetts, researched arena operational enhancements and environmental innovations such as using LED lightbulbs, incorporating recyclable LDPE thermoplastics instead of plexiglass for use in rink boards.
First place (Grades 4-6): Tyler K., Grade 5, Minnesota, hypothesized whether raising the freezing point of water using chemical additives would lower the amount of energy used to maintain the ice in an NHL arena.
Presenting sponsor SAP will donate $2,500 USD toward an environmental sustainability project to the school of each first-place winner. To see a complete list of winners and prizing, visit FutureGoals.NHL.com/Virtual-Science-Fair.
"We'd like to congratulate the winners of this year's Virtual Science Fair for their creative and forward-looking projects that emphasize the importance of sustainability," said Amy Schulz, Sr. Director for SAP Sponsorships. "We're excited to see how these donations will support and advance future sustainability projects for the winners' schools, while making a tangible impact in our local communities."
Since 2010, NHL Green has been committed to promoting green business practices across the League and its Clubs while educating and inspiring fans to ensure hockey thrives for the next generation. To foster youth engagement on environmental awareness, the League will continue to work with national partner National Environmental Education Foundation (NEEF), a non-partisan, non-advocacy organization working to make the environment more accessible, relatable, relevant, and connected to people's daily lives. Together with NEEF, the League will design environmental education activities focused on educating youth on topics to build healthy and vibrant communities where they live, work and play.
"The creative entries we received for this year's Virtual Science Fair exceeded our expectations," said Omar Mitchell, NHL Vice President, Sustainable Infrastructure and Growth Initiatives. "It's clear that these young students aspire to have a meaningful ecological impact. We're proud to showcase their hard work, and work with them to build stronger and healthier communities."
"With the continued growth of the NHL/NHLPA Future Goals Virtual Science Fair presented by SAP, announcing this year's winners in celebration of Earth Day is an exciting way to connect the game of hockey with environmental sustainability," said Rob Zepp, NHLPA Director, Strategic Initiatives. "Both Langstyn and Tyler presented unique and interesting projects by applying STEM-based thinking to hockey in their winning submissions for the Virtual Science Fair, which engaged many students across Canada and the U.S."
In collaboration with digital education provider EVERFI, the Virtual Science Fair is part of the NHL and NHLPA's Future Goals initiative, which is funded by their joint Industry Growth Fund (IGF). In 2013, the NHLPA and NHL established the IGF to support NHL and Club business initiatives and projects which are designed and intended to promote long-term fan development, grow the game of hockey, and provide educational resources. Future Goals – Hockey Scholar is a free online program that uses hockey to teach STEM concepts, inspiring boys and girls to develop their STEM-based skills in a fun and engaging way. Since 2014, more than 3.5 million students have participated in the program, with students seeing STEM skills increase by 82-percent.