After capturing her third Olympic gold, Marie-Philip Poulin remains determined to grow the women's game
As one of the best players in the world, and an ambassador for Kraft Hockeyville, Marie-Philip Poulin is driven to build on the game's momentum.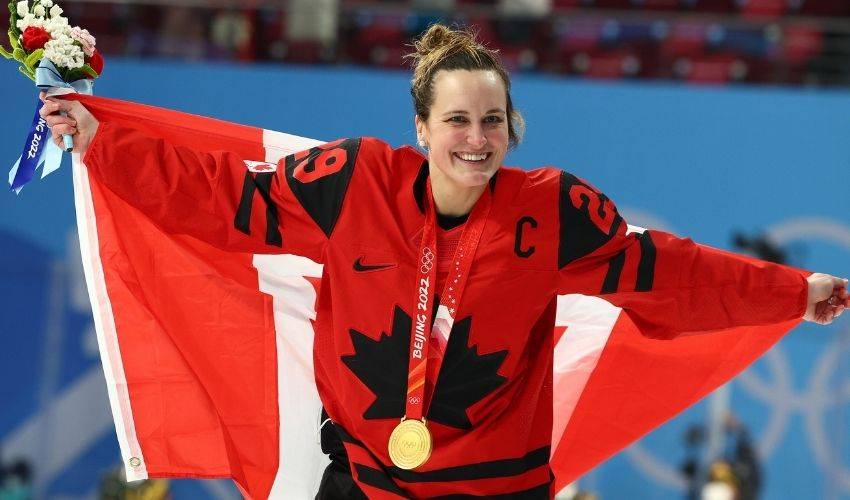 Feature photo: Getty Images
---
Marie-Philip Poulin doesn't need a gold medal around her neck to be one of hockey's most influential personalities.
The four-time Olympian from Beauceville, Quebec, is much more than a three-time gold medallist and captain of the Canadian National Women's Team.
At the core, the 30-year-old centre, who played an integral role in helping the Canadian side strike gold at the 2022 Olympic Games in Beijing, is a driven force, guided by a selfless aspiration to grow the women's game in both her own country and beyond its borders.
Poulin, who has three Olympic gold medal-clinching goals to her name, is also supporting the game at the grassroots level through her recently announced ambassador role with Kraft Hockeyville.

A partnership between Kraft Heinz, the National Hockey League (NHL), and the National Hockey League Players' Association (NHLPA), Kraft Hockeyville is a yearly contest aimed at supporting local community arenas across Canada. Each year, Kraft Hockeyville provides communities across Canada with the chance to compete for up to $250,000 in arena upgrades and the opportunity to host an NHL preseason game. Since its inception in 2006, Kraft Hockeyville has awarded $4.1 million to 89 communities across Canada and showcased 13 NHL preseason games in eight different provinces. This year's winner and each of the three-runner-up communities will also receive $10,000 to purchase new hockey equipment for their minor hockey programs, courtesy of the NHLPA Goals & Dreams fund.
The partnership is a perfect fit for Poulin.
"This is something that is very exciting for me," said Poulin, who spent countless hours at the local Beauceville rink that now showcases a huge poster of her likeness. "Community is a big part of my career and that's where it all started back in my hometown. The local rink is a very special place. My brother and I spent a lot of time playing hockey at my hometown rink. Kraft Hockeyville is something that really matters to me, knowing that it brings people together in their love for hockey. That's huge and I'm very proud to be part of it."
Poulin, who, along with short-track speed skater Charles Hamelin, was a flag bearer for Team Canada at the opening ceremonies in Beijing, is equally proud of the collective effort focused on establishing the women's game at the professional level.
When the Canadian Women's Hockey League shuttered its doors in 2019, Poulin and several other players joined the Professional Women's Hockey Players Association (PWHPA), with the goal of players earning a living wage and receiving similar supports to their male pro counterparts.
Players like Poulin are determined to build upon the success of the recent Olympics – the Gold Medal game averaged 3.54 million viewers on NBC and reached a peak audience of 2.7 million viewers on CBC in Canada – to further the message and goals of the PWHPA. A recent PWHPA showcase in Pittsburgh coined the "Rivalry Rematch" showcased a matchup between the Canadian and American women's Olympic teams, which ended with an overtime winner scored by none other than Poulin.

Sustaining this momentum for the women's game is something that drives Poulin and her peers.
"It is the same narrative every four years, where we hear about it and have a lot of momentum for women's hockey, which is amazing, but we have to change that to every year where people are excited to watch us play. Whether you want to be there to watch us play, whether you want to support us every year, obviously, that is something we are striving for right now, to create that league, not only for ourselves but for the future generations. We believe in the product, we believe in what we have and we have the right people in place. Obviously, every great thing takes patience and hopefully something comes out of all this."
It's a tough road, acknowledged Poulin, but one well worth taking.
"We have to stay optimistic and stay patient. There's a lot of momentum for women's hockey and for women's sports. It's been awesome to see more people supporting women's sports, but we have to stay the course. The more we talk about it, the more people will see it, and the more interest there will be in it."
Throughout her career, in the course of her travels, Poulin, known as "Captain Clutch" for her ability to consistently rise to the occasion in the big games, shares her message of positivity with young players in the hopes that they will one day have a league to call their own.
"I think the big key is to tell these kids to keep dreaming and keep working hard. We see them and we have them in the back our minds. You want them to have that inspiration to not only play in the Olympics, but to also have the dream to play for a team in that league. That's what all the boys do, so why not for little girls? Keep dreaming, keep working hard and we will keep fighting for what they deserve."
As for her own plans, don't count out seeing Poulin strap on her skates for the 2026 Olympic Games in Italy.
If that does come to be, expect the forward, who scored twice in the gold medal game in Beijing, to approach the opportunity in the same way she did in 2022.
"We had so much fun as a group with the whole Olympic tournament and in the time leading up to it. I think that was a great reminder, this time around, that it is still a game, and we play for the love of it, and have so much fun out there. When things get intense and there is a lot of pressure, you tend to get away from it, but this whole year was a great reminder of how fun the game is."