Hilary Knight embraces role as Olympics veteran, women's hockey advocate
Knight has been at the forefront of pushing for change in women's hockey and sees plenty of reasons for optimism for the future of the game.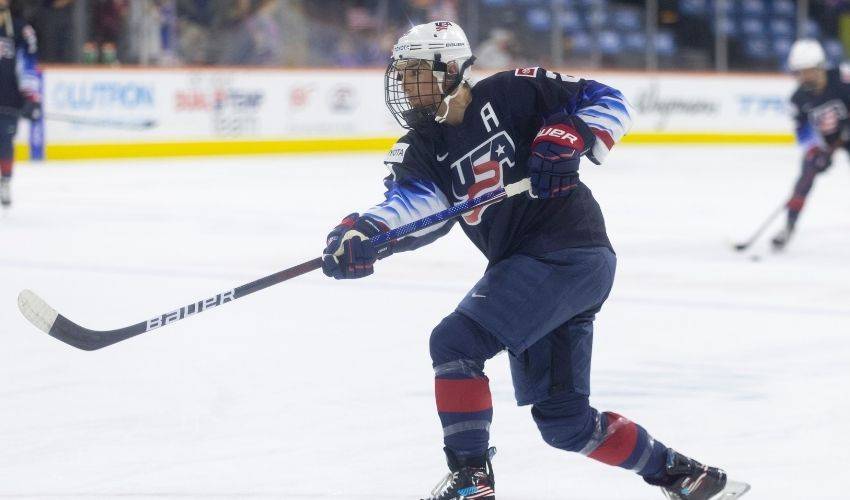 Feature photo: Getty Images
---
Whether it comes to playing the game or championing it, Hilary Knight is a difference maker.
Knight, who will represent Team USA at her fourth Olympic Games at the 2022 Olympic Games in Beijing – the most appearances of any player on the Team USA roster – has a lengthy list of on-ice accomplishments that only continues to grow.
But for as much as she's achieved throughout her decorated career, including an Olympic gold with Team USA at the 2014 Olympic Games, the 32-year-old forward has contributed equally, if not more, to the growth of the women's game across North America and well beyond.
A staunch advocate of having one professional North American women's hockey league, the eight-time World Championship gold medallist was instrumental, along with her fellow players, in the creation of the Professional Women's Hockey Players Association (PWHPA) in 2019.
"I'd say, first off, that the PWHPA is not an individual effort, it's a team effort," said Knight, who was born in Palo Alto, California and grew up in Lake Forest, Illinois. "I'm just happy to be one of the many players who are willing to create a better future for the sport at the professional level and try to fill the gap in the meantime between what we have now to hopefully having a sustainable league at the pro level."
The former University of Wisconsin standout takes immense pride in the coordinated effort of players to ensure the league came to fruition.
On-ice rivalries, Knight noted, were quickly put aside for the best interests of the sport.
"I think that's what is great too. Not that I don't love a good rivalry – the U.S. and Canada will always be the most beautiful rivalry in sport – but I think what's really special about the PWHPA is that it's similar to the NHL. You have players from North America, players from Europe and other parts of the world playing on the same line and trying to accomplish the same thing, to win a championship at the end of the year. We're working hard to take steps to developing more players globally at this level. I think it's going to be game changing from the nationality standpoint, from countries competing on world stages, to the professional level, post-collegiate."
Knight, who has been at the forefront of pushing for changes in salaries and working conditions for women's hockey, sees plenty of reasons for optimism for the future of the PWHPA and she's hopeful the league can inspire a new generation of players to live out their hockey dreams.
"Imagine being a kid and you can sign up and say, 'This is what I want to do as a career path.' There are a lot of things that need to happen to continue on that journey, but to be able to have an opportunity to earn a livable wage, to have health benefits and all of these other things, along with the visibility that the sport and the talent deserves, it's such an incredible opportunity. I'm really excited where the sport is right now, where it's come and where it's going to be."
When she isn't using her platform to help grow the game, for present and future players, Knight is playing a key role for her country as a veteran presence.
After netting silver medals at the 2010 and 2014 Olympic Winter Games, she captured gold at PyeongChang in 2018 with Team USA.
Knight is determined to add to her impressive medal haul at the upcoming Beijing 2022 Olympic Winter Games.
"This is a very special group. To even have an opportunity to be in this room, you have to look around and say, 'Wow, this is the dream.'"
While the names have changed over her Team USA Olympic tenure, the approach of each group has always remained the same.
"We've got a good veteran corps and we've also got some amazing talented new faces in the mix, players that people aren't necessarily familiar with, but I'm excited to see them take the world stage and show their skillset, speed and their dominance, and really own their moment out there. It's exciting when we can piece the two together. Everyone is learning from one another and hopefully, we'll be a well-oiled machine come February."
Once the youngest player on the U.S. squad, Knight is now the oldest player on the roster.It's a role she readily embraces.
"It is one of those things where you kind of look around and say, 'Wait a second. How am I approaching an opportunity for a fourth Olympic Games? What happened?' You go to tell a story and you realize no one in the room has been there. But honestly, you never lose sight of why you signed up and every day at the rink is a special day because you get to do this and just have fun. There is always something to learn and yes, I might have seen something over my years where I can interject my thoughts and pass along my knowledge, but at the same time, there is so much to learn about this game and that's very humbling."
Humble is perhaps one of the best words to describe Knight, who became the leader in career goals at the Women's World Championship, surpassing fellow country woman Cammi Granato, when she recorded her 45th goal in August against Russia.
A star at every level of the game – in her second year with the Wisconsin Badgers she led the NCAA in scoring in 2008-09 with 45 goals and 83 points in 39 games – Knight is anything but complacent as an athlete driven to be the best every time she's on the ice.
Her widespread efforts to shine a light on her sport has recently resulted in women's teams being included in EA Sports' long-running NHL video game franchise.
Knight will continue to her use her voice to herald the importance of the PWHPA, even with a hectic schedule, which will soon become even busier in her new role as an NHL television analyst with ESPN.
She will, however, always find the time to speak passionately about the importance of the PWHPA.
"The future for women's ice hockey is extremely bright. I think you can see that, specifically on the PWHPA side. Our sponsors and partners, they believe in us, and they want to do more, to help champion us and take things to the next level. It started with little tour stops here and there, and last year, we played at Madison Square Garden, Enterprise Center and the United Center. That's no small feat, considering Covid. I'm really excited with what we've accomplished, but even more excited for the future."
Especially for those young women who follow in her skates.
"I think it's simple, but I would tell any young hockey player to work hard and have fun. You have to be in love with this game in order to make it to this level because there is always something to work on. I joke around and tell people that hockey was my first love, and we haven't broken up yet. Hockey is something you have to be willing to work hard at it for yourself and your teammates. But at the end of the day, you have to smile and enjoy the moments you have with one another."