NHLPA Goals & Dreams donation helps bring Pakua Shipu together
"It was a lot of wonderful equipment, all at once, and I was really impressed with the generosity of the NHLPA."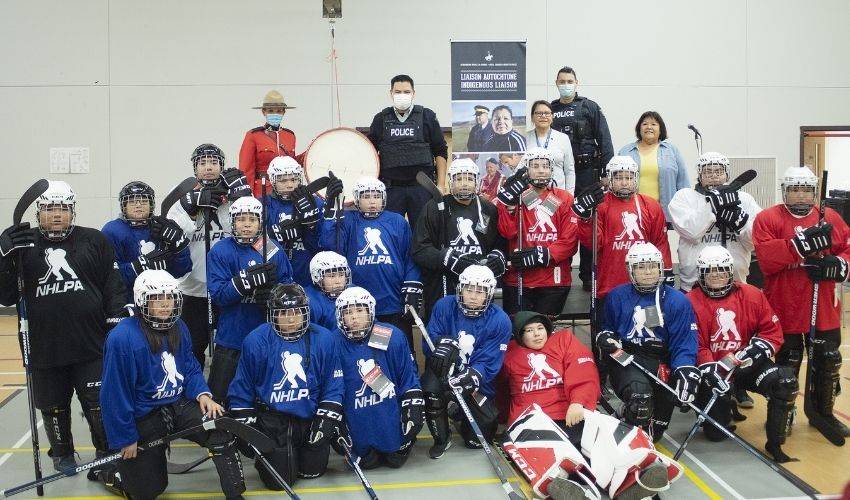 All photos courtesy of GRC Québec
---
RCMP Constable Normand Thirnish-Pilot felt he had to do something to help Innu children in a small Quebec community, and he knew hockey would be at the heart of whatever it was.
For the man who grew up in Uashat Mak Mani Utenam, an Innu community in Sept-Îles, Quebec, where he now works as an RCMP officer, making a difference in the lives of the children of Pakua Shipu – an Innu community 550 kilometres north of Sept-Îles – has become a focal point in his own life.
Thirnish-Pilot had read about and heard of a 13-year-old girl who had taken her own life last February in the Innu community that sits adjacent to the village of Saint Augustin, and is only accessible by boat or plane.
"What she went through, no one should ever have to."
He knows of what he speaks.
Thirnish-Pilot was just a child when his uncle took his own life.
"I've seen it far too often. I grew up on a reservation and I know what it's like to live there. I knew about suicide when I was seven. My uncle died by suicide. A lot of people on my reservation died that way and I kept hearing about it when I was growing up. Even today, we hear a lot about that on reservations."
Deanna Dunham, Kids Help Phone's Director of Indigenous Initiatives and Equity Programs, knows the challenges Thirnish-Pilot talks about, and it's something that many other Indigenous communities across Canada continue to encounter.
"It wasn't that long ago when I was talking to an Indigenous community, and they lost a seven-year-old," recalled Dunham. "These are uncomfortable conversations and sometimes people feel like kids are too young to talk about those topics. But the fact is, so many Indigenous communities across Canada are coping with suicide, that kids are growing up with this concept from birth. They grow up having already lost cousins, uncles, parents, grandparents. It's a tragedy that has to be addressed."
Through its Brighter Days program, Kids Help Phone – a partner of the NHLPA since 2017-18 – is doing exactly that.
"We have conversations with Indigenous youth. This program starts talking about these things when they are six. That's the youngest age we support through the Brighter Day program. We talk about mental health and why it's so important, and why it's important for them to reach out at a young age, so that they have the understanding that someone is always there for them. There's really no problem that's too small. If it's a big deal to them, we'll [Kids Help Phone] be there whenever they need us."
Just like Thirnish-Pilot has been for Pakua Shipu.
When he thought of ways to help the community, he kept coming back to one idea.
"I knew I had to do something," said Thirnish-Pilot. "It was important to me to help the kids in Pakua Shipu face that great challenge they have with the suicide of one of their friends. And I know that hockey is so important to kids living on reservations. It's almost like a religion and for the kids on reservations, they love to play hockey."
Knowing the significance and popularity of the sport in Indigenous communities, Thirnish-Pilot's first order of business was the creation of Innu Auasset – a sports committee he formed alongside three other community members, including two people from Pakua Shipu.
He then shared the story of the how the NHLPA Goals & Dreams fund helped out.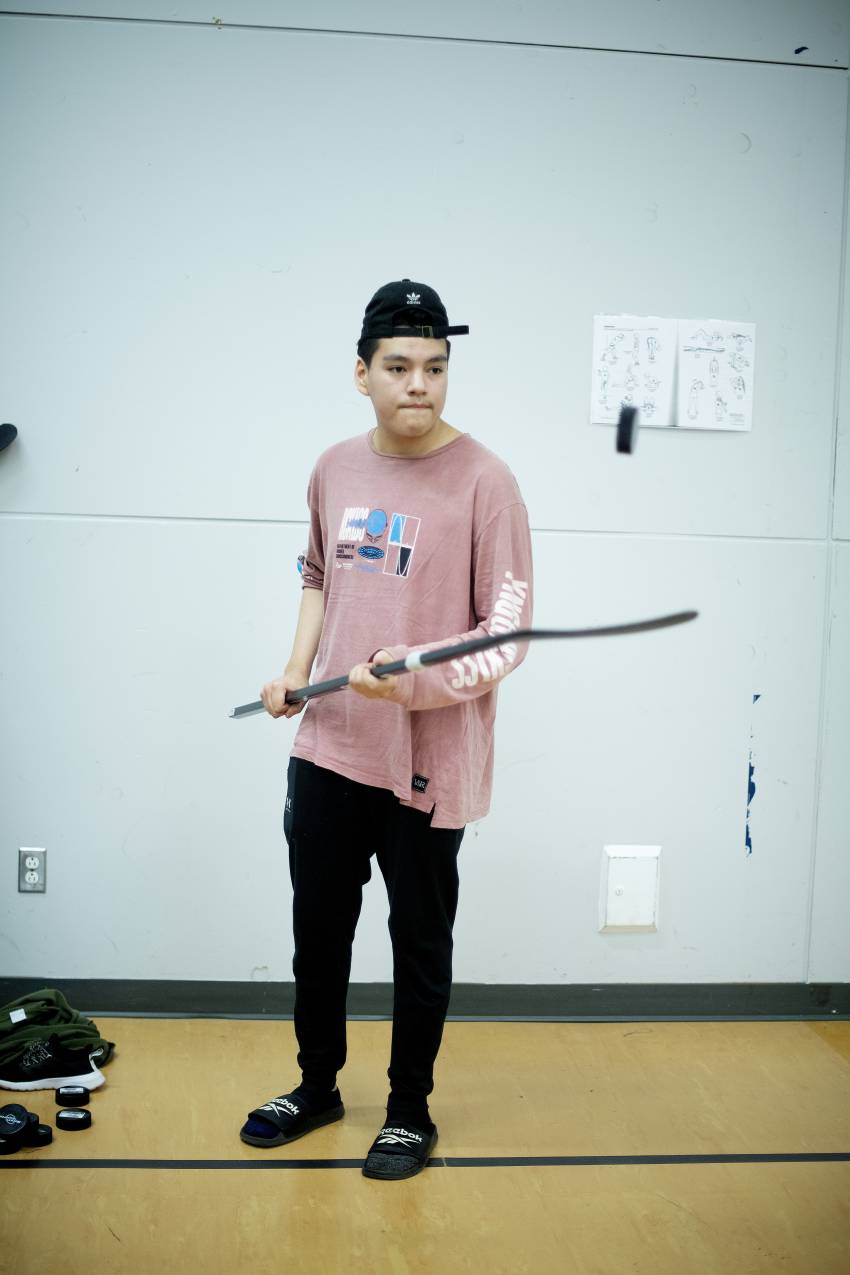 For more than 21 years, the player-driven program has supported youth hockey in 34 countries and donated more than $25 million worth of equipment.
"The NHLPA, they were really moved by the story and what had happened in Pakua Shipu to the young girl and how her friends have been affected by it. When they said yes, I was really happy for the kids."
That joy grew exponentially when the brand-new equipment, 25 complete sets in all, arrived last month.
"It was a lot of wonderful equipment, all at once, and I was really impressed with the generosity of the NHLPA. It was a real pleasure for me and my team to put all the equipment in the hockey bags. We had to send it on a boat, a cargo ship. It was very moving for us to know we were getting so much help from the NHLPA and other partners in our area."
The cost of transporting the hockey equipment, roughly $2,000, was covered by Relais Nordik, which provides maritime transport services for passengers (residents and visitors) and cargo, including along Quebec's Middle and Lower North Shore.
Other local companies, including Sports Experts, offered help in the form of donating goalie skates and hockey pucks, as well as a logo and stickers.
In late November, Thirnish-Pilot travelled to Pakua Shipu to bring the hockey equipment to the kids, whose ages range from eight to 18.
Community elders, parents, school staff members and more, gathered for the equipment ceremony, which included a moment of silence for the young girl who had taken her own life.
"Personally, I will never forget the experience. It was hard at times because you have to deal with a lot of things – you have to form a committee, you have to convince people – but at the end, it was all worth it for the kids of Pakua Shipu. I am happy for them. They have already used the equipment. Some of them went to a hockey camp about three weeks ago. They were so happy with the equipment they received from the NHLPA."
"There is just so much power in sports to bring people together," offered Dunham. "Sports can help Indigenous youth get out there and support their physical well-being, and therefore, their overall well-being, and can help connect them with other Indigenous youth and other youth across Canada, to help bridge that gap and help them find that common ground."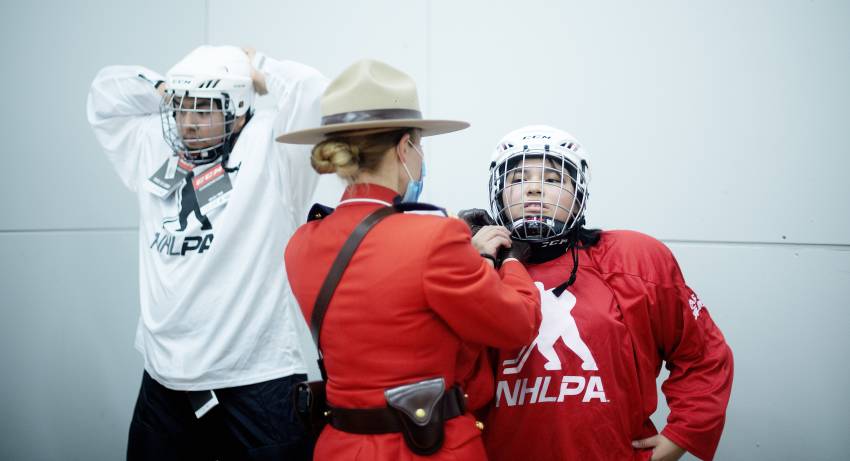 For the man who got the puck rolling, the contributions of many people, groups, businesses and others, felt very familiar.
"It is just like that … we are like a hockey team. That is what it feels like."
Thirnish-Pilot has other plans in the works for the youth of Pakua Shipu. One of his goals is to take the kids to see a Montreal Canadiens home game.
Regardless of what does come next, Thirnish-Pilot knows he will be able count on the kindness of others in whatever he does for the children.
"I just can't believe how all of this happened. I feel like I grew a lot, personally, from meeting all these people, asking for help for the kids … it was a great, great experience and it gave me confidence to continue. I'm happy that it worked out for the kids and that they know people care about them."