Suzuki looking like a seasoned vet, on and off the ice, in sophomore campaign
Nick Suzuki, who matched his 41 points from 2019-20 this season in 15 fewer games, is looking like a seasoned veteran ahead of the Stanley Cup Playoffs.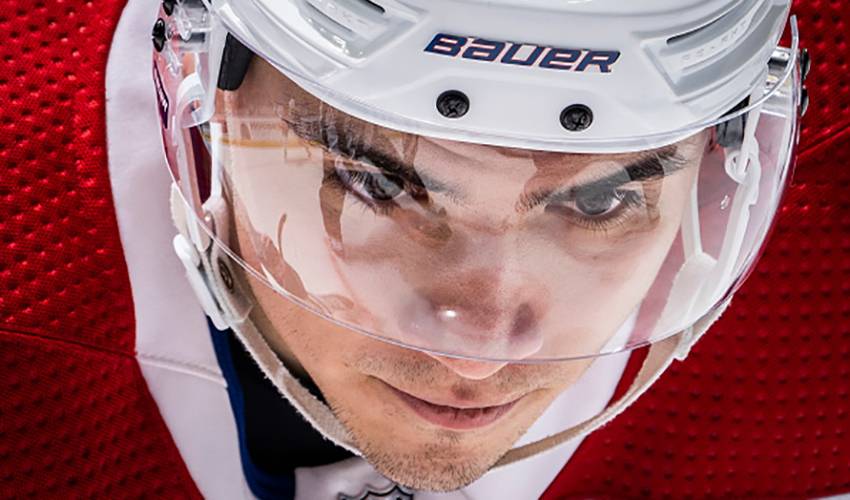 Feature photo: Getty Images
---
It's a role perfectly suited for Nick Suzuki.
On the ice, he plays the game that belies his age, looking more like a seasoned veteran than a player who's only in his second NHL season. When the buzzer sounds, Suzuki continues to carry himself with the same poise and maturity that's reflected in his game.
Suzuki, who won't turn 22 until August, has evolved into the ideal role model for aspiring NHL players.
"I had a lot of great people that I looked up to. My parents, my grandparents, teachers and coaches – I was really lucky to have a lot of great people around me and I was put in good situations to grow as a person and a player," said the Montreal Canadiens forward. "If I can be that person for kids coming up, I try to do that, especially in London [Suzuki's hometown in southwestern Ontario]. There are a lot of young hockey players there who are hoping to achieve their NHL dream."
Whenever he does meet young players during the off-season around London, Suzuki doesn't just talk the talk – the 13th overall pick of the 2017 NHL Draft is happy to strap on the skates and get out on the ice with the aspiring stars.
"I enjoy the chance to talk with the kids and to skate with them," said Suzuki, whose younger brother Ryan was drafted 28th overall by the Carolina Hurricanes in 2019. "It's cool to be in the position to be able to do that. It's a lot of fun to be around those guys, so when you get that opportunity, you make the most of it."
Those interactions remind Suzuki of his minor hockey days, long before he ever suited up for the Owen Sound Attack and Guelph Storm of the Ontario Hockey League.
Sitting in the stands at London Knights games as a fan himself, he marvelled at the skills of players like former Knights standout and current Vancouver Canucks captain, Bo Horvat.
"In London, we had a ton of guys who I watched that went on to play pro. Seeing them play, how hard they worked, and how driven they were, it really inspired me. And when I did get to junior, there were lot of older players who helped me out a ton. You might not know it at the moment, but you look back and realize that you take a lot of those experiences, what you saw and what you heard, and it helps you in a very big way. You never stop learning."
Suzuki, who made his NHL debut October 3, 2019, and scored his first NHL goal two weeks later, has continued to benefit from his hockey education during his time with the Montreal Canadiens. It has included no shortage of mentors who have helped him along his evolution as a player.
"Being a young guy in the NHL, I try to learn as much as possible from the guys who have been through it all. Corey [Perry], Shea [Weber] and Carey [Price] – all these guys, I've watched them a lot over the years and always respected who they were as people. And then when you finally meet them, they are the nicest people, very quick to help you and make you feel at home. If you ever have any questions, they are always there to help you or to listen. They are great people. That's how I want to be remembered when my NHL career is over."
Suzuki, who had a pair of goals in Montreal's final regular-season game of the 2020-21 season, recalled the one piece of advice that's stayed with him to this day.
He often offers those same words of wisdom to young players he meets up with.
"One of my old coaches told me, 'Practice like you play, play like you practice.' That's something I always lean on, to practice hard and to practice the right way. If you slack in practice, you're not preparing yourself for the next game. Treating every practice like a game situation really helps you."
It's precisely how Suzuki, who matched his 41 points from 2019-20 this season in 15 fewer games, has prepared for Montreal's first-round playoff matchup against an Original Six rival, the Toronto Maple Leafs.
"This is what you play for and it's exciting to be in this position. I'm just focusing on doing what I can to help the team succeed."
Just like any good role model would.
#Habs Suzuki on the lead up to the series in his hometown of London, ON: "A lot of my buddies back home are Leaf fans... A few of them have messaged me to take it easy on the Leafs. I told them I can't do that."

—

John Lu (@JohnLuTSNMtl) May 17, 2021