Dahlgren, Straschnitzki working towards their goals with resolute spirit and support
Kaleb Dahlgren and Ryan Straschnitzki continue to push to achieve their goals with unwavering determination and gratitude.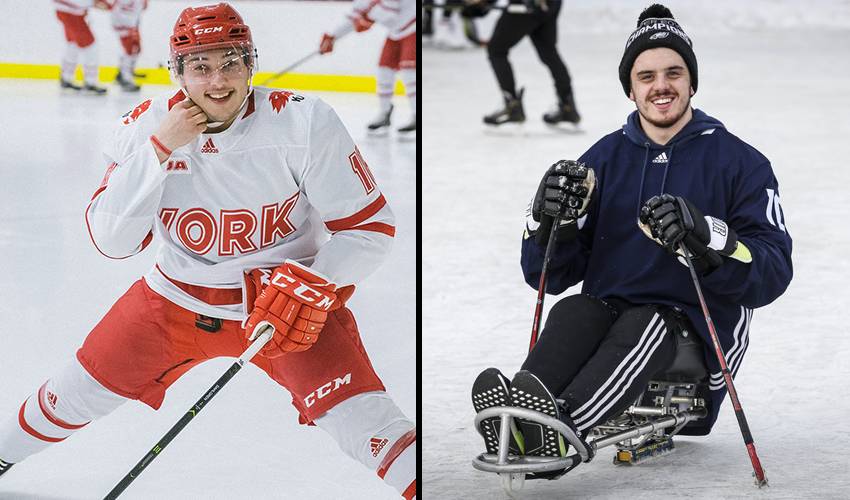 Feature photo: Twitter / @KalebDahlgren & @rstraz_
---
A quiet determination and resolute spirit speak volumes about Kaleb Dahlgren's character and innate ability to inspire.
There is no trace, no want of adulation for what he has been able to achieve.
For Dahlgren, the former Humboldt Broncos assistant captain, pushing himself to succeed has always played a central role in his life both inside and outside of the arena.
He is three years removed from the tragic bus crash that took the lives of 16 of his junior hockey teammates, coaches and support staff while injuring 13 others. The 23-year-old who suffered numerous injuries – including a fractured skull and punctured wound in his head, as well as a broken neck and back – when the team bus was hit head-on by a transport truck, is very much a man with a detailed life plan.
"I'm just grinding away, had a test yesterday, so today is a nice day," started Dahlgren. "It's a little bit of a day off, but it's nice to be in school."
Dahlgren is set to graduate from York University with a business commerce degree this spring, a busy student-athlete who has also found time to volunteer with a handful of organizations while also helping others through his own program. As a Type 1 Diabetic, he established a mentorship program called Dahlgren's Diabeauties.
He also wrote his memoir, "Crossroads", which speaks of his life before and after the fateful incident April 6, 2018.
That he has time to do it all is impressive, that he is able to do any of it is a miracle.
Dahlgren lives with the ongoing effects of a traumatic brain injury and has no recollection of the crash.
"School is going very well. I've done well all three years, academically. I surpassed what the doctors thought I'd be able to do. They thought I'd fail and the chances of me succeeding were very slim. I have to thank York University for all their help. There are so many things in place to help us student-athletes do our best in school. It's been a collaborative effort. I wouldn't have been able to do it without the support of so many people. So, I'll graduate soon and hopefully it will be off to chiropractic school this fall, at Canadian Memorial Chiropractic College [in North York, Ontario]. I'm still in the application process. I have an interview on April 10 and I'm looking forward to that."
Dahlgren's successes haven't come without their share of hurdles. His first response to any setback is to find a solution.
"I would probably say I have to do twice the work I did before. Math was one of my top subjects growing up and now it's one of the toughest ones for me. I think one of the deficits – it hasn't been tested fully – is in math. I'm taking a lot of math courses this year, so I have to work a lot harder at it. I'm also using an e-reader, which helps with reading speed and reading comprehension. My reading speed and comprehension has slowed, so the e-reader has been helping me. I'm starting to get better."
Whenever Dahlgren encounters any obstacles, inside and outside of the classroom, he has plenty of inspiration to draw upon. It's a long list that helps drive the young man, one that includes all those friends who lost their lives that day.
"It is the 16 people who aren't here that pushes me on a daily basis, to go on and to do my best. But it's also myself. It's been my lifelong passion to be a student-athlete since I was 11 or 12. I wanted to get into school, and put my whole heart into it. I want to succeed, I want to do well and I want to go to chiropractic school. I have my belief in myself that I can. I also want to do it for the 16 that aren't here, and my family, friends and everyone that supported me and told me I can do this, that I can make it."
Dahlgren also wants to inspire others.
He looks to the traits that saw him succeed on the ice to help guide him.
"If I can inspire others, the next generation of diabetics and people who have brain injuries, just leading by example, that would make me very proud. Anyone that is going through a tough time, I want them to be able to go from a negative to a positive."
Although he'll never be able to play competitive hockey again, the game remains a constant in his life.
If he's not sitting down in front of the television to watch his favourite NHL players, a game is usually on in the background, the volume low whenever he's studying.
It never fails to put a smile on his face.
"I have my favourite teams and I have my favourite players. Vegas and Washington are my two teams. As for my favourite players, I like Anze Kopitar and Patrice Bergeron, but I have lots of favourites. I really enjoy watching Connor McDavid too. He's phenomenal. I turn the games on when I'm doing my schoolwork, just to have it there."
When he isn't watching goals, he's working on his own.
Dahlgren knows he has many people, some of whom he'll never meet, in his corner.
"I'd say the support I've had in my life is amazing, even more so after the tragedy. More people want to see me and the other survivors succeed. I'm beyond grateful for it. I don't think people realize how much the little things mean. People putting their sticks out, putting a sticker on their car, even just sending a message… those things truly matter. It made me want to be a better person for people that are going through tough times. I want to be there for them."
---
Every time the blades of his sled touch the ice, Ryan Straschnitzki begins to dream big.
"Getting back onto the ice for the first time, it was incredible," said the 21-year-old from Airdrie, Alberta. "Obviously, it's a little different, sitting in a sled rather than skating. It's a big hurdle, but mentally, just being out there with my friends, teammates and family, that kind of helps with it all."
Straschnitzki was part of the Humboldt Broncos team that was involved in the horrific crash in rural Saskatchewan that occurred three years ago today.
It left Straschnitzki paralyzed from the chest down.
Although his life has been forever altered in the aftermath of the crash, his passion and love for hockey remains as strong as ever.
He has watched countless hours of NHL action, while keeping close tabs on his favourite team.
"I've been keeping up with Chicago. They're my team, so I'm pretty happy with the way they're playing. I've always idolized Jonathan Toews, so I'm a big fan of him. My dad, he's a diehard Flames fan. We're definitely a big hockey family."
Straschnitzki's association with hockey isn't limited to being a fan of the game.
In 2018, after five months of rehab, over 1,000 people attended the WinSport Markin Macphail Centre in Calgary for Straschnitzki's first-ever sledge hockey game. Many of those in attendance wore 'Straz Strong' shirts that featured his No. 10 on them.
"Getting used to a sled, the way those players are so ambidextrous and agile out there, maintain their speed and stickhandle, shoot, hit, all while balancing on two blades that are pretty close together… it's incredible to see and to learn from that, and incorporate that into your own game."
These days, he's working towards his goal of becoming a member of Canada's national sledge hockey team to bring home a gold medal for his country.
Straschnitzki has spent hundreds of hours on the ice and just as many off it dedicated to rigorous training. He made Alberta's sledge hockey team in 2020, with the hope of playing in the national championships.
"After my first year playing, my goal was to play recreationally. I ended up making our provincial team here in Alberta. The step after that was to get a tryout with Team Canada. COVID slowed that down, but my goal is to make it to the Paralympics at some point. I'm going to keep working towards that and hopefully it happens."
Although the pandemic prompted the cancellation of both last and this year's provincial events, Straschnitzki hasn't let it get in the way of chasing his ultimate goal.
In fact, he's more determined than ever.
Since February, Straschnitzki has been putting the frozen pond behind his parents' home to good use.
Although it wasn't easy, both physically and mentally, to make the journey to the pond, he's happy to be back on the ice.
And whenever he is there, his Paralympic dream is almost always top of mind. He has plenty of people in his corner in that quest to wear the red and white jersey.
"The support I have is absolutely incredible. I've had that from day one. My family and friends are unbelievably supportive, and not just when it comes to hockey. Living life in a chair, they know things are different, but they know I haven't changed as a person. They still treat me the same, they are there to help me, and they are always there for me."
So, too, are his former teammates.
"I think the support of the Humboldt family, the survivors – we've all been keeping in touch and that supports means so much. I'm just happy to have them by my side."
As for his Paralympics pursuit, Straschnitzki still has plenty of practice hours and hard work ahead of him.
He knows making the team won't be easy.
Facing big challenges, however, is nothing new for Straschnitzki. Neither is overcoming them.
"I think about it [making the team] almost every day. It's important for me to do that, to prove to myself and to others, that no matter the circumstance, you're capable of anything if you put your mind to it. The biggest thing is enjoying the process. I won't be able to play hockey forever, but hockey will always live inside me. The hard moments training, the fun moments on the ice, the locker room moments… all of those things will last a lifetime."