Stralman talks Tibro, the small town that's all heart
Tibro may be a small Swedish city known for its trade, but it's also produced a few notable athletes including Anton Stralman of the Florida Panthers.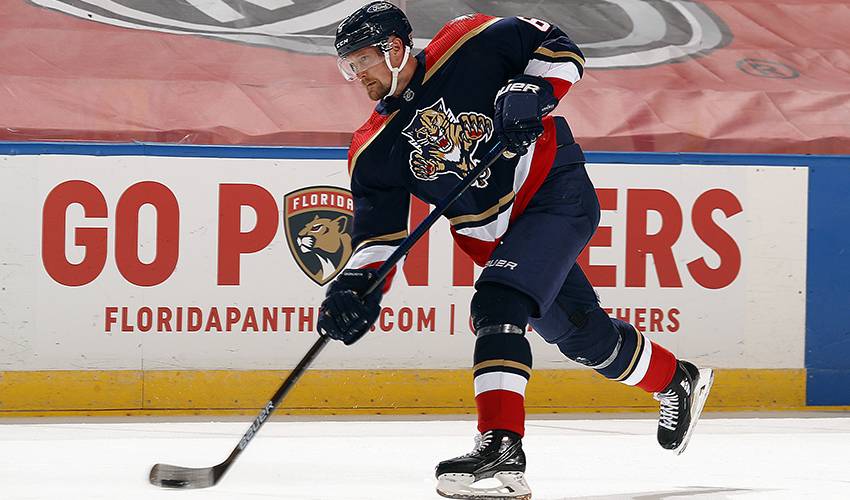 Feature photo: Getty Images
---
There is an unmistakable pride in Anton Stralman's voice when he speaks of Tibro.
Home to roughly 11,000 people, the Swedish municipality that's located in between country's two largest lakes, Lake Vänern and Lake Vättern, is known as the furniture production hub of the country.
"I wasn't part of that world, but my brother was and my dad has been in the industry too," said Stralman. "You meet any family from Tibro and they will have some association with the furniture and wood industries. I never got the chance to do it."
It's also a place that's produced some world-class athletes over the years.
In addition to Stralman, Tibro has churned out tennis star Robin Söderling, who has 10 ATP singles titles to his name and rose to prominence in 2009 for becoming the first player to defeat Rafael Nadal at the French Open. Other prominent athletes from the city include figure skaters Viktoria Helgesson, (a five-time Nordic and eight-time Swedish national champion), her sister, Joshi (a three-time Swedish national champion) and seven-time World Enduro champion Anders Eriksson.
But before he talks sports, the Florida Panthers defenceman offers up a short history lesson.
"It's a small town. It was a huge furniture developer, especially wood. The wood industry in my town was amazing about 50 years back. They did all the things for Ikea. It seemed as though everyone worked with wood and making furniture. In the 1990s that all started to turn, but the one thing that's been consistent throughout all those times is sports."
Stralman happily took advantage of Tibro's vibrant sporting scene.
Although hockey was his top sport, there were plenty of other athletic endeavors he took part in throughout his childhood.
In fact, Stralman's sports calendar was full on a year-round basis.
"There are plenty of sports to do in this little community and I did a lot of them. I played soccer up until I was about 14 or 15, I played tennis for a few years, Olympic handball for one or two seasons – I played so many sports because there are so many that are offered."
The 34-year-old veteran of nearly 850 regular season NHL games points to his multi-sport upbringing as a major reason for him making it to the NHL and international hockey ranks.
"I'm a true believer in multi-sporting. I believe that develops athleticism and more than anything, it gives you a break so that you can enjoy something else. When I finished the hockey season, I would start the soccer season, and when hockey came around again, I was a better player because of playing other sports. And there are so many sports I still like to play. I love tennis and I love soccer. Those are two sports I really like to follow."
Not surprisingly, Stralman has some serious skills on the tennis court.
Two of his teammates – both fellow Swedes – recently found that out.
Who is the best Swedish-born NHLer when it comes to tennis?
"That's a good question. I know Hank [Henri Lundqvist] is pretty good. I'm sure when he recovers from his surgery that he'll be back on the tennis court. I haven't played him yet, but I want to say I have a chance. I did beat [Patric] Hornqvist and [Alexander] Wennberg here in a little club championship we had."
He added with a laugh, "So, I'm better than them."
Stralman will almost certainly be back on the tennis court once the 2020-21 NHL season ends, whether that happens to be in the Sunshine State or a little Swedish town.
He hasn't been home since the American Thanksgiving holiday, but whenever he does head home, Stralman sees first-hand how Tibro continues to dedicate itself to the sporting life.
He'll likely pass by Tibro Action Park, a 602-square metre concrete park open year-round at no cost for skateboarding, BMX, kickbike and more.
"It's a relatively new spot and I never got the chance to try it as a kid. If there's one thing that little town is doing a lot of and doing it the right way – there's a lot of heart and soul – is to give the kids something to do. Not every kid wants to play hockey or soccer, but there are so many things to choose from.
"I did skateboarding when I was a kid. When I was skating, we had to do a little more creative building, so I guess that's my woodworking experience – building ramps and rails."
And also helping to put Tibro on the world sports map.
"There have been some good athletes that have come from this little town. It's kind of exciting that this little town in the middle of nowhere is finding ways to develop athletes in not just one sport, but multiple sports."