After the Buzzer | Nick Suzuki
A good laugh, good chemistry and good lessons make the cut in this week's After the Buzzer with Nick Suzuki of the Montreal Canadiens!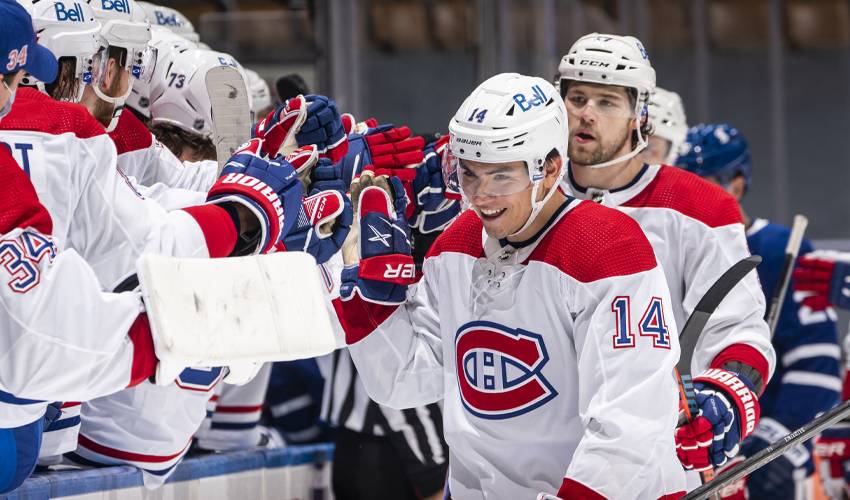 Feature photo: Getty Images
From their bond with fans to their efforts in the community – and everything in between – 'After the Buzzer' is a weekly series taking readers beyond the rink to shine a light and provide insight on players' lives away from the game.
---
Nick Suzuki has some serious hockey skills, but the talented Montreal Canadiens centre also likes to laugh – a lot.
The 21-year-old forward, who is off to a red-hot start for the Habs, spoke with NHLPA.com about comedy, his new linemate, catching up with family, and lessons learned from his childhood.
CHEMISTRY LESSON
Suzuki is a big fan of new teammate Josh Anderson, combining with the power forward and Jonathan Drouin to give the Canadiens some serious offensive firepower and a line to be reckoned with.
"It's been really fun getting to know him [Anderson]. I remember watching him when he played for the London Knights. Just to get to know him as a person, and seeing what he's like on the ice has been pretty incredible for me. He's pretty easy to play with. I pretty much know what he's going to do. He's just been a great addition to our team and our line.
"I think right away our line was playing really well in practice. It's pretty easy to play with both [Drouin and Anderson] those guys. I think they would say the same thing [about finding quick chemistry]. It kind of came naturally. I thought we've all played pretty well, but there's still room for growth. I think the line can be dangerous all the time."
A MODEL PLAYER
Growing up in London, Ontario, Suzuki dreamed of having the chance to play against his favourite players on the NHL stage one day.
As for which player he modeled his big league game after, the former Owen Sound Attack and Guelph Storm standout has a big list to pick from.
"I've been lucky enough to play against a few of them [players he admired]. It wasn't just one guy I tried to look up to, there was a bunch. [Sidney] Crosby, [Patrice] Bergeron, Patrick Kane – those are some of the biggest. All the guys I got to go up against in practice I looked up to as a kid. It's been fun to experience what they're like away from the rink too."
FAMILY BOND
Although he was able to spend more time with his family due to the pandemic, Suzuki still misses plenty of things about his off-season life.
He's found a popular way to keep in touch.
"It was nice to be home for probably longer than I've ever been in a year since junior started. It was good to spend time with a lot of family. We've done a bunch of Zoom calls and all that stuff like now, so it's good to see everybody over that."
HELPING HANDS
Although he didn't have any odd jobs growing up, Suzuki did help around the family home, pitching in whenever and wherever he could.
"I never had to have a part-time job, but my dad definitely put me and my brother Ryan [Carolina's 28th overall pick in 2019] to work. I tried to save up my money from Christmas and birthdays. My parents raised us to be hard workers, always do well in school – that's what came first for them."
OFFICE TALK
When it comes to his two favourite actors, Suzuki opts for a pair of comedy stars, including Steve Carell, whose work includes his role as Michael Scott on the hit TV show The Office.
"My favourite actor is either Adam Sandler or Steve Carell. We were talking about The Office today at the rink, and for some reason, Steve Carell makes me laugh all the time. Maybe it's just from the show or maybe from his movies. He's definitely one of my favourites."
PARTING SHOT
"If we weren't doing well in school, there was always the opportunity to not go to hockey practice. We were always raised like that, and I think that's helped me transition into the NHL – prepared to work hard every day." – Suzuki, on one of the invaluable lessons he picked up from his parents.