Wheels in motion for Ride Inside
Set for November 5, Blake Wheeler's charity initiative known as Ride Inside will raise funds in support of children and their families living with and beyond childhood cancer.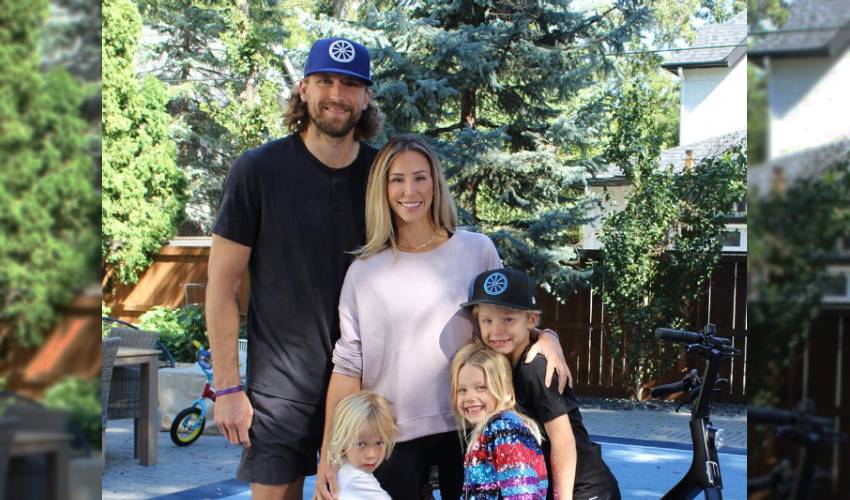 Feature photo: IG/@26blakewheeler
---
The 2019-20 NHL season may be over, but "Wheels" is still in motion.
Blake Wheeler's charity initiative, the one known as "Ride Inside: Come Wheel with the Wheelers," will have a very different look and feel to it this year.
An indoor cycling challenge set for November 5, Ride Inside raises funds in support of children and their families living with and beyond childhood cancer. CancerCare Manitoba is part of the multi-institution research and treatment project, which the Ride Inside donations support.
While the COVID-19 pandemic has created significant challenges and changes to this year's edition, the reason for championing the cause remains the same.
"Obviously, it's not ideal circumstances," Wheeler told NHLPA.com. "Last year was our first year being involved in the event. We were blown away by the participation of the people in the city. It was a really cool, huge event. There was a lot of energy. This year, obviously with it being remote, it's going to have a different feel to it, but the participation is already so great, and so many people are getting involved to be a part of something that is very important to my family and to myself."
Last year's event helped raise over $250,000 for CancerCare Manitoba.
"The Ride Inside simply seemed like a great event for us to be involved with and gave us the opportunity to give back to the community that has supported Blake and our family for all these years," added Wheeler's wife, Sam.
Helping children battling cancer, along with supporting their families, continues to be a top priority for the husband and wife.
"Sam took the bull by the horns on this one," said Wheeler. "She has created a great relationship with the people at CancerCare Manitoba. Sam really did all the legwork on it last year and brought it home to me. It seemed like such a perfect thing for us to get involved in and it has been. The money that's raised goes towards critical research to help these kids."
For the first time in Canadian history, more than 30 pediatric cancer research and funding organizations, including CancerCare Manitoba and the CancerCare Manitoba Foundation – along with thousands of individual and corporate donors – have joined together to give children, adolescents and young adults who have a very low survival rate over five years another chance to beat their cancer.
Through Terry Fox PROFYLE, a pan-Canadian project, top scientists and clinicians, research centres, cancer charities and hospital foundations across the country have come together with donors to create new hope for young people who need it the most.
Hope is a word Wheeler uses often when he speaks of those afflicted with cancer.
"It's heartbreaking to see what these kids and what these families have to endure," said the Winnipeg Jets captain. "Obviously, this ride, this program – that is the demographic you're working with. You're working with the sickest of the sick, the kids who have been told they have little hope. This program, we want it to give them hope."
Each family's story, although different, serves as inspiration for the Wheelers.
Just like Amara Campbell has.
Diagnosed with osteosarcoma, the teenager and big Jets fan, struck up a friendship with the Wheelers.
Campbell, who continues to have a profound effect on the couple, passed away September 14 at the age of 15.
"We became close with Amara, who was heavily involved with the ride last year," recalled Blake. "It's just… the heartbreaking reality of this is that young kids are getting sick and passing away. We are heartbroken for her and her family. We're doing the ride in her honour this year.
"It hits home when you have kids," he continued. "We're so very fortunate that we have three healthy kids. You can't fathom what families are going through when they're faced with this."
Sam, who echoes her husband's thoughts, wants to make sure Campbell isn't forgotten.
"After last year's ride we knew we would keep supporting this cause for as long as we are able to. The reason why became much clearer. Amara, the CancerCare Manitoba ambassador for the ride, and her family have been through every obstacle you can think of in her battle with cancer. The world recently lost Amara and we are devastated for her family and friends. No family should ever have to go through the hell they have been through. Any person diagnosed with any cancer, especially a hard to treat one, deserves every single option to help get them through. That's what PROFYLE and our event is all about.
"So, while it started as something that allowed us to give back and help show our kids the importance of supporting the community you live in, it has become about Amara. She is the reason we do this now. It's for her, her family, and all the other young people and their families fighting their courageous battles with cancer."
This year's event is asking participants to pedal or get creative in how their team can join in with Wheelers (at the location of their choice) and as the website reads, create a "party with a purpose."
No bike, no problem, Wheeler noted.
The official Inside Ride website offers up several unique suggestions as to how people can get involved.
Inline skates, skateboards, scooters or even a wheelbarrow are welcome. So too is seeing how many slap shots one can get through a bicycle tire in five minutes. Ditto for a pizza making or baking contest, where each team member has five minutes to create an item to look like a wheel or a bike.
Those taking part can send in a team photo prior to the live stream November 5, and submit via the CancerCare Manitoba Facebook page the night of the event for a chance to win prizes.
Wheeler, part of team "Hot Wheels," is grateful for the many who have stepped up to join the cause. For all those asking about the hats he wore last year that also made an appearance in his recent Instagram post, he's got you covered over at @letsbfunky.
"Winnipeg is such a tight-knit community. You feel like you know everyone here. It's fun because we have so much support from the friends we have made her in Winnipeg and our amazing fans. You see people that you've maybe bumped into downtown or have seen in a crowd. Those are the people that are participating in the event. That's the really cool part about it – that the community really gets behind us and behind the cause, and helps us out."
It's a welcome reminder – even though he might not need one – of what it means to play hockey in a city like Winnipeg.
"That's what makes it special to play in a place like this, that you have people around you that will step up and help you out."