Subban seizes opportunity to listen, learn and help bring change
Sam Acho raised $500,000 to convert a building into a much-needed grocery store with an assist from several notable Chicago athletes, including Blackhawks newcomer, Malcolm Subban.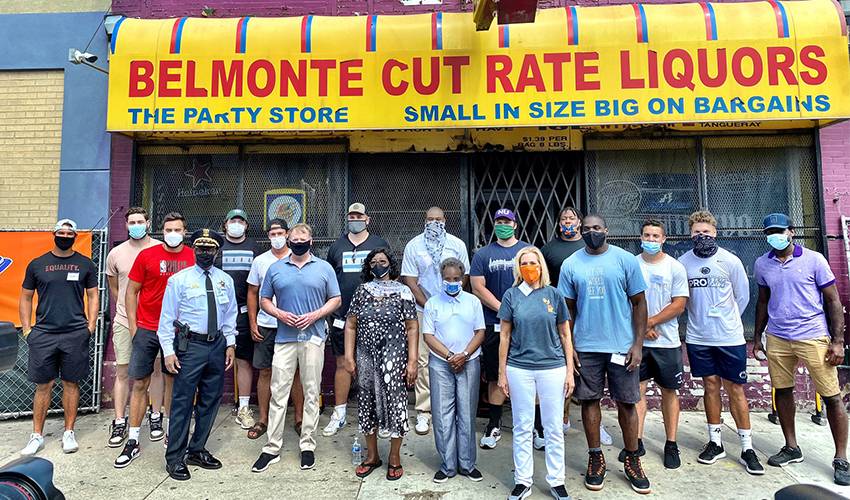 Feature photo: nba.com/bulls
---
When it comes to tackling change, NFL linebacker Sam Acho has plenty of helping hands.
They came from different sports leagues and other walks of life, but July 7, the group that gathered in front of Belmonte Cut Rate Liquors on the West Side of Chicago came together for a common goal: convert a building into a much-needed grocery store.
Acho raised $500,000 to buy the liquor store with an assist from several notable Chicago athletes, a list that includes NHL players Jonathan Toews and Malcolm Subban, NFL quarterback Mitch Trubisky, as well as MLB players Lucas Giolito, Jason Heyward, and WNBA star Diamond DeShields.
NFL Commissioner Roger Goodell, Chicago Police Superintendent David Brown, Chicago Mayor Lori Lightfoot, and others also came to support the project, with everyone involved grabbing sledgehammers to start the initial demolition.
Currently, the South Austin neighborhood has 17 liquor stores but just two grocery stores within a half-mile radius.
"I think it was really important for me, being new to the city, to learn more about where I am, and how I can give back," Subban told NHLPA.com. "My cousin moved to Chicago a while back, and I talk to him a lot. He loves Chicago, so from learning more from him, and learning more when I got here – watching YouTube videos – it made me want to become involved with giving back to the community. Jonathan, he called me up and asked me if I wanted to be involved and said, 'Yes, 100 percent.' It was a chance to help out, but to also get to know the city some more."
The inspiration behind the idea to convert the liquor store into a grocery store came through conversations with kids from the By The Hand Club [BTH], who spoke passionately about their hope of seeing an improved Chicago. The after-school program's mission is "helping children who live in under-resourced neighborhoods have an abundant life."
The new store will be operated in partnership with the non-profit organization, whose home base is not far from the building.
"We refer to that area as a food desert," said the Dallas-born Acho, who has played 110 NFL games, 51 of them with Chicago, 51 more with Arizona, as well as eight in Tampa Bay. "When we asked some of the kids in the area, 'What is this like for you? Where do you get your food from?' a lot of them said they get their food from the gas station. Others said that if they want to get healthy food, they have to drive 45 minutes to get it. Others said they get their food from fast-food places. So, we saw there was a need for something. I sat and listened to those kids and then I decided to invite some friends to help out."
And as Acho quickly discovered, plenty of people were willing to help out, a group that includes Toews and Subban.
"I called up guys from the Bears, the Bulls, the Cubs, the White Sox, the Blackhawks… and everybody showed up. For me, it was amazing. Jonathan and Malcolm, they both showed up. And not only did they show up that week, they showed up the following week as well. And then they came again for our teardown party. It was a true team effort. These people gave their time, their money and their voice to let people know what's going on."
Thank you for inviting us into your community and giving me a chance to listen and learn. "Now is the time to open the doors of opportunity to all of God's children. - MLK" ✊🏾 2/2 pic.twitter.com/YE6cILDQqN

—

Malcolm Subban (@Subbz3r0) June 5, 2020
You can count Acho as a big fan of the Blackhawks captain and goaltender.
"I have a book coming out in the fall, it's called, 'Let the World See You: How to Be Real in a World Full of Fakes.' In that book, it talks about what it means to be real. And these guys are real. They showed up and they really cared. They wanted to find out how they could help. That meant everything to me."
The 31-year-old Acho is grateful to have the pair helping to get his message of hope out to the masses.
"I had never met those guys, but I had heard about Jonathan Toews before. When I got the chance to meet him, it brought joy to my heart because he's a great dude. Malcolm and I, we formed a pretty cool relationship as well. They are two truly great people."
Subban, who came to the Blackhawks via a three-team trade February 24 before the season pause, is thankful to have been part of the experience.
Meeting fellow athletes was an added bonus.
"Mitchell Trubisky from the Bears, he was really cool. He's great. I also met Austin Carr with the New Orleans Saints, and Max Strus from the Bulls… those guys were both great, too. It was nice to meet those guys and lots of other people as well."
It turns out the 26-year-old Subban is no slouch with a sledgehammer.
"I'm definitely better when I'm in the goalie equipment, but I've done the sledgehammer before in my workouts – hitting the sledgehammer on the tire. I'm pretty decent with it after doing that stuff, but hitting it into a wall was a little different for sure."
Most importantly for Subban, the biggest key is the impact the store will have on the West Side.
"To be able to give kids a grocery store that provides some different and healthy options, I think that's going to be great for the community."
One conversation in particular, a chat before the walls began to come down, is still front and centre in Subban's mind. The athletes spoke with children and BTH representatives, joined by BUILD (Broader Urban Involvement & Leadership), the Westside Health Authority and Chicago police officers to help form 'healing circles.'
"We had a little circle where we were talking before we went to do the teardown. One of the things I said was that this is setting an example for the kids, showing them what you can do when you work together as one. Hopefully, this shows the kids that we care, and we're here to support them. Secondly, it shows them the important life lessons about what it means to help people in need."
With people like Subban and Toews in his corner, Acho sees brighter days ahead for the West Side.
It's a thought that brings an instant smile to his face.
"My hope for this project is simple. I want to see that store up and running, people coming in and out, getting healthy food, and the kids, who I've been seeing for the last couple years, working in that store. But more importantly, I see a complete community change. I see pre-schools. I see grocery stores. I see people walking around the community. I see redevelopment. I see police officers joining with their community members in helping to change the community for the better. I see joy and I see love. When I close my eyes, that's what I see."