Nilsson's goal an inclusive world for kids, teenagers
Anders Nilsson will never mask his support of the LGBTQ+ community.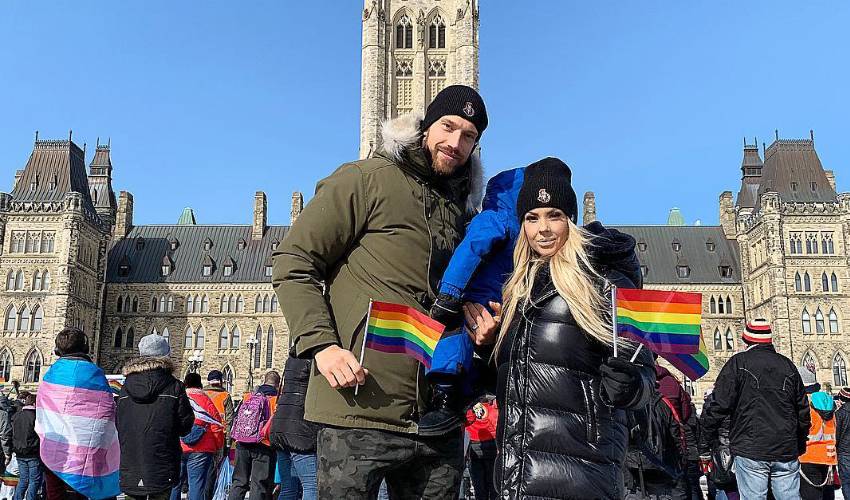 Anders Nilsson will never mask his support of the LGBTQ+ community.
It was anything but a fashion statement when Nilsson made the decision to display the colourful image on the back of his mask nearly three-and-a-half years ago when he was with the Buffalo Sabres.
But make no mistake, it was every bit a statement, one of unconditional support.
It was during the 2015-16 NHL season when Nilsson, then a member of the Edmonton Oilers, became inspired by the team's commitment in raising awareness for the LGBTQ+ community.
When he unveiled his Sabres mask [he was dealt to Buffalo on July 2, 2016] in December 2016, it represented an artistic expression of his belief system.
He made the decision to display a Pride flag on the back of the mask in a show of support for his gay friends.
It was the first time an NHL backstopper put a rainbow flag on their mask.
"When I first put the flag on my helmet, I never thought I would get as much publicity as it has," said the native of Lulea, Sweden. "For me, it was an obvious thing to do and I thought it was about time that someone in hockey started talking about it."
In 2018, Nilsson was chosen 'Hetero of the Year' at the QX Gay Gala, for promoting diversity through his goalie mask.
"It's a great honour being awarded Hetero of the Year in Sweden," he said in an Instagram post. "Thank you everyone that has voted on me and think I deserved this award."
Last year, Nilsson and his family took part in Ottawa's Pride Walk. The hashtag #hockeyisforeveryone accompanied a photo he posted on Instagram during the event.
The 62nd overall pick of the New York Islanders in 2009 remains a staunch supporter of the LGBTQ+ community, a community that is grateful to have the goaltender in their corner.
"Since I put the flag on my helmet, I have been overwhelmed with positive support and a lot of people have reached out to me to say how much it means to them, and people have also talked about all the struggles they have faced during different aspects of life. The flag on my helmet will stay there for as long as I'm playing and I think it is important that we continue to talk about equality in society, especially with what is going on in U.S. right now."
Nilsson, who won gold with Sweden at the 2018 World Championships, will also continue to have those conversations with his children.
"My kids are very young, but we still talk a lot about that it is very important that everybody can be together and play. No one should ever be left out or feel left out. We also talk about that a man can be in love with another man and a woman can be in love with another woman. So far, for them, it is not a big deal. My hope is that they can grow up in a different world and never have to face the issues with equality that we have today."
Winning an award or earning praise for something he put on his mask was never Nilsson's goal.
Working to change the perception of others, through his words and actions, continues to be a top priority for the 30-year-old.
He knows it won't be easy.
"Of course it was fun to win an award, but that has never been my intention. As I said before, I never thought that putting a flag on my helmet would get as much publicity as it has. For me, that only shows that we still have a long way to go."
Nilsson, who has started 144 NHL games, is in it for the long run.
"My goal is that I can help kids and teenagers in some way. I also hope that I can help change the mindset in all sports so kids and teenagers can continue to play the sport they like no matter who they love."