Players committed to education, action to combat racial injustice
The words they choose are different, but for Patrice Bergeron and Adam Henrique, the message and the sentiment are very much the same.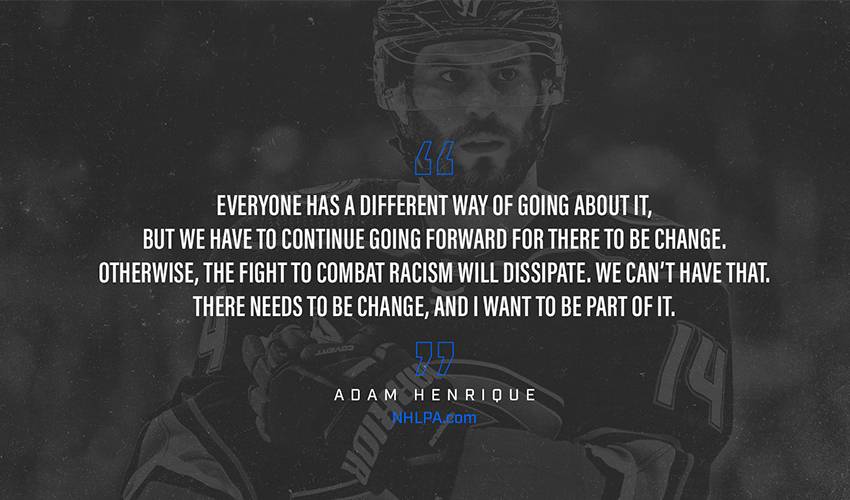 The words they choose are different, but for Patrice Bergeron and Adam Henrique, the message and the sentiment are very much the same.
They are two of the many NHLPA members who have recently used their platform, in the wake of George Floyd's death and the ensuing protests, to speak out against the systemic racism and racial injustice affecting Black and other minority communities.
While Bergeron has not been active on social media throughout his 16-year career, on June 3 he released an impactful statement through the Boston Bruins' Twitter account.
In the statement, he also announced donations of $25,000 to the Boston NAACP chapter and $25,000 to the Centre Multiethnique de Quebec.
https://twitter.com/NHLBruins/status/1268241088533405696
"Silence is not an option for me anymore," he said in the message, adding, "I am disappointed in myself that it took this long for me to truly open my eyes. Seeing all this pain truly breaks my heart and forces me to seek answers."
One week after the post, Bergeron remains committed to living up to those words.
"I realized by not speaking up, it was allowing racism to continue," the 34-year-old told NHLPA.com. "I said in my statement that I always treat people with respect and equality, but it opened my eyes that it wasn't enough. You need to talk about it, to let people know that this isn't right, that we are all human beings, we are all equal, and we need to be treated the same way."
Henrique concurs.
The 30-year-old forward for the Anaheim Ducks posted a message just over a week ago on social media, a similarly powerful message like Bergeron's.
https://twitter.com/AdamHenrique/status/1268206564353196034
"We must come together as one, support each other, and become a better human race," part of Henrique's statement read. "Use your voice, show love, and treat one another the way you would want to be treated. Let's work together towards a better future where racism is truly a thing of the past."
Henrique, like Bergeron, took time to process his thoughts before sharing them.
"I didn't want to put something out there just to put something out there," said Henrique, who made a donation to the Center for Black Equity, a Washington-based organization committed to supporting leaders, institutions and programs for health, economic and social equity for Black LGBTQ+ People. "I wanted to take time to think about what I wanted to convey. I didn't grow up facing racism and knowing what that meant. For the week before I posted something, I took time to learn and get a better understanding of everything that was going on. Before I said anything, it was important to me to educate myself as much as I could."
Henrique, a veteran of nearly 700 NHL games, spent time looking at what other players around the league had to say.
What he saw was a widespread, strong response from fellow players and the hockey world.
"I thought a lot of the guys had some great things to say. I thought [Winnipeg Jets captain] Blake Wheeler was one of the guys, since everything happened, who is really pushing for and advocating for change. There are a number of other guys, too. It made me realize that as a white athlete we have to be a part of the change."
Bergeron and his wife, Stephanie, want their three young children to be part of that change.
"I think it starts with the parents," began Bergeron. "It starts with us listening and educating ourselves so that we can raise our kids to know that any form of racism is wrong, to teach them to stand up and speak up if they see or hear anything where people are not being treated as equals. Sometimes, you have to take a stand."
It's why Bergeron made the decision to share his thoughts on racism in a public forum.
He's glad he did.
"I don't know everything about these issues, and I won't pretend that I do. I realize I have some learning of my own to do. My wife and I will continue to educate ourselves and by listening, being open, and asking questions – that's opened our eyes. By doing that, we will be able to help our kids and raise our children to stand against racism."
The decorated forward, with nearly 1,100 NHL regular-season games played, isn't looking for applause for his statement.
For Bergeron, it was simply about doing the right thing.
"That's exactly it. It's not about me. That's the one thing that I wanted to make sure came across in that statement. I'm speaking up because silence is not enough. It's not about me. It's about taking a stand, speaking up, and saying that enough is enough. This is what I believe in and although I've never spoken publically about my feelings, this is something that needed to be said, something that needed to be heard and is something I feel very strongly about. It's about taking action now. It's one step to talk, but taking action is what will make this last."
Five minutes after the conversation with Bergeron ended, he called back.
"I wanted to say one more thing… I want to be an ally now and I want to be an ally for the future too."
It's a sentiment shared by Henrique, who, along with his girlfriend, Lauren Thomas, recently attended a peaceful protest in California.
"Everyone has a different way of going about it, but we have to continue going forward for there to be change. Otherwise, the fight to combat racism will dissipate. We can't have that. There needs to be change, and I want to be part of it."
From marching in solidarity to making donations towards causes that make a difference, Bergeron and Henrique are among the many players from around the league who have leveraged their platforms to call for change and committed themselves to be part of the solution.