From Player Poll to Player Rep, checking in with the Mathesons
From the 2019-20 NHLPA Player Poll to his role as a player rep, Mike Matheson weighs in with that and more amid the global COVID-19 crisis.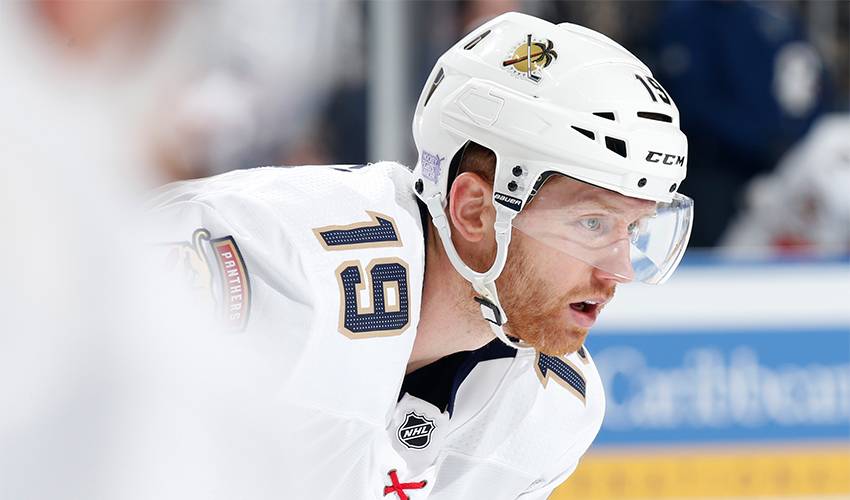 While they haven't hooked anything memorable on the waters, Mike and Emily Matheson are definitely hooked when it comes to a certain TV series.
One of hockey's power couples is getting through the worldwide COVID-19 crisis with a well-rounded game plan.
Mike, who patrols the blue line for the Florida Panthers, and Emily, a decorated defenceman with the United States women's national team, are keeping a busy weekly schedule, maintaining most of their familiar activities while also introducing a few new ones into the fold.
"We've been doing some fishing, working out, doing a little bit of rollerblading, painting some bedroom furniture, and binge-watching The Blacklist on Netflix," offered Mike, who met Emily when they both attended Boston College. "We've done a couple puzzles, too. We've always been the homebody types in a way. There are a lot of nice places here in Ft. Lauderdale, where you can go have a nice meal on a patio, but we're also good with staying home and cooking, just doing our own thing. Like everyone else these days, you get bored, but we've been able to manage pretty well."
Fishing expeditions, at least so far, haven't yielded any big catches.
"Very enjoyable, but very unsuccessful," said Mike with a laugh.
And then there's home cooking.
While neither one will be trading in their hockey helmet for a chef's hat, the Mathesons are holding their own in the kitchen.
Meal preparation is a solo venture. No sous chef required.
"We've been taking turns," noted Mike. "One night I cook, one night Em cooks. We've been doing it that way because we felt all we were doing was cooking, so this way one of us cooks and the other one gets to do nothing for a little bit. I'd say Em is the better cook than I am. I'm better on the barbeque, but that's pretty much it for me. No desserts because we're not playing, so we're not burning as many calories. We're getting the home meal kits as well, so that's what we've been doing for the most part. Those are so easy and straightforward – they've been helpful."
Emily, who won Olympic gold with the U.S. in 2018, has appreciated the opportunity to add some new dinner options to the roster.
"We've definitely been exploring some new meals, which has been nice," she said. "But Mike's definitely more of the grill master than I am."
When they aren't in the kitchen, the couple can be found relaxing on the couch and watching a popular television crime thriller.
"We've been hooked on watching The Blacklist," said Emily. "We're really into action shows and we pretty much watch them all, but that was one where we were scrolling through Netflix, saw it, starting watching it and now we can't stop."
Life isn't all about the small screen scene.
The couple is also spending some quality time with Hank, their adorable two-year-old miniature goldendoodle.
"We're lucky because we have nice weather here in Florida, so when we do go outside, just for a little bit, we've been walking the dog, and trying to train him a little," said Emily. "He's a pretty smart dog, but sometimes that's a bad thing too. We just got rollerblades, and we've been doing that a little bit too. On the game side, whatever we happen to be playing… it can get pretty competitive. We try to hold it back, but there have been moments."
Matheson did, however, earn bragging rights for appearing in the 2019-20 edition of the popular NHLPA Player Poll earning status among the top four female hockey players in the world.
Nearly 600 NHL players were surveyed on more than 20 hockey-related questions, weighing in on a variety of topics – covering skills, arenas, teams and life off the ice. Florida players Sergei Bobrovsky (selected as the fourth-best goaltender), Aleksander Barkov (chosen the third-most complete player) and Keith Yandle (named the funniest player) also made the cut.
"Yands was on there, and he certainly should be," Mike spoke of his teamamates. "And with Barkov, he's such a great player. We've also great a goalie with Bobrovsky. We're not a media hotbed in terms of hockey, so I think it's easy for players on our team to go unnoticed by the rest of the hockey world, but obviously they deserve all the recognition they can get because they're amazing players."

The 26-year-old Quebec native, who won gold with Canada at the 2016 World Championships, has also been providing his Florida teammates with a big assist during the coronavirus pandemic.
As the NHLPA player representative for the Panthers, Matheson has been passing along any significant player-related news during the interruption of the 2019-20 season.
"PA-wise, my job is to be on the calls, take notes, relay it back to the team, and get their thoughts on it, then relay it back to the NHLPA. In that sense, my job is being the middleman. We've been watching to see what the Canadian and U.S. governments do, in terms of coming out of the quarantine, when that might be able to happen, and if that time were to come, we'd be looking to put in some plans to come back and play because that's what everybody wants. Up until now, it's just been wait-and-see, which is so difficult for all of us. We're wishing that we were playing – watching old hockey videos of the playoffs and wishing we were doing that instead. But everything that is going on now is much bigger than hockey."
Until the games resume, the Mathesons will have plenty on their plate to keep them busy.
Perhaps a nice fish dinner with something they caught themselves can be a collective goal.
"That would be great," said Mike.