Skinner steps up with hat trick of donations for COVD-19 efforts
Hockey might be hold, but that didn't stop Jeff Skinner from stepping up and netting a natural hat trick.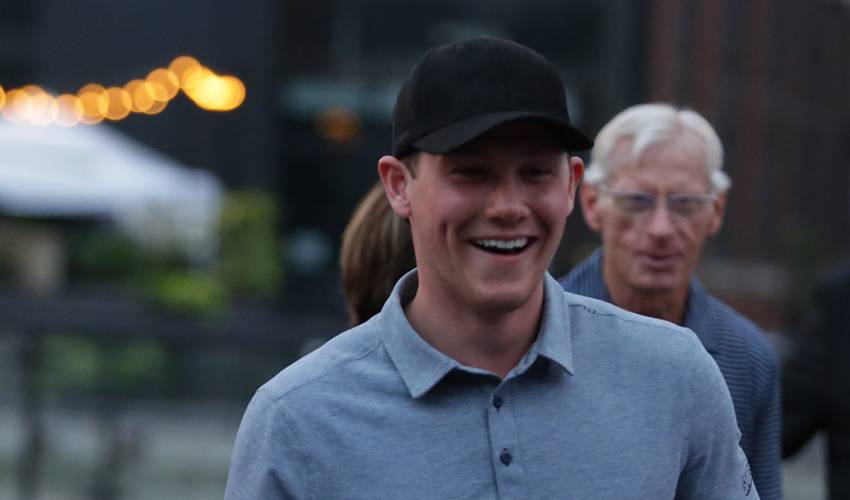 Hockey might be hold, but that didn't stop Jeff Skinner from stepping up and netting a natural hat trick.
He's put up a handful of three-goal games in his NHL career to date, but Skinner's latest trifecta might be the most impressive one of all.
The more the 27-year-old watched and read the numerous stories detailing the selflessness, generosity and intrepidity of people in the midst of the COVID-19 pandemic, the more motivated the Buffalo Sabres forward became.
After considering ways in which he could lend an assist to those affected by the coronavirus, the left wing came up with a game plan.
The end result was a trio of $53,000 donations – a nod to 53, Skinner's NHL number – to COVID-19 initiatives in Buffalo, his hometown of Markham, Ontario, and Kitchener, the southwestern Ontario city he called home during his junior hockey days.
Skinner's donations went to a relief fund designed by Pegula Sports and Entertainment, the Ontario Hockey League's Kitchener Rangers (money that will provide over 150,000 meals to the Food Bank of Waterloo Region), and Markham Stouffville Hospital, an acute care and community hospital serving south-east York Region.
"The Pegulas presented a great opportunity to make some contributions to the people of Buffalo which would help hospital workers in the Buffalo area and help with the purchase and distribution of food for those in great need," Skinner told NHLPA.com.
"I was raised in Markham and I thought it was important that I give something back to a community where I had my roots. Each and every day, hospital workers sacrifice and put themselves in danger in incredibly stressful situations, and provide service to others in their community. I personally wanted to recognize this and let them know how much they were appreciated."
It most certainly was.
In a statement, Suzette Strong, CEO of Markham Stouffville Hospital Foundation, noted just how impactful Skinner's contribution will be.
"Jeff Skinner's generous donation to Markham Stouffville Hospital speaks directly to his character as a leader and the values at the heart of our community. We are honoured that Jeff is commemorating his Markham roots by giving back to help Markham Stouffville Hospital combat Covid-19. His contribution will make a huge difference to our front-line health care workers and will help ensure our community – the community where Jeff grew up – receives the critical care it needs during this challenging time."
During two seasons, 2008-10, with the Kitchener Rangers, Skinner posted 141 points in 127 games. He had two goals and an assist in his debut with the club, on September 18, 2008.
In his final year with the Rangers, he tallied 50 goals and led all Canadian Hockey League draft-eligible forwards in goal scoring. He also became the first player in team history in 23 years to reach the 50-goal plateau.
A two-time NHL All-Star, and 2011 Calder Memorial Trophy recipient as rookie of the year, Skinner still has fond recollections of his junior days in Kitchener, including his connection with the city and its fans.
"The Kitchener-Waterloo area food bank services almost 100 agencies in distributing food to those with the greatest need in a large geographic area of Southwestern Ontario. I wanted to make a gesture to the Kitchener Rangers where I played my junior hockey and who treated me so well. I am grateful for the tireless work of the food bank. The fact that my contribution will result in over 150,000 meals to be distributed to those with great need is a testament to their great work."
Skinner, who spent his first eight NHL seasons with the Carolina Hurricanes, inked an eight-year contract with Buffalo in June 2019 after he was dealt to the Sabres prior to the 2018-19 campaign. He was selected an All-Star and tallied 40 goals (a career-high mark) in his first campaign with Buffalo.
He's grateful to be in a position to help his hockey communities and his hometown. He's also thankful to the doctors and nurses, first responders, and hospital staff who are all working tirelessly throughout these unprecedented times.
"The first thing I want to say is a huge thank you. And I would tell them it's hard for me to imagine all of the stress, pressure and fear that they must experience every minute of every day as they take extraordinary risks and make personal sacrifice on behalf of their communities."
Skinner also has a message for hockey fans.
"Hang in there. Keep safe. Try to stay positive. And keep the hospital workers, the community leaders, essential workers and those suffering with this virus in your thoughts."