After the Buzzer | Nic Dowd
Hockey player. Father. Husband. Five-star driver. Reporter. Nic Dowd is a little bit of everything.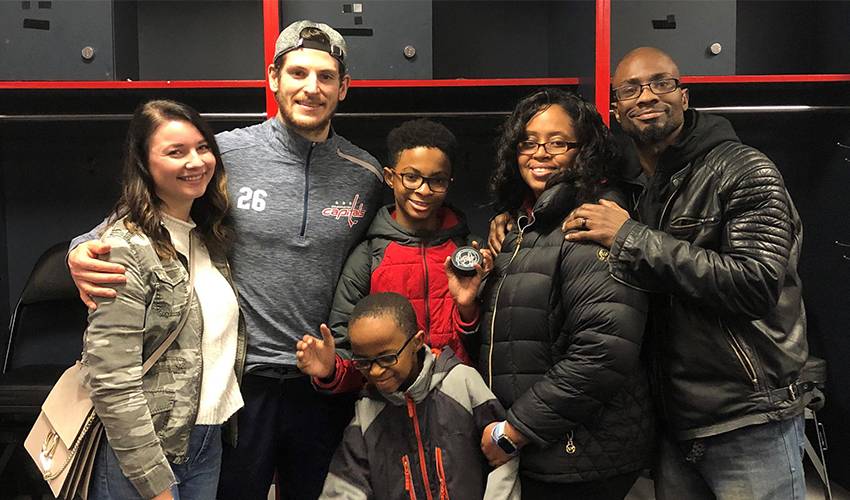 Feature photo via NHL.com/capitals
From their bond with fans to their efforts in the community – and everything in between – 'After the Buzzer' is a weekly series taking readers beyond the rink to shine a light and provide insight on players' lives away from the game.
---
Hockey player. Father. Husband. Five-star driver. Reporter. Nic Dowd is a little bit of everything.
He very well may be the Washington Capitals most interesting man, a hard-working energy player who knows how to ask hard-hitting questions of his teammates. He even played the role of driver for teammate Garnet Hathaway, in a must-see video featuring the pair.
The 29-year-old Dowd stopped by NHLPA.com to talk about life as a new dad, an upcoming event hosted by himself and his wife, Paige, and what hockey role he hopes his young son nets if he makes the NHL.
PARDON THE INTERRUPTION
Dowd decided to shed his hockey role, albeit momentarily, when he joined reporters to interview teammate Brenden Dillon after a game.
His question? (Dowd's microphone was a skate guard) "Obviously, coming from San Jose – a warmer city than D.C. is – did you bring your thermal underwear?"
Dillon: "Yeah, I wore shorts from my walk last night to dinner. I know I might have to put on some pants today, and I'll make sure to wear a suit and maybe an overcoat."
Dowd: "We require suits here in D.C."
"Just having a little fun with a new teammate," said Dowd, with a laugh. "It went over pretty well, I think."
NEW DAD DAYS
Dowd became a father on New Year's Eve, as he and Paige welcomed son Louie into the world.
It appears the 198th pick of the Los Angeles Kings (2009) is still wearing a big smile these days. On January 5, he scored his first goal since the new addition to the family, using a kiss for his celebration move.
"There are a lot of cool parts (to being a dad). I would probably say the best part is when you are holding them and they're sleeping on your chest… it's still so surreal that he's yours. Just seeing him do new things – I know he's still small – is great. He smiled for the first time recently, which makes you forget about all the nights he's been keeping you awake. To see my wife become a mom has been pretty cool as well. It's been pretty special. It's my parents' first grandkid, so that was exciting."
TOP-LINE PROSPECT?
It's far too early to tell if young Louie is destined to follow in his father's footsteps and be an NHL player. If that does happen to be in the cards, Dowd, who has skated in 251 big-league games, is hoping Louie sees plenty of ice time.
"Hopefully, he's a goal-scorer," laughed Dowd. "They don't pay grinders as much, unless the game changes. But it's not trending that way. We're going to push for a goal-scorer, that's for sure."
GET IN WITH THE DOWD CROWD
In 2018, Nic and Paige created Dowd's Crowd to provide the chance for kids with sensory issues to be able to attend and enjoy a Capitals home game.
Paige studied speech language pathology at St. Cloud State University in Minnesota, taking on the role of president of the National Student Speech Language and Hearing Association. After graduation and moving to California, she worked as an autism therapist.
March 10, they hosted the first Dowd's Crowd Skate.
"We started the foundation because we felt autism didn't have much of platform in the NHL. My wife started discussing the idea in Vancouver – we obviously didn't re-sign there – and then we came to Washington and started talking about it again. The organization had already started talking about it as well, so it was a good fit.
"I think the biggest thing we've taken away so far is that it's allowed the parents of the children and the children to enjoy a night out. The kids really seem to enjoy the game. We also give them the Dowd's Crowd kit that has some sensory stuff (noise-cancelling headphones, sunglasses, a foam puck and a conversation card) in there, which makes the game a little bit easier for them. If the lights or the noise is over-stimulating, there are products in there that allow them to deal with that stress if that occurs. The skate itself, I think it's going to provide families with an opportunity to take part in something they may not do themselves. We want to make it a welcoming environment for the kids and everyone that comes."
PARTING SHOT
"It's great. To have Paige involved helps a lot, and we enjoy doing that kind of thing together." – Dowd, on teaming up with his wife to help make a difference in the community.