Cirelli could be clutch for Lightning along stretch
"As the pressure intensifies for his team, that's when you'll see the best of Tony," said Dave Brown, General Manager of the Ontario Hockey League's Erie Otters.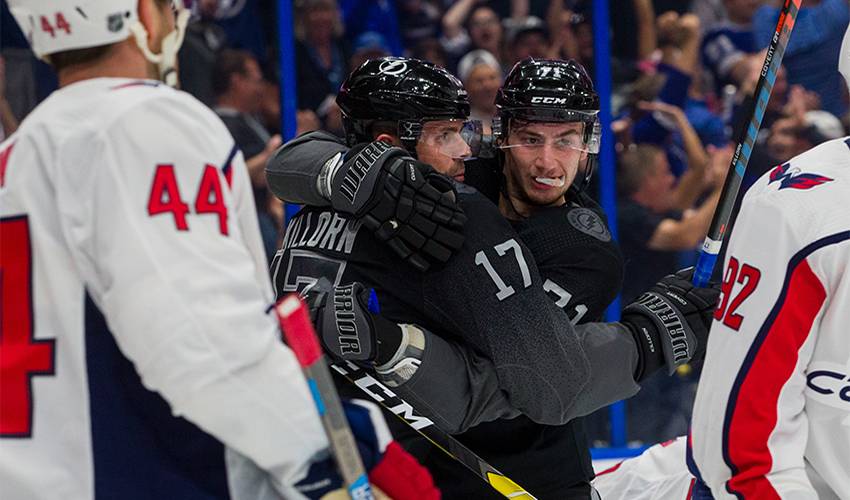 "As the pressure intensifies for his team, that's when you'll see the best of Tony."
Dave Brown, General Manager of the Ontario Hockey League's Erie Otters, serves up a steady stream of superlatives when he speaks of Anthony Cirelli, the 22-year-old in the midst of his second full NHL season with the Tampa Bay Lightning.
Cirelli left a lasting impression on the franchise while playing just 25 regular season games and 22 playoff contests with the Otters.
"If there was a time to bet on a certain guy to score the big goal, I guarantee Tony will be at the front of the line," said Brown of the Tampa Bay Lightning forward. "The more pressure, the more likely you are to see a successful player. And who better to do it than someone as humble as Tony."
The self-effacing Cirelli has an impressive track record of coming up big in the big games.
Very big, in fact.
As a member of the OHL's Oshawa Generals, the Ontario native scored twice, including in overtime, in the 2015 Memorial Cup Final against the Western Hockey League's Kelowna Rockets.
In 2016-17, he put up 34 points (13 goals, 21 assists) in 26 games for Oshawa before he was dealt to Erie January 9, 2017. He posted 30 points (12 goals, 18 assists) in 25 games with the Otters, who made it to the 2017 Memorial Cup Final, losing 4-3 to Windsor.
Selected by the Lightning in the third round (72nd overall) of the 2015 NHL Draft, Cirelli brings a winning attitude to the rink, noted Brown.
Working the Sens-Tampa 'Hockey Night in Canada Game' tonight. Jon Cooper told us that Anthony Cirelli is "the best forechecker I've ever coached."

Down the hall, Stamkos and Hedman were firing footballs back and forth - and unlike Jameis Winston, didn't see either throw a pick

—

Arash Madani (@ArashMadani) January 4, 2020
"Off the ice, he's someone you want to be around," said Brown of the player who made his NHL debut March 1, 2018 against Dallas and scored his first goal and assist in a 5-4 overtime win. "He's charismatic, he's energetic, and he brightens the room up when he gets there. He's a guy that always comes in with a positive attitude.
"He looks at setbacks as just being minor, not a failure. He just continually battles every day and brings that to the ice. His best skill is his compete level. He works so hard. He's a guy that as soon as he got to our team, he made our group better."
Brown's praise of Cirelli, who recorded his first NHL playoff goal on May 2, 2018, doesn't end there.
"He knows how to win. He's a proven winner and he scores big-time goals. Rather than succumb to pressure, he thrives in those intense situations."
After 11 points, including five goals, in 18 games in 2017-18 with Tampa Bay, Cirelli scored 19 goals and had 39 points in 82 games last season. Five of his 2018-19 tallies were game-winners.
In his first 40 games this season, the six-foot, 193-pounder has 27 points including nine goals, two of them game-winners.
On New Year's Eve, Cirelli had a goal (an empty-netter) and an assist in a 6-4 road win against the Buffalo Sabres.
"He's such a well-rounded player," praised Brown. "I don't think he has an underrated skill. He scored 19 goals in 2018-19… pretty good for a guy in his first full season in the NHL. From an overall perspective, he just does everything well. Tony's great in all areas. Coaches love him because they can trust him. You tell him to do something and he understands that and how to implement it into the game."
Cirelli figures to be a key player in Tampa Bay's playoff fortunes this season.
Brown has no doubt he'll be up for the challenge.
"Whether it was him scoring the Memorial Cup winner for Oshawa, or the winner for us in overtime in Game 5 of our league championship, he is a money player."