NHLPA Goals & Dreams | Impact in India
It was a hockey match made in heaven – one of game's most impactful grassroots programs and one of hockey's all-time greats.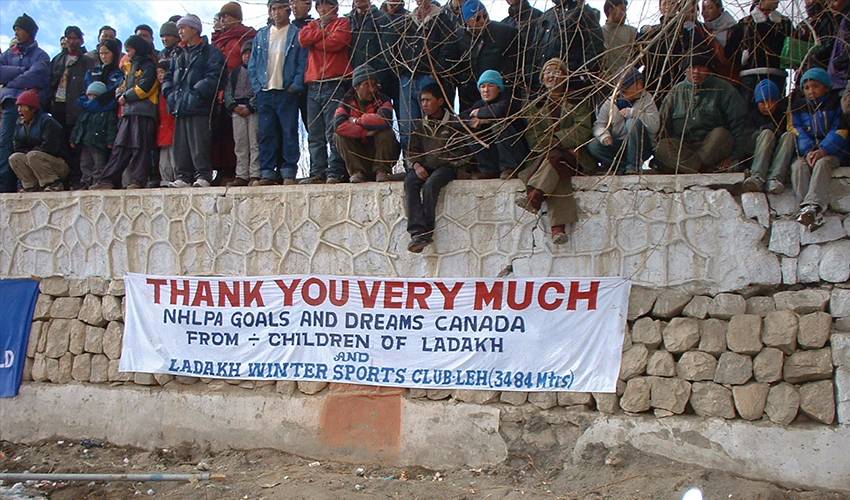 It was a hockey match made in heaven – one of game's most impactful grassroots programs and one of hockey's all-time greats – that all played out in a remote region of Ladakh, India.
Few, if any, have seen the game through the lens that five-time Olympic gold medal-winner Hayley Wickenheiser has. The sport has taken the recent Hockey Hall of Fame inductee across the world.
Literally.
The story began for Wickenheiser when she watched a video of the region that captured the inhabitants' heartfelt love of hockey. She also saw an opportunity to support India's national hockey teams.
When the chance to go to Ladakh presented itself, the Saskatchewan native didn't think twice about making the trek last January, all while bearing gifts from the players' program, known as NHLPA Goals & Dreams.
Devin Smith, NHLPA Goals & Dreams Chairman, saw an ideal fit between Wickenheiser and the players' charitable initiative in the midst of celebrating its 20th anniversary – one that supports grassroots hockey programs and helps economically disadvantaged youth enjoy the game of hockey.
"Since it began 20 years ago, NHLPA Goals & Dreams has helped children around the world experience the joy of playing hockey. G&D first helped a program in Ladakh many years ago, so we were excited to work with Haley and the High Commissioner for Canada to India on another initiative. Ladakh is another example of the program's commitment in providing new equipment and with it, new opportunities to enjoy our great sport."
A few conversations later, the decision was made to send along 70 sets of full equipment when Wickenheiser, a seven-time World Championship gold medal winner, made the journey.
It was a genuine game-changer for the Canadian hockey icon – and the second gesture from G&D to the community of Ladakh.
Wickenheiser was joined on the trip by a group that included former NHL defenceman and NHL Director of Social Impact Andrew Ference and Nadir Patel, High Commissioner for Canada to India, Ambassador of Canada to Nepal, Ambassador of Canada to Kingdom of Bhutan.
"You can't help but be inspired by Hayley's enthusiasm to grow the game of hockey, not only in Canada but around the world," continued Smith. "One of the biggest obstacles with hockey, including at the grassroots level, is the cost of equipment. Through the Goals & Dreams program along with the support of the players, we are able to bridge that gap for less fortunate children."
"Hayley worked tirelessly with us to make sure the kids were treated to an amazing experience and of course some amazing gifts of brand new hockey equipment. We're extremely grateful to her, Nadir Patel, Andrew Ference and many others for their efforts in making the donation in India such a memorable one.
All were able to see, first-hand, what a world of difference the NHLPA Goals & Dreams fund continues to make.
But first, Wickenheiser had to work a little overtime to ensure the bags of equipment made it to their ultimate destination.
"We eventually flew the bags up to Ladakh, but we had to sleep overnight in the airport in Delhi with them – myself and another woman. We made sure they weren't going to get stolen, so we slept in the loading dock with all the bags, which was awesome, and a totally unique experience."
It would be far from the only one.
"We got the equipment up there and we were able to give them to the kids," Wickenheiser recalled. "Some of them have never seen what a brand new stick or brand new skates looks like. The whole community – I think they were sharing it with other kids. It's not one bag of equipment for one kid, it's one bag of equipment that gets shared around between 10-15 kids."
Wickenheiser, twice named the most valuable player at the Olympics, in 2002 and 2006, can still vividly recall the looks on the faces that greeted the group when the hockey gear was handed out.
"When we first pulled those bags of equipment out – a lot of these girls, their equipment was so old, falling apart. I remember one thing in particular, which was the goalie of her team. We went to her home, which was literally a mud hut on the side of the mountain. Her father started crying. When we told him how much the equipment was actually worth, it was more than he made in a year at his job. It was very meaningful to see the impact it was having on their lives, the kids and their families."
Patel was equally moved by what he saw.
"It was automatic smiles… and tears. Access to equipment is a real challenge because people don't have money. It's just the conditions are such that people can't afford it, so access to it was really important. These people do have equipment, but typically it's used, beaten up, taped up – they're just scraping by. This is something that is once-in-a-lifetime for many of the kids there. It was like gifting something they never would have dreamed about. Of course, there were smiles and happiness, but there were also tears. The best word I could use is that it was emotional."
To date, more than 80,000 children have benefited from the contributions of Goals & Dreams, which has donated over $25 million to help make the sport more accessible.
Australia, Algeria, Bosnia, Cost Rica, Latvia, South Africa – just to name a few – and now, India, for a second time.
Just seven examples of the 34 countries Goals & Dreams has helped at the grassroots hockey level to date, a testament to the fund's philosophy of ensuring hockey is truly a global game.
It's an ideology that resonates with Wickenheiser.
"I think Goals & Dreams is an amazing initiative, with the NHLPA and the players. I've seen their work in all parts of Canada, and different parts of the world. You think it's just stuff, but for hockey, it's stuff that enables kids to actually play the game, and that's really important. So often, if we can get kids out on the ice and get them going, they fall in love with the game and they want to keep playing it. Then the spinoff is so many life lessons – teamwork, discipline, and all the important things that go with it. It's an awesome program."
One year following Wickenheiser's once-in-a-lifetime trip, she brought India's women's hockey team to Calgary last November to play in her hockey tournament, known as the Canadian Tire Wickenheiser World Female Hockey Festival.
The annual event, often casually referred to as WickFest, attracts teams from around the world and special guests from Olympians to NHL players.
"We gave them a whole eye-opening experience on Canadian hockey," said Wickenheiser. "Since then, they've recently been sponsored by Under Armor, they've got the attention and funding of the Ministry of Sport in India, which is huge. What we were able to do was to enable them to go and help others, so they are continuing coaching clinics and growing the game in the region of Ladakh.
"A lot of people said, 'Well, no one plays hockey in India. Who cares?' But the ripple effect of impacting 30 young girls is thousands of people over time. I think it was very meaningful and a lot of people – even kids and parents of other teams at Canadian Tire WickFest – have made comments about how exciting it was to have them in our country. It's been great."
It's also been a reminder of how Goals & Dreams can influence the lives of many, no matter where they call home.
"Hockey really connects people from all over the world," offered Wickenheiser. "It brings nations together. It's the only I can think of, even in Canada, where people come together. It's truly that tie binds us all. We had so much support in India – even both sides of the government were helping us. That was amazing to see."
Not surprisingly, Wickenheiser often thinks of the journey to Ladakh.
What's the one thing that's stayed with her?
"I think it's the lasting impact the trip had. First of all, going there, not only working with the girls, but we also got to work with hundreds of kids in the region, as well as the military and the police. What that enabled us to do was bring some respect for what the girls were doing there, and to grow the game."
It was an equally moving experience for Patel.
"We have been promoting the sport and showcasing the sport in Ladakh for many years," he said. "When I say, 'we,' it's not just the Canadian High Commission, but many Canadians in the regions who just got together.
"This was special for three reasons," he continued. "The Canadian brand is very strong in India and when they think of Hayley, they think of Canada. She is truly inspiring, and when you have someone like that leading the charge, it just adds so much more. It was aimed at encouraging women and girls in the sport and it brought a really great dimension to things. The second would be that it happened around the time our Prime Minister was visiting India. That doesn't happen often, so it was a unique element that it made it more special. And the third thing is that when I approached the NHLPA, it was an immediate, 'Yes!' There was no hesitation. It was, 'How can we make this happen?' The whole thing coming together was just a bunch of people saying, 'yes.'" Everyone wanted to help."
Patel's grateful they did.
"Sport connects people. When you think of ice hockey, you don't think of India. In Ladakh, it's prevalent, but in the rest of India, it's much less so. Hockey really is team oriented. It's rarely about one player, but about players working together and helping one another. In Ladakh, there's just very little in the way of opportunity and this is one of those few things that can bring communities together. This inspired me as much as it did the kids."