Schenn a proud advocate for blood and stem cell donation
Brayden Schenn doesn't post a great deal on Twitter. But this summer, he had a special message to share.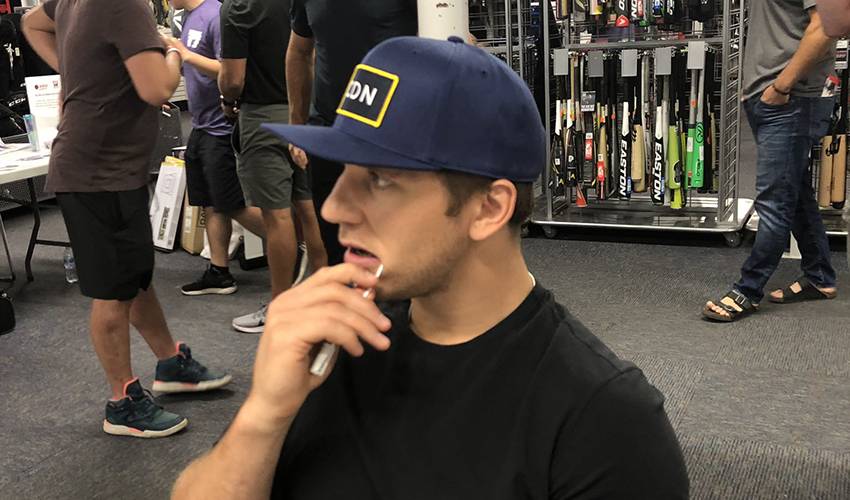 Brayden Schenn doesn't post a great deal on Twitter. But this summer, he had a special message to share.
On August 23 and 24, the 28-year-old Schenn was in full posting mode.
The reason why? He wanted to shine the spotlight on two special initiatives: Hockey Gives Blood and the Run For Mandi.
Founded in 2018 by four former hockey players, Hockey Gives Blood, which is partnered nationally with Canadian Blood Services, strives to create awareness amongst the hockey community about the importance of blood and stem cell donation.
It's an initiative Schenn is deeply passionate about.
His close friend and St. Louis Blues teammate, Jaden Schwartz, lost his sister Mandi to cancer eight years ago.
A standout player with the Yale Bulldogs, Mandi was a three-time Eastern College Athletic Conference Hockey All-Academic. It was during her time at the Connecticut school when she was diagnosed with acute myeloid leukemia in 2008.
After a tough battle that included chemotherapy, radiation and an unsuccessful search for a bone marrow match, Mandi passed away in April 2011 at just 23 years old.
To honour her legacy, the Run For Mandi takes place in Saskatoon, Saskatchewan, each summer.
Founded by a small group of volunteers nearly 10 years ago, Run For Mandi helps heighten awareness for Canada's National Stem Cell Registry, and raises funds for the Mandi Schwartz Memorial Bursary at Notre Dame College, as well as local Saskatchewan events supporting Cancer awareness or treatment.
Organizers said this year's Run For Mandi had more than 60 people swabbing their cheek hoping to become a potential stem cell donor.
Saskatoon native Schenn was one of them.
"Mandi is dearly missed," started Schenn, who was joined by Jaden at the event. "Everyone in her family, and so many other people, are doing everything they can with their efforts to save as many people's lives as possible. For me, Jaden is a good buddy, he's a great guy and he's big into helping his sister's charity. It's nothing at all for me to help out. They are a great family and I'm honoured to do whatever I can."
Bobbylynn Stewart is a co-organizer of the Run For Mandi, which is sponsored by local company Breck Construction. Bobbylynn is the company's Vice President of Operations, while her husband, Royan, is President.
For the Stewarts, it's far more than just backing a good cause and supporting their community.
"We're family friends with Jeremy Schwartz, Jaden's cousin," noted Bobbylynn. "He had approached us about starting this Run For Mandi, with the focus on getting more people on the stem cell registry. About 15 years ago, my mom died from leukemia and she had never found her match. Obviously, that touched a place deep in my heart to want to be part of something like this. We met Rick and Carol [Jaden and Mandi's parents]… they are truly amazing people. We just hit it off right away.
"Owning a business in the community, we wanted to give back and be part of things that mean a lot to us. We thought this would be the perfect fit and we have been the title sponsor for the run ever since."
Bobbylynn saw first-hand the impact NHL players can have on drawing attention – and crowds – for a worthwhile cause.
"It means so much to me. To be on the donor list, you have to be between 17 and 35. When you have people in the hockey community, who younger people look up to, and they're willing to step out and get in the public and really advocate for people to get on the registry, it means so much to me. They are such great spokespeople for the cause. It's great to have that level of recognition. This was our best year yet, having Brayden and Jaden there."
Schenn wouldn't have missed the chance to help out.
"The Schwartz family, they are so well-liked by so many people," said the fifth overall pick of the Los Angeles Kings in 2009. "Just speaking about Jaden, he's one of the most well-liked guys in our dressing room. Guys get along with him and have a lot of fun with him. Rick and Carol are hard-working people – they just want to help other people and carry on Mandi's name."
The centre, traded to St. Louis from Philadelphia on June 23, 2017, also has heartfelt praise for those who add their names to the stem cell donor registry, a process that only takes a few minutes.
"Whether it's people in Saskatoon, St. Louis or anywhere – I think for the most part, people will do what they can to help save someone else's life."