NHL and NHLPA partner with Bauer Hockey's First Shift
New partnership aims to continue growing hockey at the grassroots level.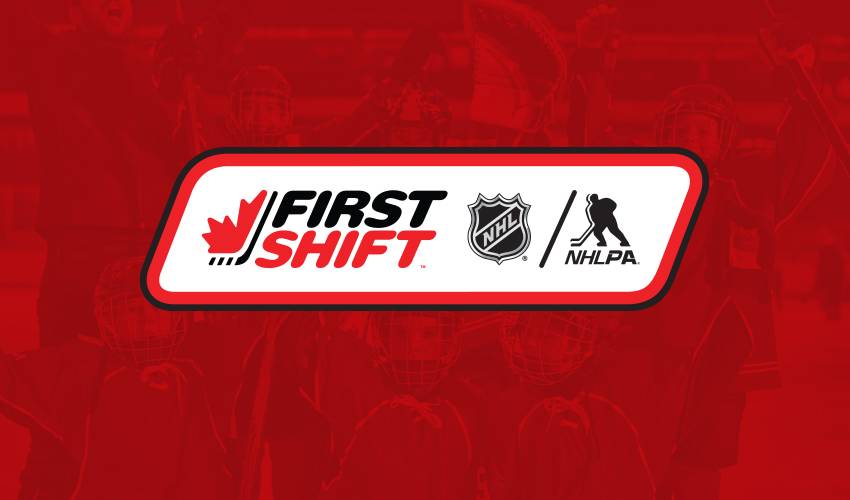 ---
National Hockey League and National Hockey League Players' Association Partner with Bauer Hockey's First Shift
New Partnership Aims to Continue Growing Hockey at the Grassroots Level

TORONTO (October 30, 2019) – Bauer Hockey announced today that together with founding partner Hockey Canada, they have joined forces with the National Hockey League Players' Association (NHLPA) and National Hockey League (NHL) to continue to advance and strengthen the First Shift program – an innovative and successful learn-to-play initiative designed to welcome new-to-hockey families to the game. The three-year partnership brings together some of the most influential organizations in hockey to further elevate the program experience and continue to grow hockey participation at the grassroots level in Canada.
Through this partnership, the NHL® and NHLPA will provide the program with additional resources, marketing/media platforms and a unique local brand identity utilizing the seven Canadian NHL clubs and NHL alumni, in collaboration with Hockey Canada. The partners will explore ways to effectively broaden the program, extending into more rural communities, offering additional programming specifically designed for girls and providing new special programming for participants with disabilities – each of which continue to grow in popularity and availability in the hockey community.
"The NHL and NHLPA are premier partners because of their unique ability to elevate the First Shift experience and increase exposure, both of which will help attract more families to this successful program and ultimately to our game," said Mary-Kay Messier, VP of Global Marketing for Bauer Hockey and a founder of the First Shift. "I'm proud to be working closely with the NHL and its member clubs, the NHLPA and our founding partner, Hockey Canada. Our collective passion and efforts will allow us to bring exceptional first-time experiences to more families and expand our offerings to make our game more accessible and inclusive."
The NHL® First Shift programs will be affiliated with an NHL Canadian team determined by geographic proximity. NHL team names and logos will be incorporated into the branding to further elevate the excitement and experience for the participants, allowing for expanded program offerings – for example, the Edmonton Oilers® First Shift. In areas where there is no team affiliation, the national program will go by NHL/NHLPA First Shift. Current NHL players, NHL Alumni and elite female players will more regularly participate in First Shift events, including on-ice sessions with kids and families.
"We are excited to partner with Bauer Hockey and Hockey Canada on this important grassroots program and will continue to lean on our Clubs to share their expertise and provide community activations in their local markets," said Rob Knesaurek, NHL Group Vice President of Youth Hockey and Industry Growth Fund. "Our goal is to help Canadian families experience the very best of our great game and in turn share their generational knowledge with other new-to-hockey families."
"Introducing families and children from all backgrounds, across Canada, to the game of hockey is something that is extremely important to the NHLPA and the Players," said Rob Zepp, NHLPA Manager of Special Projects. "Joining with Bauer and Hockey Canada to expand the First Shift program continues the long history of the NHLPA and its members supporting grassroots hockey initiatives and helping provide access to the game that has given us all so much."
"We are very proud to work with the NHL, the Canadian NHL clubs, NHLPA and Bauer Hockey in delivering the First Shift to communities across Canada," said Scott Smith, President and Chief Operating Officer for Hockey Canada. "Introducing thousands of kids to our great game each season through this program would not be possible without the tireless work of our provincial and territorial member partners and the volunteers who bring the game to life from coast to coast to coast."
The First Shift History
The Bauer Hockey Grow the Game initiative, founded in 2013 in partnership with Hockey Canada, has seen 22,236 Canadian children participate in the First Shift program.
The initiative was built on the 2013 finding that nine out of 10 Canadian children did not play hockey. In 2014, the two organizations created and launched the First Shift, a program designed to introduce hockey in a way that is affordable, convenient, accessible and – most importantly – fun, all of which were perceived barriers in a research study of non-hockey families. The program is focused on children ages 6 – 10 years old who have never played hockey.
To overcome these barriers, the First Shift was designed to offer a fun and easy way to sample hockey through a $199 six-week program that includes everything from head-to-toe gear fitted properly, to ice time, to coaching instruction. The programs are typically offered on the same day of the week at the same time at the same location, helping to make it easier for families to plan. Each program kicks off with a Welcome Event featuring BAUER Fit Experts who ensure the appropriate gear selection and sizing for participants, and help parents and kids become more familiar with the hockey community.
The First Shift program is administered through Hockey Canada's minor hockey associations who apply to be a part of their community offering. For the 2019-20 season, more than 185 minor hockey associations have already applied, demonstrating the success and local interest in this initiative. Families, kids and minor hockey associations that would like to learn more should visit FirstShift.ca.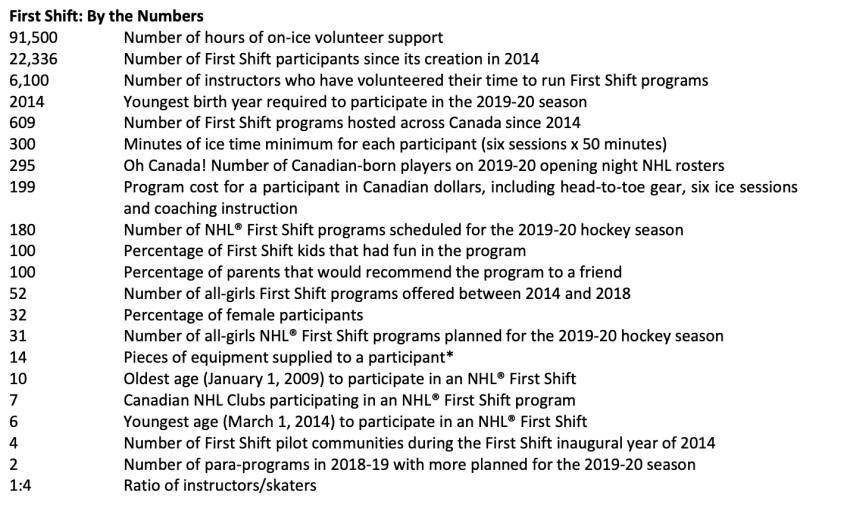 Data is directly from First Shift program and enrollment information or from an independent survey completed by Bauer prior to First Shift program launch in 2014. This survey was used to understand perceived barriers to hockey for non-hockey families and to design a program to break those down.
*Pieces of equipment included: bag, jersey, socks, jock/jill, shin guards, hockey pants, shoulder pads, elbow pads, neck guard, gloves, helmet, face mask, stick and skates.