Vesey can talk the talk, wants to walk the walk for Sabres
"At heart, I'm a little bit of a nerd. When I'm out in public, I like to listen for key words, and see how much I can recognize," said Vesey, a member of the National Chinese Honor Society.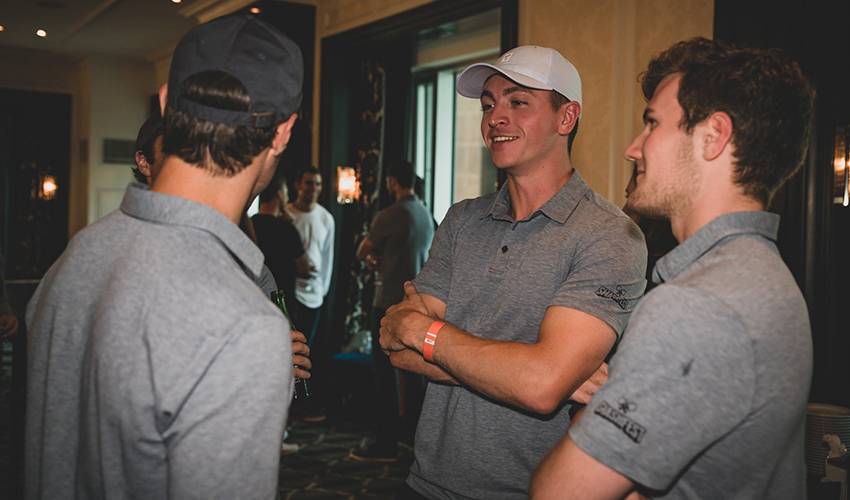 Jimmy Vesey can talk the talk like no other NHL player.
Not long into his collegiate hockey career with the Harvard Crimson, the teenager from Boston spoke earnestly about one of his goals, something that had nothing to do with the game itself.
"I've taken five years of Mandarin Chinese and hope to be fluent by the time I finish college," Vesey said previously in a 2013 interview. "I took four years of Chinese in prep school, and it turned out to be my favourite subject. I got pretty good at it, and my teacher put me in the application process for the National Chinese Honor Society (NCHS). I had to give a resume and stuff like that and was eventually accepted."
Established in 1993, the NCHS recognizes accomplished high school students who study Chinese as a world language. The scholastic organization promotes and recognizes students who demonstrate citizenship, leadership, and community service.
Its purpose is to encourage its members to become life-long learners in order to gain a better understanding of Chinese language and culture, as well as to play an active role as a contributing global citizen in the 21st century.
"I'm a little rusty at this point," Vesey said with a laugh at the recent Smashfest charity ping-pong event held in Toronto. "You know, playing hockey for three years. But it's a cool thing. It was weird how it all started. I had a middle school history teacher that told us if we ever had the chance, we should take that or study it. In high school and college, my hockey career was uncertain, I guess, for a lot of those times. So when I got to prep school, I thought I'd try it out and I really enjoyed it."
Vesey can still read, write and speak Mandarin "pretty well."
Every hockey season since his first NHL campaign, in 2016-17, the 2016 Hobey Baker Award winner (U.S. collegiate hockey's top player honour) plans to dedicate time to Rosetta Stone, a popular program that helps people learn a new language.
That hasn't happened yet.
But it doesn't stop Vesey, who was traded from the New York Rangers to Buffalo July 1, from putting what he's learned to good use.
"It was funny," started the 26-year-old. "In my rookie NHL year, we were in New York City, and I gave somebody directions in Chinese. I was with Oscar Lindberg. And he was looking at me like I had 10 heads. I've used it in some situations. At heart, I'm a little bit of a nerd. When I'm out in public, I like to listen for key words, and see how much I can recognize."
Vesey's hoping to put his language skills to the ultimate test one day.
"I'd really love to go to China," said the left wing whose father, Jim, was selected by the St. Louis Blues in the eighth round of the 1984 NHL Draft. "In high school, I probably would have done a school year abroad, but with the hockey season – the seasons didn't really align."
For now, the forward's focus remains on the upcoming NHL campaign and what he can do to contribute to the Sabres' success in 2019-20.
A change in approach has given Vesey a new outlook on the game.
"Up until last season, I was really always hockey, hockey, hockey right from when I got home. Last summer, I took a little bit more time off, especially off the ice. For us, the season can be so stressful, so I'm big into golf – it's a good mental reprieve. That's my off-season passion, at least for a small part of it. With golf, it's just you against the course. You're not on a team - it's just you thinking about your next shot."
That said, Vesey's looking forward to getting things going in Buffalo.
"I really am. I'm definitely excited about this season. I just hope that I can be part of bringing this team to the playoffs and beyond."