Carrick looks to inspire while making working hard 'cool again'
A quick tour of Connor Carrick's Instagram page, one that has built up over 45,000 followers, provides a unique snapshot of the outside-of-hockey life of the NHL defenceman.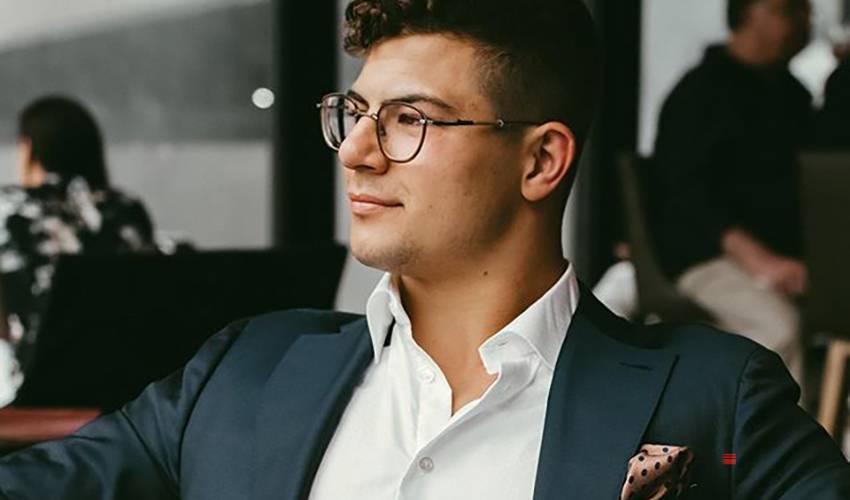 "I hope my inward learning about myself, my dealings with all things stress, anxiety, and inner tension leads to lessons we can hopefully share together so we can improve the quality of self we present to the world."
A quick tour of @connorcarrick, New Jersey Devils defenceman Connor Carrick's Instagram page which has built up over 45,000 followers, provides a unique snapshot of the outside-of-hockey life of the NHL defenceman.
It's an opportunity for fans and others to see the Illinois native through a truly unique lens.
For the 25-year-old Carrick, it's a welcome chance to create connections while bringing a positive outlook to the world of social media.
The genesis behind his social media philosophy came about during the blueliner's short time (14 games) with the Dallas Stars in 2018-19.

"When I was injured, the team was on the road a lot," recalled Carrick who was dealt to the Stars by the Toronto Maple Leafs. "You appreciate that sense of community and purpose, and you want to be a positive influence in the world. There were some times where it was a little lonely in Dallas, with the change of scenery and sort of being removed from the team. It was like an unending business trip away from friends and family."
"My wife, Lexi, and I had each other and our dog [Hoagie], and we were able to make some friends in Dallas, but, initially, the lack of control over that sense of community was something that I struggled with. I thought if I were able to really connect and make friends, and be a positive influence via social media, it would help."
Carrick, originally drafted 137th overall by Washington in 2012, eventually started putting his thoughts into words, photos and videos.
"It's something that every person and kid my age casually does off the cuff, dips their toe in the water," he said of social media platforms. "Being a pro athlete, a lot of my time and effort goes towards my career and bettering myself, kind of on a 24-hour schedule. I felt this was a brand development endeavor that I could really utilize some of the down time of my rest time to connect and coordinate with people."
With a rapidly growing following on his Instagram page, Carrick has embraced the opportunity to allow fans to see a different side of his life.
From motivational videos, to healthy eating suggestions and mental wellbeing tips, the five-foot-eleven, 192-pounder is seeking to share a positive outlook to his online presence.

"I don't want to just sit there on my phone all day, scrolling until my thumbs hurt," said Carrick. "At the same time, if I can be a positive influence on others, help them live a more inspired life, have a more action-filled life, I think that's important. Whether you're a big-name player or not, at some point in our lives, we are all influential people in our hometowns, in our community, or in the city we play in. We can use that to be positive. You just don't know the exponential growth on the other side of what you ignite. All the people you can touch – it's an amazing thing to think about. I found that really exciting."
Connor is careful – and at times humorously self-deprecating – when it comes to being "preachy" in his posts.
He credits Lexi with providing a key assist before he hits the 'post' button.
"Any message that's delivered with a finger pointing at you, it usually goes in one ear and out the other. If you can lead by example and demonstrate the true nuances and difficulties of what goes on in our daily life without crying 'poor me,' I think that's the balance. You can be really relatable and people will be open to your message, the message I want to share.
"She is constantly double-checking to make sure the message isn't off-putting. You don't want to isolate people. You're never going to be perfect and relate to everybody – I think you have to be who you are – but at the same time, we're trying to be conscientious about what we're putting out and how we want to influence. It challenges us to look in the mirror and ask, 'Who am I being every day that's so worthwhile to listen to?' It's kind of a public source of accountability."
Lexi agrees.

"It's so fun to witness his thought process, throughout anything he does," she said. "Connor is an intellectual – he enjoys learning and sharing whole-heartedly. I am very proud that he has gained the confidence to share and be vulnerable on social media. I think it helps other players, and people of any age feel more comfortable in their own skin. He is making working hard 'cool again' and using Instagram to share positive content in a space that is commonly associated with negativity."
Carrick is also looking to ignite interest in young hockey fans.
"As an NHL player, we want to grow the game. I think hockey players have always been decently buttoned-up. It's super admirable. It's the team focus, the 'we' over 'I' storyline that's so well known about our sport. It's why I'm so fortunate to meet the great people that I do, in my teammates and family members of my teammates. At the same time, I do believe that engagement with the fan, casual or die-hard, is really cool. I was a kid and fan once. I still am. Imagine if I could direct message a superstar in our game… Joe Sakic my favourite player when I was growing up. I also was a big Nicklas Lidstrom fan. Imagine of I could direct message them and they saw it, or responded. That would be incredible. That accessibility today is so unique. I think hockey is going to continue to become more open. More guys are doing it.
"There's a kid out there that has a real desire in what they want to learn, and what they want to know about the modern day rigors of the life of an NHL player. I can obviously only offer my perspective, but I'm happy to share it."
And share it in a way that's both insightful and inclusive.
"My goal is to never be pretentious or showy, or rely on the celebrity the NHL shield offers. I want to come across as to who I try to be, which is down-to-earth, hard working, with a passion for getting better in my career and in my daily life."