Kevin Labanc: From underdog overager to a historic Game 7
Three seasons ago, as the Barrie Colts toured the highways of the Ontario Hockey League, Kevin Labanc ruled the back of the bus with Michael Webster and Justin Scott.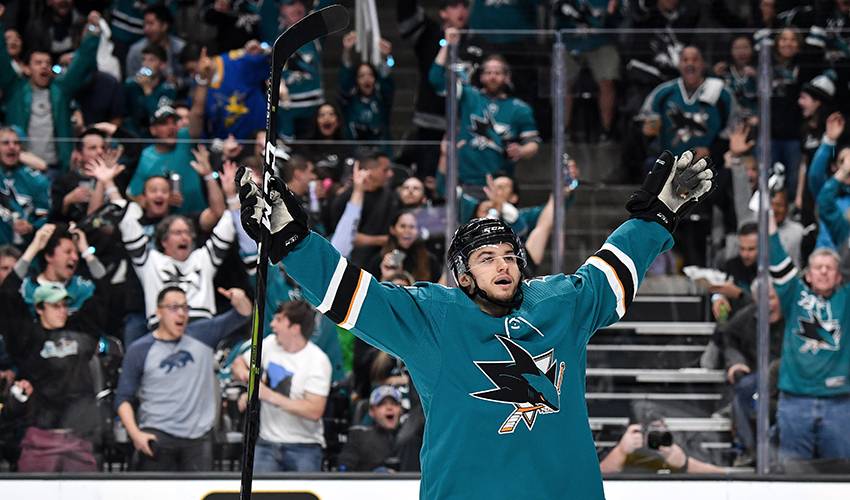 Three seasons ago, as the Barrie Colts toured the highways of the Ontario Hockey League, one of the latest Stanley Cup playoff heroes, San Jose Sharks forward Kevin Labanc, ruled the back of the bus with Michael Webster and Justin Scott.
As the team's overagers they occupied the last few rows of the bus. They controlled what movies or music were played on the bus' entertainment system or who was invited to the back for marathon video games.
Webster was the respected captain for the contending Colts, who would lose in the conference final that season. He didn't know much about Labanc when he arrived on the scene for training camp in 2013.
But it didn't take long for Webster to become curious about his new teammate who was born in Brooklyn, New York, and raised on Staten Island.
"I remember asking some of the other Americans on the team, like Brendan Lemieux, about him," said Webster, who is finishing his first year of business studies at the University of Toronto after his pro career was cut short due to a concussion.
"Nobody knew anything about Kevin even though he came from the U.S. junior developmental program. Then, he went after Jake Dotchin, the toughest guy in camp."
Over the next three seasons, Labanc developed into a top-flight player. In his final season in Barrie, he checked in with 39 goals and 127 points to win the won the Eddie Powers Memorial Trophy as the league's top regular-season point-getter. He also won the Leo Lalonde Memorial Trophy as the OHL's best overager of the year.
"I played with elite-level players like Mark Scheifele and Aaron Ekblad in Barrie," Webster said. "Kevin's hockey IQ was right up there. He was smaller and he wasn't dominant like Scheifele, but he could create and make plays out of nothing.
"I remember there was a stretch in our final year together where he scored something like seven points in a game and then came back and scored six points the next night."
Webster was talking about a stretch in early January when in a game against the North Bay Battalion Labanc scored three times and assisted on four others. He settled for a single goal in another game in North Bay and then returned home for a three-goal, three-assist outing against the Mississauga Steelheads four days later.
"If you want one word to describe him it's relentless," said Colts head coach Dale Hawerchuk, a Hockey Hall of Famer. "He is great at hounding the puck, forcing turnovers. He has great anticipation and that ability to recognize situations when to hurry a defenceman to cause a turnover.
"He had a strong work ethic. But the guys loved him off the ice. He was easygoing but all business on the ice. That's a great formula to mentally get yourself away from the game. He has a switch he can turn on to get himself ready."
Hawerchuk and his scouting staff selected Labanc in the sixth round of the 2011 OHL Draft. The Sharks chose him in the sixth round (171st overall) after his rookie 2013-14 season with the Colts.
He was a long shot and became even more of an underdog when the Sharks returned Labanc to junior for his overage year. But after his final season in Barrie, he split his first year as a pro between the Sharks and their AHL affiliate, the San Jose Barracuda. He now patrols right wing on San Jose's third line alongside Joe Thornton and Marcus Sorensen.
In the Sharks' crazy come-from-behind overtime win in Game 7 against the Vegas Golden Knights last week the five-foot-eleven, 185-pound Labanc became the first player in league history to score four points (a goal and three assists) in a period of a seventh-and-deciding game.
Two nights later, he scored the game-winner in the second period of the series opener against the Colorado Avalanche. He received a pass at centre ice from teammate Brent Burns. Labanc then skated into the Avalanche end, put the puck between the legs of Colorado forward Mikko Rantanen and then beat goalie Philip Grubauer with a high shot.
"What a beauty," Thornton told reporters afterward. "Just a beautiful goal. He found some confidence from Game 7 and continued tonight. World-class goal, what can I say."
It was quite a play for the kid from Staten Island, not exactly a hockey hotbed. But he comes from his passion for the game honestly. His father, Milan, played pro for a season in Slovakia before he moved to Brooklyn in 1994 with his wife, Anika, in search for a better life.
Milan worked in construction. Anika first had a daughter, Diane, and then a son came along. Milan taught Kevin how to skate, stickhandle and shoot as a youngster before he joined the New Jersey Rockets minor program.
"You don't expect an overager to have an impact in the NHL," Webster said. "But in junior, you could tell he was something special. He was a good guy, funny off the ice but serious on the ice. He worked hard and he treated every practice as if it were Game 7."