Matthews carries poise into third NHL career postseason
Even when he wasn't playing hockey, Auston Matthews still found a way to turn heads.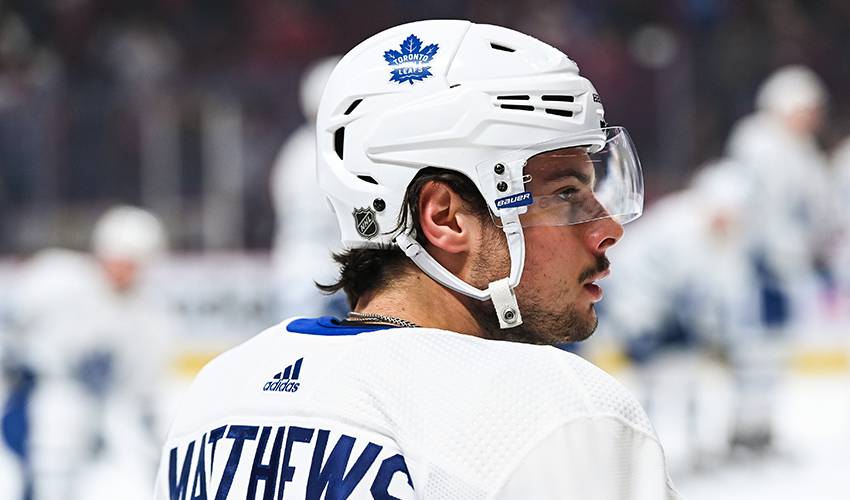 Even when he wasn't playing hockey, Auston Matthews still found a way to turn heads.
The way in which Matthews dealt with the injury six years ago, one that sent him to the sidelines for nearly three months, earned top marks from everyone involved with USA Hockey's National Team Development Program (NTDP).
In just his second game with the U-17 NTDP team, Matthews broke his femur after a knee-on-knee collision on Sept. 14, 2013, an injury that required surgery for the California-born, Arizona-raised centre.
"He handled that injury as well as any kid I've ever seen here, in the sense that he stayed focused and knew that there was an end in sight," recalled Scott Monaghan, Director of Operations with NTDP. "His demeanor was great in handling it. He's a positive, upbeat kid. He just worked hard to get back, waited until he was healthy, worked hard on his rehab, and he hit the ground running."
Matthews returned to the lineup December 6, 2013, and recorded 12 goals and 33 points in 24 games. Later that season, he posted 12 goals and 17 points in 20 games for the U-18 NTDP.
"He's a highly competitive kid, and always has been," praised Monaghan of the player who's in his third NHL season with the Toronto Maple Leafs. "He breaks his leg in the first or second shift of his second game here, and it was like he was never out. He was a machine here as a player. He scored and scored, and got better every day."
Not bad for a player who didn't exactly have all eyes on him when he joined the NTDP.
All that changed the moment coaching staff, his teammates and the competition saw what Matthews was capable of.
"He wasn't the kid coming here where everyone was saying, 'This is the guy you've got to see,'" said Monaghan. "He was kind of under the radar coming in. But, man, when he got here, he was off like a wildfire."
Just how long did it take for NTDP brass to realize they had a superstar talent in their midst?
"After about a month after watching him play," said Monaghan. "When you see a guy pumping pucks in all over the place in his first or five six games, you got a pretty good read that he was going to be a stud."
In his second season with the NTDP, Matthews finished first in league scoring with 117 points (55 goals, 62 assists), eclipsing the record of 102 points set in 2006 by Patrick Kane.
He's carried that offensive arsenal into an NHL career that's already yielded a Calder Memorial Trophy as the league's top rookie in 2017, and three seasons of 30-plus goals, including 40 tallies in his first campaign.
"He's a team guy all the way," praised Monaghan. "For all he did in his two years here, it was always about the team. That's what good players are. They might have the numbers, but they're not worried about the stats, they're worried about the win."
Monaghan credits both Matthews and his parents, Brian and Ema, for his unselfish nature.
"His parents are just wonderful people. When he was done here, his dad did coffee mugs for all the staff with their names on it as a way of saying thank you. That's the type of people they are as a family. They give back and they are thankful for their blessings.
"With Auston, he's a lover-of-life kind of kid. He knows he has a great situation in getting to do what he loves. He seems to enjoy his time with the fans and being in Toronto. He keeps things light, too, which is always a good thing for pro athletes."