Armed with experience and passion, Dennis dedicated to grow hockey's reach
"Do what you love to do." Those aren't just words of advice Maria Dennis, recently appointed Chair of the NHL/NHLPA Female Hockey Advisory Committee, shares with others.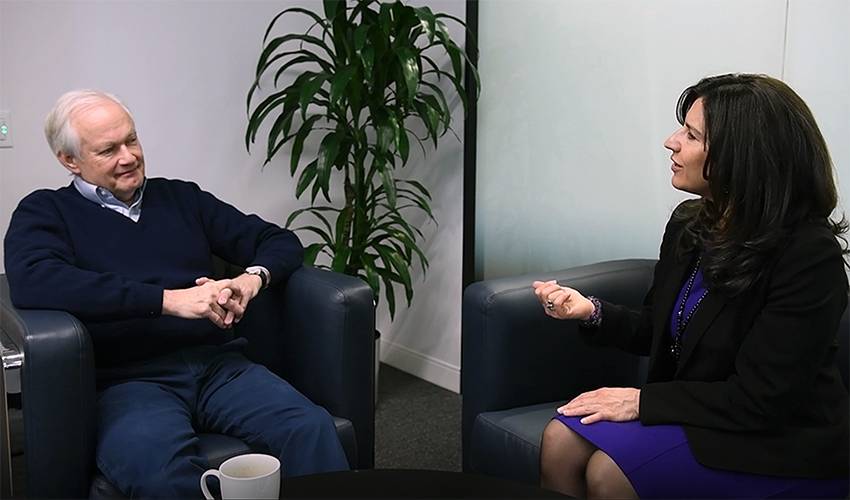 "Do what you love to do." Those aren't just words of advice Maria Dennis shares with others. For the Director of Player Health and Safety & Associate Counsel with the NHLPA, they're words she lives by.
Her introduction to hockey came as a six-year-old in her home state of Connecticut, a moment that brought out both a determination to learn the game and a few tears.
"I was in a fluffy white sweater and pink corduroys to go with the hockey helmet, hockey gloves, stick and skates," recalled Dennis, whose parents had season tickets to Hartford Whalers games. "At the first break, I came over to my parents, sobbing. My mom looks at me and said, 'Why are you crying?' I said, 'Mom, I can't hear what the coach is saying. What if I do something wrong?' That was always my fear as a kid… I didn't want to be embarrassed. She's a kindergarten teacher, so she knew how to handle a crying, hysterical kid."
A few reassuring words later, Dennis was back skating, and ensuring she heard every word her coach said.
"My mom told me to go stand right by the coach and that way I could hear everything he had to say," she remembered. "So, I followed that coach around, listened to all the drills he set out – I was practically attached to his leg. After that, I got the full set of equipment because I loved it and wanted to come back. It was my father who put me on the ice with all the boys and it was my mother who encouraged me to stick with it. It was a good combination."
Soon after the teary-eyed tryout, hockey became a fixture in her life.
"I think I was drawn to it because it took a lot of coordination and concentration," offered Dennis. "I liked the challenge. I enjoyed all of the things you had to learn to be good at the game. Stickhandling, shooting, passing the puck – I just liked all of those skills. And when you add on that you had to rely on your teammates to be doing their job at the same time, I just really fell in love with it.
"With hockey, it's very creative. It's not running a set play. The flow of the game is up to you and your teammates on the same line. I loved that creativity and the speed of it. You really have to think three steps ahead, so it's like a chess game. I like the intellectual side of the game, where you look at all the options in your head and then pick the right one, all in a millisecond."
Five years later, Dennis, once again as the lone girl at tryouts, saw her affinity for the game tested in a way she had never expected.
The experience would ultimately serve as a lifelong source of motivation, personally and professionally.
"I was cut from a team when I was 11," remembered Dennis. "I had always played with boys growing up and the coach told me I was cut because I was a girl. There's a strength that came from it. It taught me a few things. I was very angry and I had a lot of emotion inside of me that wanted to come out. To my father's credit, once again, he found another team for me in another town that was willing to take a girl on their team. I just had to go to the tryout."
There was no furry white sweater or colourful corduroys this time. And there were certainly no tears.
Instead, Dennis strapped on her stakes with only one outcome on her mind.
"I went out there with a chip on my shoulder, with something to prove, and a fire in my belly," she noted. "I became a new player. I became a new person. I realized I had a strength and power in me that I never had before. That adversity actually made me who I am today."
That strength served Dennis well in her hockey career. She would become the all-time points leader for varsity hockey at Yale University, and represented the United States at the inaugural IIHF Women's World Championship (1990) where she earned a silver medal.
Just over eight years ago, Dennis joined the NHLPA as Associate Counsel. In 2018, she added Director of Player Health & Safety to her role.
Representing the Players' Association on various joint committees, including the Health and Safety Committee, the Performance Enhancing Substances Program Committee, the Competition Committee, the Playing Environment Subcommittee, the Protective Equipment Subcommittee, and the Concussion Subcommittee. Dennis also represents players in supplementary discipline matters.
"I think the best part is that I get to do so many different things and I get to interact with a lot of different people," she said. "I serve on a lot of joint health and safety committees between the league and the NHLPA. Another aspect is that I handle a lot of the supplemental discipline calls. I get to interact with the player and his agent in that setting. With my background in hockey, I can relate to the player. I understand what he's talking about. It's very rewarding to have the ability to apply my passion and love for the sport to my job."
For Dennis, the opportunity to promote women's hockey is also deeply rewarding. It's something she has a great affection for. Dennis was recently appointed Chair of the NHL/NHLPA Female Hockey Advisory Committee, a new initiative to accelerate the growth of girls' and women's hockey in North America and ensure that girls and women can experience all the opportunities and benefits that the sport provides.
"I think it's very meaningful that the NHLPA and the NHL have identified that it's important to grow the sport in order to grow the NHL and its fan base," explained Dennis. "The way you do it is to get more people to play and to appreciate how amazing this sport is. One way to do that is to make sure hockey is for everyone. The best growth in the past two decades has been the girls' and women's segments and there's so much more potential growth there.
"By the NHLPA and the NHL throwing their support into this initiative, it can only help to grow that side of the sport even faster. I think it's fantastic that the NHLPA and the NHL have jointly created the Female Hockey Advisory Committee. Now it's the Committee's job to make recommendations on how to grow the sport. The women on this board know the game and bring a lot of diverse experience to the table. Every single person on this Committee sounds just like me. We are passionate about this great game."
Not surprisingly, Dennis' love for hockey extends far beyond boardrooms.
"I love to play. I play with a bunch of guys who are just out there for a good workout and some good, hard skating. We play once or twice a week. I love it. It's great exercise and a great sense of community. We've gone to tournaments, so there's a lot of camaraderie and social interaction that goes along with playing the game itself. I think that's important."
So, too, is remembering the words she often shares with others.
"Do what you love, love what you do… I appreciate what those words mean. For me, this really is a dream job. I was practicing transactional law for a number of years in Los Angeles. I was a trained attorney and it was my job, but I didn't have the same passion for it that I do now. Even though I work hard and the hours are much longer, I really don't feel burdened by it. If you love what you do, it's more of a joy than it is an obligation."