Top 5 | 2018-19 power-play goal leaders
When your team's a player or two up, who has the knack for lighting the lamp?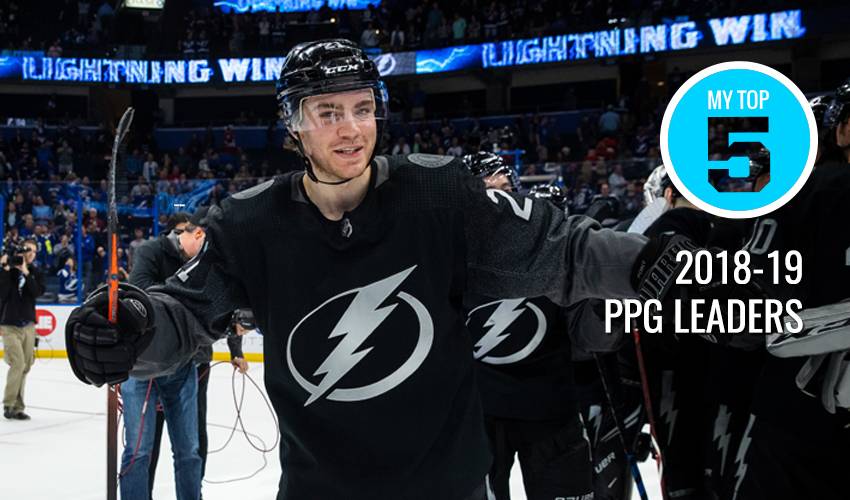 ---
When your team's a player or two up, who has the knack for lighting the lamp?
As for the names on the list, here are a couple of hints: a pair of teammates deliver a one-two strike for the league's No. 1 team, while a three-time Ted Lindsay Award recipient continues to capitalize on the power-play.

Top PPG leaders so far
---
1. Brayden Point

–

19
Half of the Tampa Bay centre's tallies in 2018-19 have come via the man-advantage. Point, who has a total of 33 power-play points, is averaging 1.23 points per game for the Lightning, as the Atlantic Division squad seeks its first Stanley Cup triumph since 2004.
2. (tie) Alex Ovechkin

–

17
Just two goals shy of 50 on the season, one of hockey's most prolific scorers has rung up 17 power-play tallies on the campaign. Ovechkin, who has a trio of Ted Lindsay Award trophies to his name, is 45 goals away from 700 for his Hall of Fame career.
2. (tie) Steven Stamkos - 17
Tampa Bay's captain has 36 goals on the season, along with 35 points on the power-play. Averaging 1.12 points per game in 2018-19, Stamkos has 143 career power-play goals, including a League-best 24 in 2009-10.
4. (tie) Leon Draisaitl - 16
Edmonton's versatile centre, in the midst of his best offensive season to date, has already established career-best marks in goals (43) and points (91). Draisaitl, just two points away from reaching the 300-point plateau, has 38 lifetime power-play goals.
4. (tie) Mike Hoffman

–

16
Hoffman has been a bright spot in the Sunshine State in 2018-19, setting a slew of personal-best offensive stats, including goals (33) and points (64). The 29-year-old forward is six points away from 300 for his NHL career.
4. (tie) Mikko Rantanen

–

16
Colorado's fantastic Finn has managed to up his game yet again. Currently in his third full NHL campaign, Rantanen, averaging 1.21 points per game in 2018-19, has 33 points on the man-advantage. The 22-year-old has also established a career high with four game-winning markers.