NHLPA, NHL celebrate Gender Equality Month; establish female hockey advisory committee
The committee is dedicated to accelerating the growth of female hockey in North America while also ensuring more women and girls have the opportunity to experience the benefits that hockey offers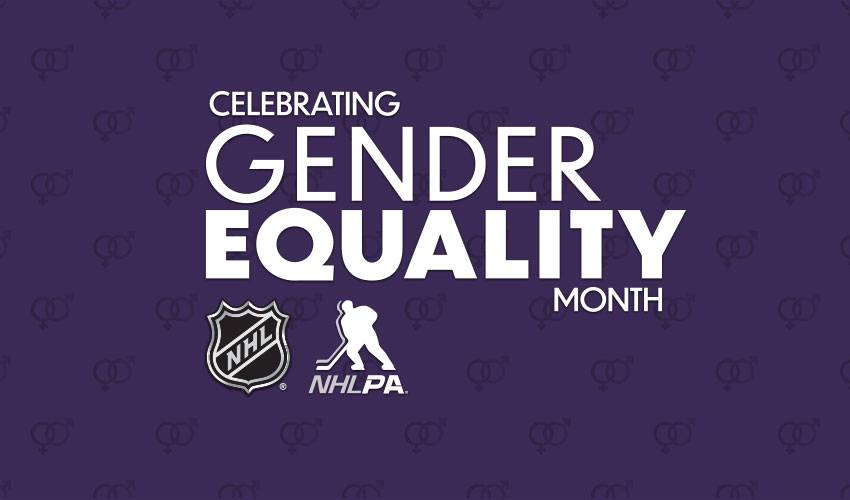 NHL AND NHLPA CELEBRATE INTERNATIONAL WOMEN'S DAY
WITH COMMITMENT TO GROWING HOCKEY FOR WOMEN AND GIRLS
Gender Equality Month Celebration Includes Establishment of 'NHL & NHLPA Female Hockey Advisory Committee'
NEW YORK/TORONTO (March 8, 2019) – Today, the National Hockey League Players' Association (NHLPA) and National Hockey League (NHL) announced the establishment of the NHL & NHLPA Female Hockey Advisory Committee, dedicated to accelerating the growth of female hockey in North America while also ensuring more women and girls have the opportunity to experience the benefits that hockey offers. The new initiative launches during the first-ever Gender Equality Month campaign, part of an expanded effort to celebrate Hockey Is For Everyone year-round.
The NHL & NHLPA Female Hockey Advisory Committee includes 11 women with varied backgrounds and experiences: Michele Amidon, Annie Camins, Maria Dennis, Mandi Duhamel, Lyndsey Fry, Angela James, Tarasai Karega, Kelsey Koelzer, AJ Mleczko Griswold, Caroline Popilchak, and Kristen Wright. This esteemed group of women has a combined 50-plus years of professional hockey playing experience, 30 years of professional hockey coaching experience, four Olympic medals, and 26 World Championship medals. A mix of Americans and Canadians, they have degrees from esteemed institutions such as Harvard, Princeton, and Yale, with two of the distinguished women holding postgraduate law degrees. The group also represents a series of firsts in professional hockey: the first woman inducted into the Hockey Hall of Fame, the first African-American drafted No. 1 overall in any North American professional hockey league, the first person from Arizona – male or female – to play ice hockey in the Olympics, and the first woman who served in the broadcast booth for the Stanley Cup Playoffs.
"The NHLPA is pleased to be collaborating with the NHL to establish the Female Hockey Advisory Committee. These women on the Advisory Committee have all enjoyed many successes in the game, from which we will be drawing on as we discuss how women and young girls can enjoy greater opportunities to participate in hockey," said Maria Dennis, Female Hockey Advisory Committee Chairperson and NHLPA Director of Player Health and Safety & Associate Counsel. "The goal of the group is to ultimately help grow the game, and we are looking forward to working together on this meaningful endeavor."
"Hockey has taught me so much on and off the ice, I'm honored to be a part of something that will help give more girls and women the opportunity to experience everything it offers," said Angela James, Hockey Hall of Fame Class of 2010. "This is a great opportunity for women on both sides of the border to come together in an effort to keep women's hockey on an upward trend."
"Growing up playing hockey in Arizona used to be newsworthy, but today's players – male or female – are proving there are great hockey opportunities in all corners of the U.S.," said Lyndsey Fry, U.S. Olympian and Arizona Coyotes Brand Ambassador and Special Advisor. "I'm looking forward to having a seat at the table to share my knowledge of grassroots girls hockey, playing Olympic hockey, and also shedding a light on career paths for women who are looking to put their hockey knowledge to work."
"We hope this campaign – which recognizes the incredible contributions of women and girls in our sport – will resonate with the entire hockey community," said Kim Davis, NHL Executive Vice President, Social Impact, Growth Initiatives & Legislative Affairs. "On the ice, behind the bench, in the broadcast booth or the front office, our sport has a place for women to participate actively and we look to unlock the potential of females in the game by showcasing the trailblazers who are making more possible."
Throughout March, stories of women from across the hockey family will be shared online at NHL.com/WomenInHockey, on social, and on broadcast. This month, the NHL Executive Suite podcast will include episodes featuring Kim Davis and NHL Chief Marketing Officer Heidi Browning. NHL.com will feature guest columns on 'What Gender Equality Means to Me' by Lyndsey Fry, Meghan Duggan, and Blake Bolden as well as 'Five Questions' with Brianna Decker. On March 5, NHL Network aired its second-annual all-female NHL Now with Kendall Coyne Schofield, who recently joined NHL Network as a studio analyst. On Saturday, March 9 at 9 a.m. and Noon ET, Schofield, Dani Cameranesi and Gigi Marvin of the U.S. Women's National Team will be featured in a special 'Women in Hockey' edition of NHL Network Ice Time. Also, for the first time, NHL Network will broadcast the Patty Kazmaier Award ceremony, which celebrates the top female college ice hockey player in the United States.
The celebration of International Women's Day is part of Hockey Is For Everyone and Gender Equality Month. Future initiatives include Earth Month (April) and Pride Month (June). Details will be announced at a later date.
### (3/8/19)