Hometown connection, indomitable spirit bond Dells, Ryan Straschnitzki
"He's probably one of the nicest, fun-loving people I've ever met." That's what Aaron Dell wants the world to know about Ryan Straschnitzki.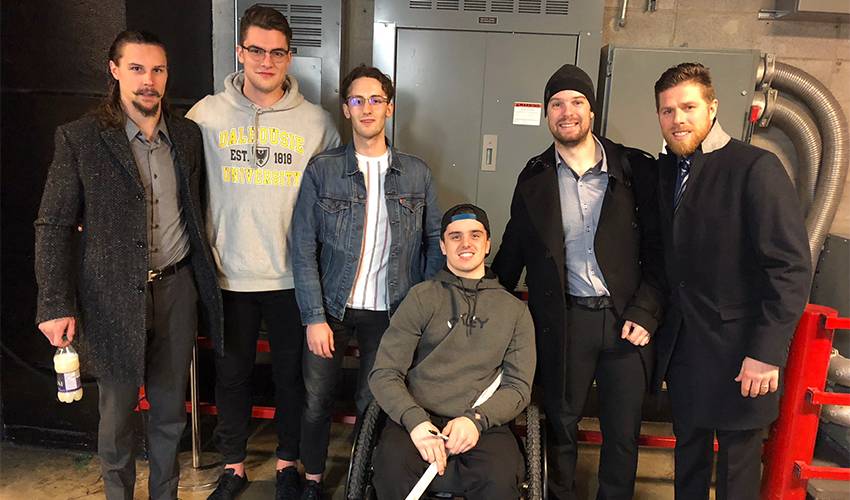 "He's probably one of the nicest, fun-loving people I've ever met." That's what Aaron Dell wants the world to know about Ryan Straschnitzki.
The devastating Humboldt Broncos bus crash on April 6, 2018 deeply affected the hockey community and beyond, including several NHL players who stepped up to help out the survivors, families of the victims and the Saskatchewan community.
Dell, who plays goalie for the San Jose Sharks, and his father, Phil, have formed a special bond with one of the Humboldt hockey players who survived the crash.
Straschnitzki, paralyzed from the chest down, is from their hometown of Airdrie, Alberta.
Phil, who has been in the home improvement business for years, and the people of Airdrie worked together to make the Straschnitzki home accessible. Aaron, who has raised money through auctioning off autographed San Jose memorabilia, recently brought the 19-year-old to a Sharks game in Calgary.
"Things can change in an instant," said Aaron who has two shutouts in 12 starts this season. "I think you really have to appreciate you have. That's what I've really learned from meeting Ryan."
Aaron wasn't quite sure what he'd say or how uncomfortable the conversation might be when he first met the teenager.
Straschnitzki quickly put the backstopper at ease.
"It's been a tough year for him, for what he has had to go through personally and the loss of his teammates and friends," he said. "It's extremely inspirational to see how upbeat and positive he is. The things that go wrong in my life are just drops in the bucket."
Aaron often uses the term "life-changing" when he speaks of his newfound friendship with Straschnitzki.
"What happened to him, it can happen to anybody," said the 29-year-old who played three seasons at the University of North Dakota. "I can't tell you the number of bus rides I've been on throughout my career, but there have been close calls. That obviously went through my mind when my dad and I first spoke with Ryan."
Whenever the pair has a chance to talk, hockey often dominates the conversation.
"Right from the beginning, one of the first things Ryan said was, 'I still love hockey.' He's going to try sledge hockey. I think that motivation has helped him push through the tough times."
For Aaron, the experience has been a reminder of how tight-knit the hockey community is.
"Everybody can connect with what happened to these kids and their families," he offered. "Anyone that's been on those buses and traveled can relate. We all know how lucky we are to play the game we love. It's no surprise to see that so many people from so many places have supported them."
And support is what Aaron and Phil Dell will continue to offer Straschnitzki and his family.
"My dad was able to help out before I was able to be back home and see Ryan. I was able to get out with him a few times. We went to the Calgary Stampede a couple of times. He's just fun to be around and he's always happy. I just really enjoy hanging out with him."