At the rink and away from it, Moore thankful for Olczyk's impact
The 2019 Winter Classic at Notre Dame Stadium will be extra special for John Moore, who knows hockey wasn't always so popular near his suburban Chicago hometown.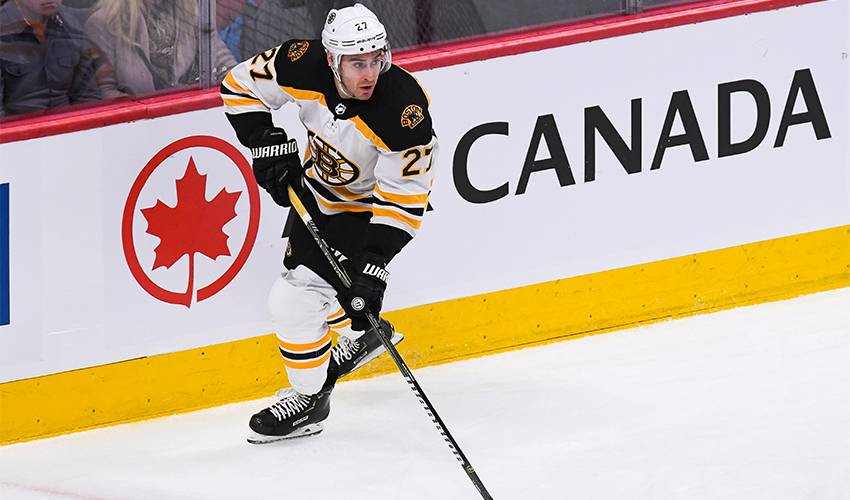 Michael Jordan and the Chicago Bulls were winning championships when Boston Bruins defenceman John Moore was a kid growing up in suburban Chicago.
The White Sox won the World Series when he was 14. The popularity of the Cubs and Bears was sky-high, even if they weren't up to snuff. But hockey was the sport that caught the fancy of this youngster in Winnetka.
His father cheered on his beloved Blackhawks decades earlier when Bobby Hull and Stan Mikita pushed the local team to elite levels. Moore picked up his Pop's passion for the Blackhawks.
"When I was growing up hockey wasn't near as popular in Chicago as it is now," Moore said. "When I was growing up the Blackhawks weren't on [local] television. It was kind of the dark days of the franchise. If it wasn't in the backseat of the local sports scene, it was maybe taped to the roof.
"But I was fortunate that my dad grew up with an affinity for the game, so my love for the game has always been there."
If he wasn't shooting and stick handling tennis balls in the driveway of the family home Moore was skating laps at the rink at the end of the street.
"Being a father now I realize that to drop me off at the rink was their idea of daycare," Moore joked.
When he was 15 and playing for the Chicago Mission a new coach showed up on the scene who would cultivate Moore's talents to a new level. His name was Ed Olczyk and his son, Tom, was a teammate of Moore's and Eddie Jr. would later join the fold.
The older Olczyk was a local icon. He started and finished his 16-year career with the Blackhawks and in between won a Stanley Cup with the 1993-94 New York Rangers. He had moved back to the area after a two-year stint as head coach of the Pittsburgh Penguins.
"It was not like growing up in one of these Canadian towns where it seems like there someone every year from the area is in the NHL," Moore said.
"It was unbelievable to have him as a coach. You're so drawn to everything he would say because of his knowledge and passion for the game. It's something I feel fortunate and grateful for."
Moore has followed from a distance as Olczyk has gracefully waged his battle with cancer and used his platform as a popular broadcaster to further the fight against the disease.
"I'm not going to draw parallels to hockey," Moore said. "[Fighting cancer] is at a different level. It sounds like he has turned the corner and his cancer is in remission. What he has gone through and done away from the rink in bringing awareness has been remarkable."
Moore's time with Olczyk helped him land a spot with the local Chicago Steel of the USHL. He was drafted 21st overall in 2009 by the Columbus Blue Jackets and before he knew it he was traded to Olczyk's old team, the Rangers, and went to the Stanley Cup final four years ago.
Now, in his first season with the Bruins, Moore will have a chance to play with Boston against the Blackhawks at the 2019 Bridgestone Winter Classic on New Year's Day at Notre Dame Stadium, where the legendary University of Notre Dame Fighting Irish football team plays its home games.
If you're from Chicago you likely cheer for the Fighting Irish. Moore did and he's understandably excited about the Winter Classic.
"You could commit a crime in Chicago when Notre Dame is playing football on Saturdays," Moore said. "Everybody is watching. There is such a strong tradition down there as well as a connection between Chicago and Notre Dame football.
"It will be fun, especially playing in this game so close to home. I never had opportunities to go down there on Saturdays to watch a football game because I usually was playing hockey. I'll be excited to be there and playing in front of family and friends."