Little hitting all the right chords
Away from the rink, the Little has been enjoying the time off between series. It's afforded him the opportunity to indulge in one of his favourite hobbies.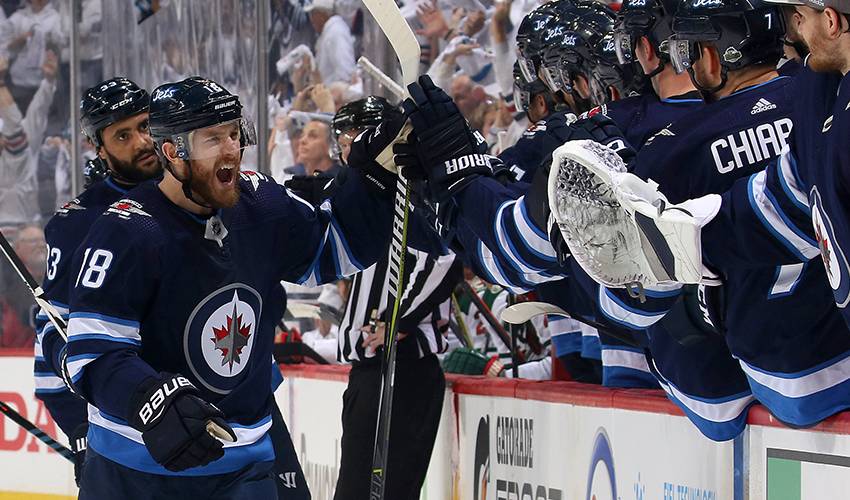 Bryan Little is hoping to hit all the right chords on and off the ice throughout the Stanley Cup Playoffs.
Heading home after a Sunday afternoon practice, Little, Winnipeg's versatile veteran forward, is feeling pretty good these days.
And why shouldn't he be?
On the ice, the Jets marched into the Western Conference semifinals – where they'll face Nashville – after eliminating Minnesota in five games. Little scored once, added an assist and fashioned a plus-three rating.
Away from the rink, the Edmonton native has been enjoying the time off between series. It's afforded him the opportunity to indulge in one of his favourite hobbies.
"Usually, I like to relax by picking up the guitar," said Little. "I picked it up about seven or eight years ago. I haven't played it too much lately, but yesterday [April 21] we had an off day, so I spent some time playing it. It kind of comes and goes when I pick it up. But it's a great way to unwind."
When it comes to his music preferences, the 30-year-old is a little more old school than most of his teammates.
"I feel like I'm a beginner to intermediate when it comes to the songs," he said with a laugh. "But it's a bit of everything. I love older music, so I'm trying to learn some Led Zeppelin, The Beatles and I'm a big Tragically Hip fan. If I can learn some Hip songs, that would be great."
Don't expect Bryan Little Night at a Winnipeg club any time soon.
"I haven't really played in front of a big group ever, so I don't think that's going to happen," he said. "I just really enjoy it."
Little's most receptive and appreciative audience happens to be the Jets fans that fill the stands inside the Bell MTS Place and the thousands more that line Donald Street and beyond to take in the action on big screens.
During Game 5 of the Jets-Wild Series, the street party zone stretched to Graham Avenue.
Yes, it's hard to go unnoticed these days in Winnipeg. And no, Little isn't complaining.
"Now that the playoffs are on, people are starting to recognize us a lot more," he offered. "Especially if there are two or three of us in a group, people will come up and say, 'You guys are doing great,' and get a quick picture. I find that you get recognized a lot more and people come up and talk to you now that it's the playoffs.
"They were showing pictures outside of the rink after Game 5. I'm not sure how many people were out there – they said there was more than inside, so maybe 17,000 or 18,000 people. It's pretty nuts. You would think the way downtown is when we're playing that it's the Stanley Cup Finals. I can't imagine what it will be like as we move on here."
And that thought, Little agreed, is music to his ears.