Clinton, New York Wins Title Of Kraft Hockeyville Usa
Community Wins the Opportunity to Host an NHL® Pre-Season Game and $150,000 in Arena Upgrades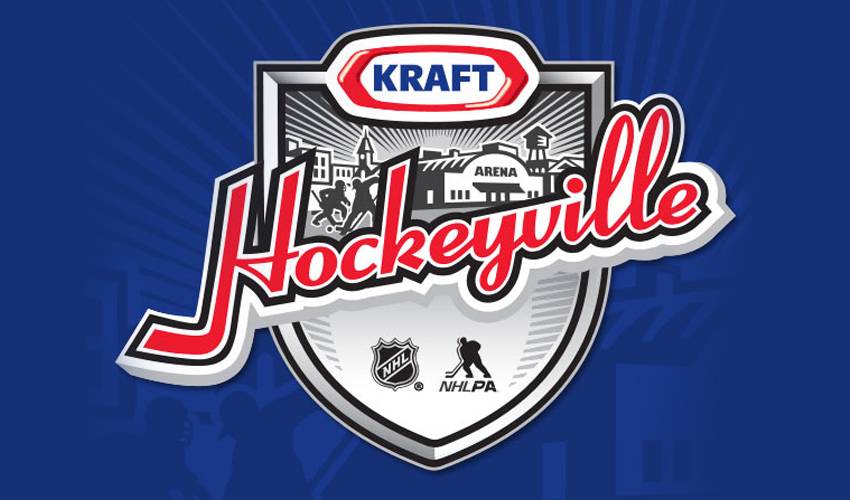 CLINTON, NEW YORK WINS TITLE OF KRAFT HOCKEYVILLE™ USA
Community Wins the Opportunity to Host an NHL® Pre-Season Game and $150,000 in Arena Upgrades
PITTSBURGH & CHICAGO – April 14, 2018 – Kraft Heinz is thrilled to announce Clinton Arena in Clinton, N.Y. is the winner of Kraft Hockeyville™ USA 2018. After weeks of rallying and online voting, Clinton rallied together to prove exactly why they are the most spirited hockey community in America. The Kraft Hockeyville™ USA contest, now in its fourth year and in partnership with the National Hockey League (NHL®) and the National Hockey League Players' Association (NHLPA), is proud to award Clinton Arena in Clinton, N.Y. an opportunity to host an NHL® Pre-Season Game and $150,000 in rink upgrades.
Clinton Arena is a staple of local hockey in the college-town of Clinton, N.Y. where 100 years of hockey was recently celebrated. After nearby Hamilton College started hockey in 1918 the game moved to an outdoor rink in the Village in the 1920s. In 1948 an indoor rink was built and a professional hockey team, Clinton Comets, was added to thriving local college and youth programs. The first rink burned in 1953 and, remarkably, was rebuilt in less than a year as Clinton Arena, now proudly listed on the National Historic Register. While the venue still has many of its original fixtures intact today, the prize money from Kraft Hockeyville™ USA will go toward improvements to a number of features, including the arena's roof, locker room and seating.
"After an exciting face-off between our top four contenders, we're thrilled to award Clinton the title of 'Kraft Hockeyville™ USA 2018,'" said Michelle St. Jacques, head of brand marketing and R&D. "Clinton brought to life the essence of this program – both on and off the rink – and showed inspiring passion to rally their community. We're excited to celebrate this win with them later this year."
Rinks from across the country participated in this year's bid for the title of "Kraft Hockeyville™ USA 2018." The runner-up, Brandon Valley in Brandon, S.D., will receive $30,000 to use toward rink upgrades, and George's Pond at Hirsch Coliseum in Shreveport, La. and Memorial Sports Center in Middlebury, Vt. will each receive $10,000.
In addition to the rink upgrades – and with the support of Kraft Heinz – NHLPA Goals & Dreams, the players' charitable grassroots hockey program, will donate new hockey equipment to select Kraft Hockeyville™ USA communities, giving more disadvantaged youth the opportunity to play hockey. These donations continue the work of the players' charitable initiative which for more than 18 years has assisted grassroots programs all around the world.
Since launching in Canada in 2006, Kraft Hockeyville™ has positively impacted more than 80 communities with over $4 million donated in rink upgrades across Canada and the U.S. Previous U.S. winners include Belle Vernon, Pa. in 2017, Marquette, Mich. in 2016 and Johnstown, Pa. in 2015.
"Each year, Kraft Hockeyville™ USA puts a spotlight on the importance of local ice rinks to communities all across the country," NHL Chief Brand Officer and Executive Vice President Brian Jennings said. "Community support is crucial to the growth of hockey and Kraft Heinz's commitment to this program is making a significant impact. Congratulations to Clinton Arena in Clinton, New York and to all of this year's Kraft Hockeyville™ USA participants. The overwhelming response from cities nationwide is proof positive of the local commitment to ice rinks and the youth hockey players, coaches, parents and volunteers that call it home."
"We are proud to partner with Kraft Heinz to continue bringing the NHL into more communities across the U.S. We know this year's Kraft Hockeyville™ USA winner, Clinton Arena in Clinton, New York will be another great host," said Mathieu Schneider, NHLPA Special Assistant to the Executive Director. "The players who hit the ice next September are looking forward to the celebration with the passionate fans of Clinton."
For program details, visit www.KraftHockeyville.com. Kraft Hockeyville™ USA 2018 can also be found on Facebook (KraftHockeyvilleUSA), Twitter (@HockeyvilleUSA), and Instagram (KraftHockeyvilleUSA). Fans can join the conversation using #HockeyvilleUSA.
NHLPA, National Hockey League Players' Association and the NHLPA logo are trademarks of the NHLPA and are used under license. © NHLPA. All Rights Reserved.
NHL and the NHL Shield are registered trademarks of the National Hockey League, and HOCKEYVILLE is a trademark of the National Hockey League. All NHL logos and marks (including HOCKEYVILLE) and NHL team logos and marks are the property of the NHL and the respective NHL teams and may not be reproduced without the prior written consent of NHL Enterprises, L.P. © NHL 2018. All rights reserved.
About The Kraft Heinz Company
The Kraft Heinz Company (NASDAQ: KHC) is the fifth-largest food and beverage company in the world. A globally trusted producer of delicious foods, The Kraft Heinz Company provides high quality, great taste and nutrition for all eating occasions whether at home, in restaurants or on the go. The Company's iconic brands include Kraft, Heinz, ABC, Capri Sun, Classico, Jell-O, Kool-Aid, Lunchables, Maxwell House, Ore-Ida, Oscar Mayer, Philadelphia, Planters, Plasmon, Quero, Smart Ones and Velveeta. The Kraft Heinz Company is dedicated to the sustainable health of our people, our planet and our Company. For more information, visit www.kraftheinzcompany.com.
About The NHL
The National Hockey League (NHL), founded in 1917, consists of 31 Member Clubs, each reflecting the League's international makeup with players from more than 20 countries represented on team rosters, vying for the most cherished and historic trophy in professional sports – the Stanley Cup®. Every year, the NHL entertains more than 250 million fans in-arena and through its partners on national television and radio and more than 151 million followers - league, team and player accounts combined - across Facebook, Twitter, Instagram, Snapchat and YouTube. The League broadcasts games in more than 160 countries and territories through its rightsholders including NBC/NBCSN and the NHL Network in the U.S., Sportsnet and TVA in Canada, Viasat in the Nordic Region and CCTV and Tencent in China. The NHL reaches fans worldwide with games available online in every country including via its live and on-demand streaming service NHL.TV™. Fans are engaged across the League's digital assets on mobile devices via the free NHL® App; across nine social media platforms; on SiriusXM NHL Network Radio; and on NHL.com, available in eight languages and featuring unprecedented access to player and team statistics as well as every regular-season and playoff game box score dating back to the League's inception, powered by SAP. The NHL is committed to giving back to the community through programs including: Hockey is for Everyone™ which supports nonprofit youth hockey organizations across North America; Hockey Fights Cancer™ which raises money and awareness for hockey's most important fight; NHL Green™ which is committed to the pursuit of sustainable business practices; Declaration of Principles – developed by and for hockey stakeholders – to advance policies, programs and initiatives, while inspiring fans, players and communities to create the best possible experience for the entire hockey community; and a partnership with the You Can Play Project, which is committed to supporting the LGBT community and fighting homophobia in sports. For more information, visit NHL.com.
About The NHLPA
The National Hockey League Players' Association (NHLPA), established in 1967, is a labor organization whose members are the players in the National Hockey League (NHL). The NHLPA works on behalf of the players in varied disciplines such as labor relations, product licensing, marketing, international hockey and community relations, all in furtherance of its efforts to promote its members and the game of hockey. In 1999, the NHLPA launched the Goals & Dreams fund as a way for the players to give something back to the game they love. Over the past 18 years, more than 70,000 deserving children in 34 countries have benefited from the players' donations of hockey equipment. NHLPA Goals & Dreams has donated more than $24 million to grassroots hockey programs, making it the largest program of its kind. For more information on the NHLPA, please visit www.nhlpa.com.