Timmyheads: Schaller brotherly homage spurred by life-saving donation
Dave Schaller doesn't have a swelled head when it comes to his younger brother Tim's NHL career. He does, however, sport a big head – 3 ½-feet high, to be exact.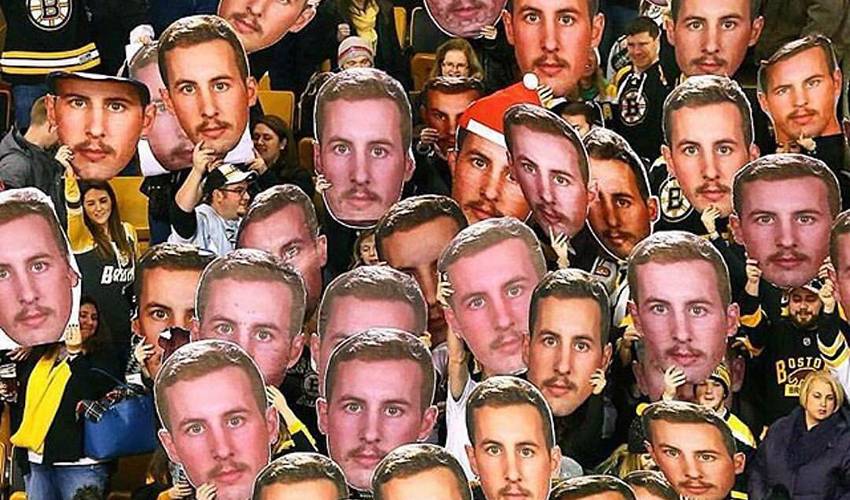 Dave Schaller doesn't have a swelled head when it comes to his younger brother Tim's NHL career. He does, however, sport a big head – 3 ½-feet high, to be exact.
What's the ultimate way to pay tribute to your hockey-playing sibling at an NHL game? For Dave Schaller, it's through #Timmyheads, a larger-than-life homage that showcases brotherly love through a colour cutout featuring the mustachioed face of Tim who plays centre for the Boston Bruins.
All done in good fun, the elder Schaller also considers it an expression of gratitude.
In 2007, Dave was diagnosed with a rare blood disease, Aplastic Anemia, which affected his blood and immune system.
"When I was in college, I got really sick and needed a bone marrow transplant," recalled Dave, who was also diagnosed with testicular cancer in 2006. "We did all the testing and Tim was my donor. He saved my life. We were in and out of the hospital for about nine weeks."
When Tim, who signed as an undrafted free agent with Buffalo in 2013, made it to the NHL, Dave came up with a unique way to say thank you.
"He was playing with the Sabres at that time and my buddies and I decided to go out there to see him play," started Dave. "When he came to play in Boston, my buddies and I started talking and we said, 'Why don't we print out some big faces of him and bring them to a game?' I thought it would be funny to do that, kind of embarrass him. He came to Boston Garden when he was with Buffalo and he had his first NHL goal against Tuukka Rask. We had these one-foot, maybe one-and-a-half foot heads printed out.
"Tim ended up playing for Boston (signing as a free agent in 2016), so then the thought was, 'Let's get some t-shirts made. We came up with the idea to sell the t-shirts and donate all the money to the Jimmy Fund (which raises money solely to support adult and pediatric cancer care and research at Dana-Farber Cancer Institute in Boston) because we had that connection with them after what we went through when I was in college."
People immediately took notice of the Timmyheads. So, too, did Tim's Bruins teammates.
"The players on Boston – they immediately loved it," said Dave with a laugh. "The first time we had the heads in Boston, they were about three-feet high. And we had t-shirts, too. They absolutely loved it. Brad Marchand, he really liked it. He loved to pick on Timmy for it. It was a huge hit. The crowd loved it, too. It caught on pretty big."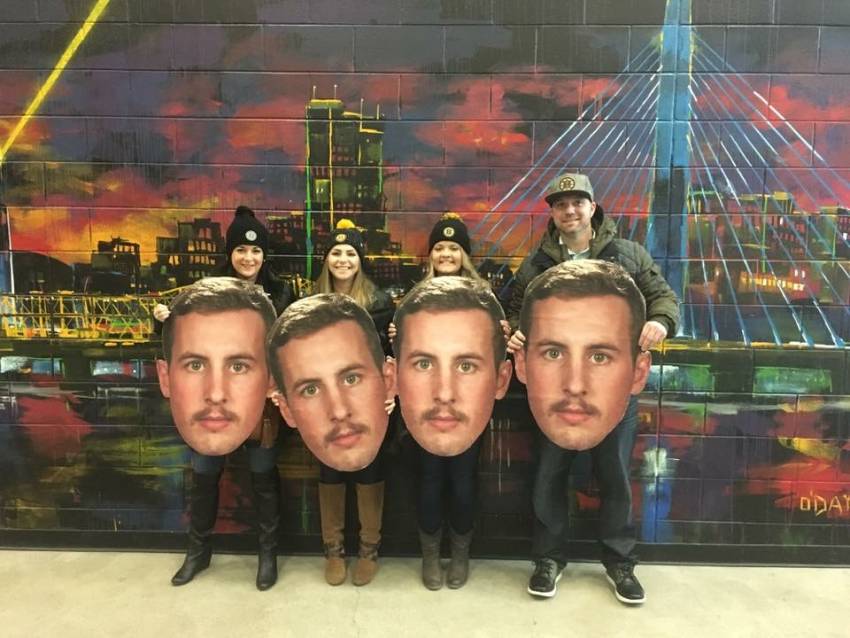 The #Timmyhead momentum is still rolling along, attracting new fans and supporting worthy causes along the way.
"We were able to raise about $1,700 and donate that last year," said Dave. "We had one big Timmyhead game where we had about 150 people there. They all had 'Timmyheads' and they all had the t-shirts on. We went to Montreal with 'Timmyheads' and had about 35 people there. We had the home game on February 10, where we had another 150 people. We've already raised $2,500 so far this year. We also have a meet and greet coming up. One of Timmy's friends just opened a bank up in New Hampshire and we're going to have a meet-and-greet there. We're talking to other businesses and we hope to raise some more money for the Jimmy Fund. We have a lot of stuff going on."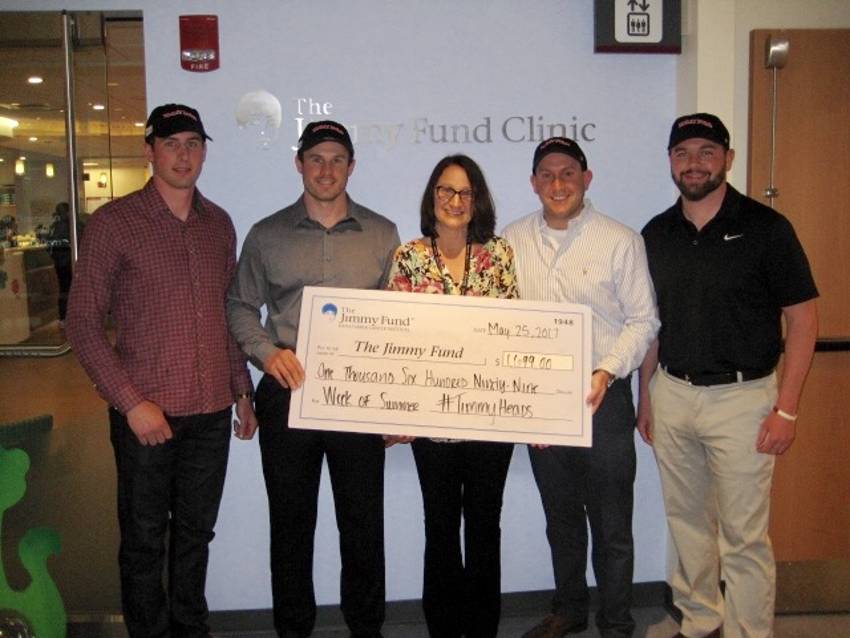 The man who inspired it all is happy to throw his support behind the 'Timmyheads' craze. When Tim visits a local hospital, he's often joined by a few teammates.
For Dave, seeing the players step up for a good cause is never a surprise.
"No matter what the event is, it's never just one guy from a team – it's all of the players coming together and doing it," he offered. "The hockey community is amazing."
It's a word Dave often uses to describe what Timmyheads has evolved into.
He also finds humour in the good-natured act of brotherly love, considering the time the siblings went toe-to-toe, literally, for nearly 60 minutes one day during their teenage years.
"I'm older and I've always been a thick, stocky person," said Dave. "Tim was always skinny and short. So I was the one picking on him. We always got along pretty well. But the second he got into high school, I stopped growing. I was a senior and he was a freshman. We played hockey together one year. All of sudden, he shot up and was the same height as me. I was a little heavier. And then the competitive rivalry started.
"It only lasted for about six months to a year," he continued. "We had this big battle in our own house. We beat each other up for about an hour and then we just stopped and realized neither one of us is going to back down. We literally just stopped and both of us said, 'Truce!' We've been best friends ever since."
Dave has also been Tim's biggest fan.
In December, he travelled to Pennsylvania to watch Tim and the Bruins take on the Philadelphia Flyers.
As always, the 'Timmyheads' were in tow. But that's not what the eldest Schaller brother talks about when it comes to that game.
Instead, it was a moment before the puck drop that's stuck with him.
"Every single time I see him out there, it blows my mind," said Dave. "I have a few friends in Philadelphia, so we went for the weekend. We actually went down to the glass for warm-ups, which I never usually do. Seeing Tim up-close on the ice, saying hello to the fans – I go to games a lot, see him out there and that's great – and seeing him up-close and personal, interacting with the fans, I think that's the coolest thing I'll experience. Making the NHL is a lifelong dream we both had and it just continues to blow my mind every time I see it. And I don't think it will ever stop."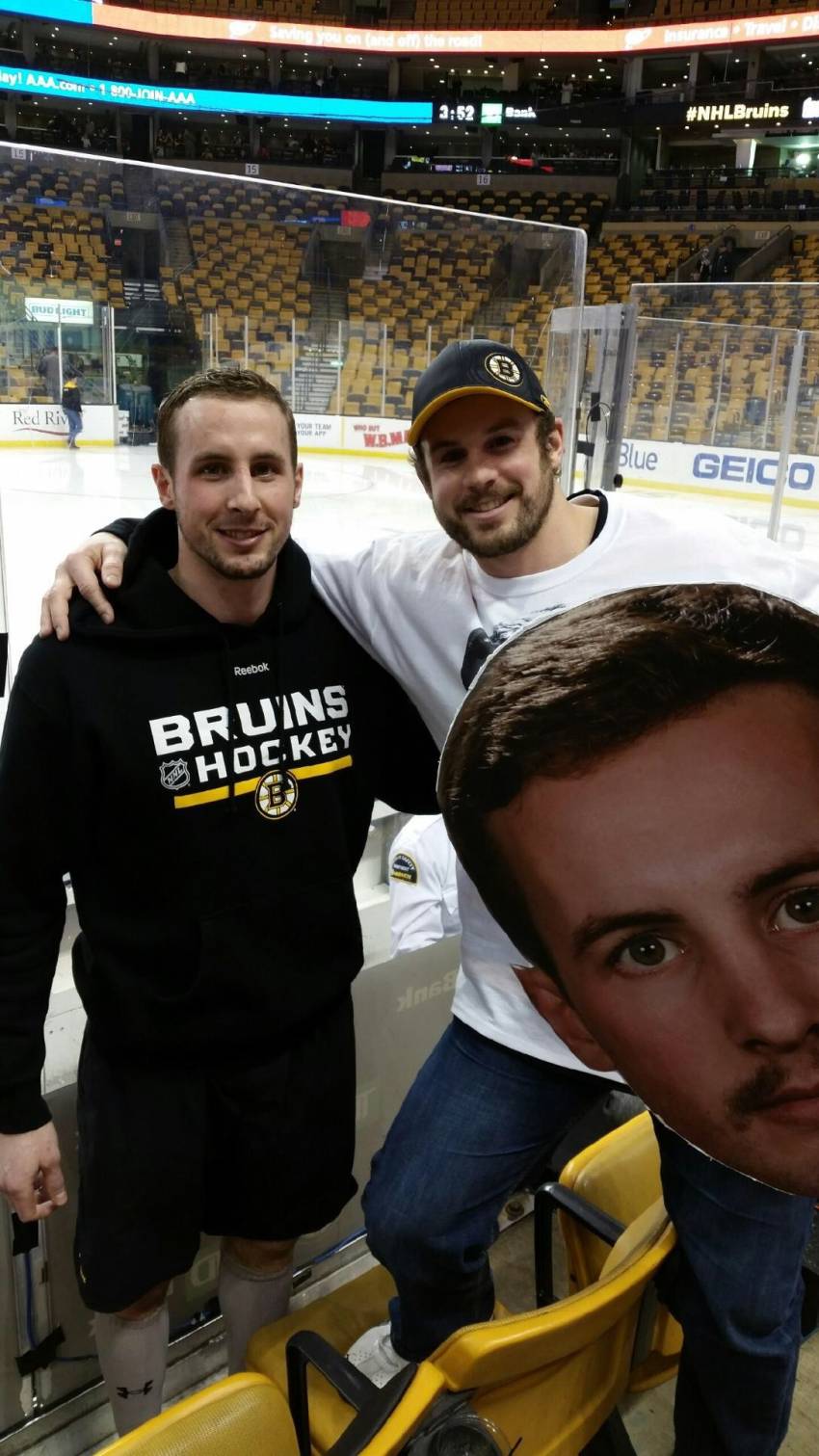 And neither will Dave Schaller's big head.
For more on #Timmyheads, visit www.tim-schaller.com