My Top 5 | Mathew Barzal
Three of them are Ted Lindsay Award recipients, three are still active NHL players. Find out who cracks Mathew Barzal's Top 5 hockey idols growing up!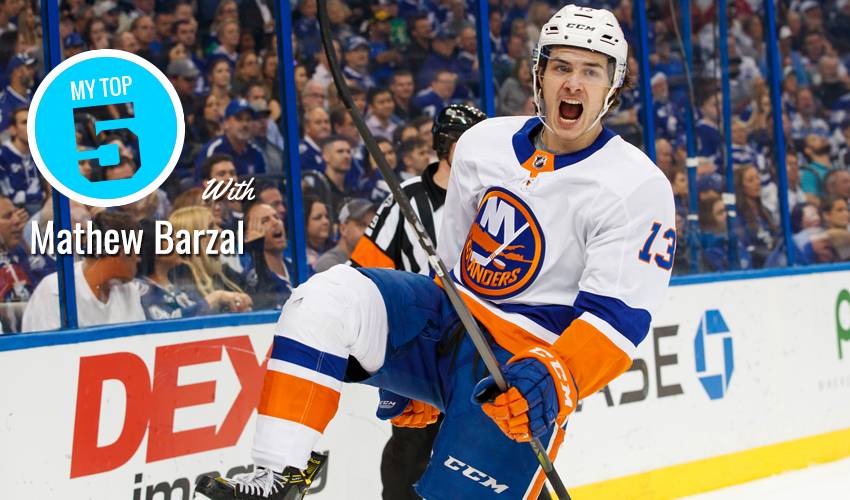 He's been one of the NHL's top rookies in 2017-18, piling up points, turning heads and helping the New York Islanders get off to a strong start on the campaign.
Barzal, a 20-year-old British Columbia native, who's averaging a point per game this season, offered up the Top 5 players he idolized growing up, a group that happens to include three Ted Lindsay Award recipients. Hint: Three of the five players have won the Stanley Cup.
Barzal's Top hockey idols
---
1. Sidney Crosby
"A big guy growing up for me was Sidney Crosby. I loved his down-low play and his determination. He's just a warrior."
2. Patrick Kane
"I love how he creates space and how skilled he is. His vision on the ice – I always watched him to try and learn about how effective he is when he's out there."
3. Claude Giroux
"I loved watching him. He's a right-handed centreman, smaller guy and a shifty player. I kind of play the same spot on the power-play. It's easy to watch a guy that's the same hand as you. He's one of the best right-handed centreman in the game."
4. Pavel Datsyuk
"He's kind of why I wore No. 13 when I was playing with the Seattle Thunderbirds (Western Hockey League). I was originally going to wear No. 9 in Seattle, but it was already taken, so I went with No. 13 because of Datsyuk and I also think it's a cool number. I loved him, just his skill and how good he was defensively. Everything he did was so strong and so skilled."
5. Jarome Iginla
"I was a big Jarome Iginla fan when I was growing up, very early on in my life. I watched him a lot when he was in Calgary. He was a great goal scorer. I wasn't ever trying to emulate his game. I just really liked him as a person and a player. He was a great captain, too."