Record 6 NHL Teams Face-Off in Europe to Open '10/11 Season
2010 Compuware NHL Premiere Features Carolina Hurricanes Vs. Minnesota Wild In Helsinki, Columbus Blue Jackets Vs. San Jose Sharks In Stockholm And Boston Bruins Vs. Phoenix Coyotes In Prague.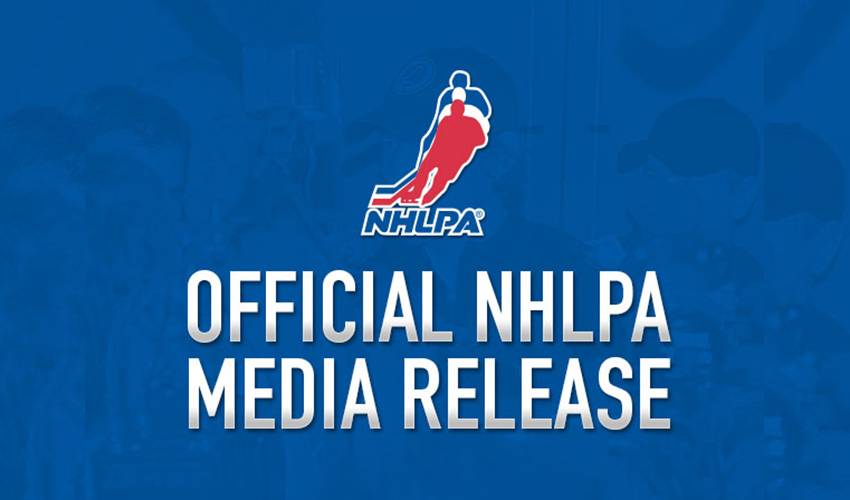 RECORD SIX NHL TEAMS FACE OFF IN EUROPE TO OPEN THE 2010-11 REGULAR SEASON OCT. 7-10
New York/Toronto (February 9, 2010) – An unprecedented six NHL® teams – the Boston Bruins, Carolina Hurricanes, Columbus Blue Jackets, Minnesota Wild, Phoenix Coyotes and San Jose Sharks – will open the 2010-11 NHL regular season by playing six games in Europe as part of 2010 Compuware NHL Premiere™ and NHL Face-Off™, the National Hockey League (NHL) and the National Hockey League Players' Association (NHLPA) announced today. It will be the fourth straight year the NHL will begin the regular-season with games contested overseas.

The Hurricanes and Wild will play two regular-season games against each other at Hartwall Areena in Helsinki, Finland, on Thursday, Oct. 7 and Friday, Oct. 8. The Blue Jackets and Sharks will square off for two games at the Ericsson Globe Arena in Stockholm, Sweden, on Friday, Oct. 8 and Saturday, Oct. 9. Meanwhile, the Bruins and Coyotes will play each other at O2 Arena in Prague, Czech Republic, on Saturday, Oct. 9 and Sunday, Oct. 10.

"The 2010 Compuware NHL Premiere Games, featuring six participating clubs this year, represents our continued commitment to growing hockey outside of North America, further displaying the talent of the NHL players internationally," said Mike Ouellet, NHLPA Chief of Business Affairs. "Fans in Sweden, Finland and the Czech Republic will have the opportunity to watch some of their own home-grown players competing in these regular season NHL games, which will certainly be a great experience for everyone involved."

"The Premiere Games are a highly anticipated part of our season launch, and we are extremely pleased that six teams – more than ever – will open their season in Europe," said Gary Bettman, NHL Commissioner. "With these games, nearly half of our Clubs will have participated in Premiere – a testament to how excited our teams are to be playing before our outstanding fans in Europe."

After NHL fans in Finland enthusiastically received the first-ever NHL regular-season games played in that country earlier this season, they will be treated to the return of some of the top Finnish players in the NHL in 2010. The Hurricanes roster is currently comprised of two members of the Finnish Olympic roster, Tuomo Ruutu and Joni Pitkanen, as well as 2009 NHL Stanley Cup® Playoff standout Jussi Jokinen. The Wild counter with three Finnish Olympians of their own: captain Mikko Koivu, All-Star goalie Niklas Backstrom and right wing Antti Miettinen. Both franchises will be making their debut outside of North America.

The Blue Jackets similarly will be making their first European appearance in franchise history when they play in Stockholm. Columbus has two Swedish Olympians, Fredrik Modin and Sammy Pahlsson, and two other Swedish players in defenseman Anton Stralman and left wing Kristian Huselius. Meanwhile the Sharks return to overseas play after a two-game regular season series against the Calgary Flames in Tokyo in Oct. 1998. The Sharks feature defenseman and Swedish Olympian Douglas Murray, who is originally from the Stockholm district of Bromma, and the recently acquired Niclas Wallin.

The Bruins return to Europe for the first time in 50 years. After the 1958-59 season, the Bruins and New York Rangers embarked on a 10-city, 23-game European tour that included games in London, Geneva, Paris, Antwerp, Zurich, Berlin and Vienna, among others. The Bruins roster includes Czech players David Krejci, who will represent the Czech Republic in the Olympics, and Vladimir Sobotka. Also, team captain Zdeno Chara hails from Slovakia. The Coyotes franchise, then the Winnipeg Jets, traveled to Finland for a preseason tournament against Finnish club teams in September 1994. The Coyotes' current roster boasts Czech Olympian Zbynek Michalek and countrymen Petr Prucha, Martin Hanzal, Robert Lang and Radim Vrbata.

The Detroit Red Wings, St. Louis Blues, Chicago Blackhawks and Florida Panthers opened the 2009-2010 NHL regular season in Europe when the Blackhawks and Panthers played home-and-home games in Helsinki and the Red Wings and Blues squared off in a home-and-home series in Stockholm. In Helsinki, sales on Friday and Saturday broke the Hartwall Areena record for highest merchandise sales ever for a hockey game at that venue. The previous record was held by the 2003 World Ice Hockey Championships. Overall merchandise sales for the four regular season games in Europe in 2009 increased 52% from the comparable numbers in 2008. Per capita spending rose 73%.

Finland, Sweden and the Czech Republic routinely rank among the top consumers of NHL content outside of North America. Through the first three months of this season, Finland ranked second behind Slovakia among non-North American countries in terms of percentage of the Internet population who access NHL.com. Sweden ranked third and the Czech Republic fourth. Finland (42%), Slovakia (40%), Sweden (34%) and Czech Republic (31%) also rank among the highest percentage of visitors per country who consume video on NHL.com.

The NHL opened the 2008-09 regular season in Europe in front of capacity crowds when the New York Rangers and Tampa Bay Lightning played two games in Prague and the Pittsburgh Penguins and Ottawa Senators squared off in a two-game set in Stockholm. The Anaheim Ducks and Los Angeles Kings opened the 2007-08 NHL regular season in front of two sellout crowds at O2 Arena in London. A complete overseas history of the NHL is available on media.NHL.com.

More information on2010 Compuware NHL Premiere will be released at a later date, including ticket information, broadcast information, training camp schedules and preseason schedules.