Washington Works For Walker
Gritty winger ready to help the Capitals make a Stanley Cup push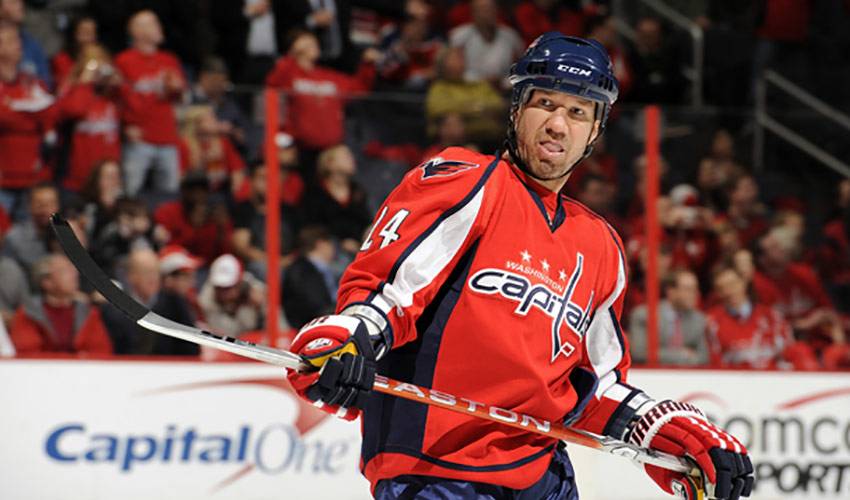 Scott Walker wasn't looking to do anything else but fit in when it came to his trade to Washington. But the respected veteran's debut in Capitals' colours had him playing a lead role.
When Walker, who has skated in over 820 NHL regular season games, received the news he had been dealt to the Capitals from the Carolina Hurricanes on Trade Deadline Day, he wasn't exactly bitter at the move.
"I'm thrilled to be part of this team," said the 36-year-old, who was selected 124th overall in 1993 by the Vancouver Canucks. "I'm more than happy to fit in whatever way they want me to. I'm not going to try and do anything differently than what I've done in the past. My expectation is to work hard in every situation and contribute to the team's success in any way I can."
If by that he meant scoring two goals, including the game-winning tally, and being a physical force throughout a 5-4 win over the Tampa Bay Lightning on March 4, Walker definitely backed up his words.
Walker's seen his fair share of action against one of the league's most talented teams over the past four seasons, a strong lineup from its first line to its fourth, spearheaded by two-time Lester B. Pearson Award winner Alexander Ovechkin, a solid defensive corps and steady goaltending.
So, what doesn't impress Walker when it comes to his new team?
Nothing, actually.
"To be honest, I'm really jacked," Walker told NHLPA.com moments after the trade. "What impresses most about this team? I suppose the question should be, 'What doesn't impress you about this team?' I've been in the same division as them and you marvel at how deep they are and how much firepower they have."
The veteran right winger has already shown his trademark grit and lead-by-example approach, an ideal presence for a club that has their sights firmly set on bringing the city of Washington its first Stanley Cup championship.
The prospect of a Cup win is enough to make Walker feel like a rookie all over again.
Walker, who enjoyed two successful campaigns with the Owen Sound Platers of the Ontario Hockey League, made his NHL debut with the Canucks in 1994, splitting the 1994–95 season with Syracuse before becoming a full-time NHL player in 1995–96.
He played three full seasons with the Canucks before being left unprotected in the 1998 NHL Expansion Draft where he was selected by the Nashville Predators.
Walker played seven seasons with Predators before being traded to the Carolina Hurricanes in July of 2006. When Greg Johnson was sidelined with injuries, Walker served as the Predators' interim captain from January 12 - January 25, 2003.
"There has been lots of good advice along the way," said Walker, who became the highest-scoring player in Nashville history during the 2003–04 NHL season. "I can't quite remember what the circumstances were, but George McPhee, who played in Guelph during my OHL days and was assistant GM when I was in Vancouver, told me, 'Scott, one day you're going to score 20 goals in this league.' For a guy who hadn't scored anywhere close to that in the NHL, it really stuck with me."
McPhee's prediction proved to be bang-on as Walker netted 25 goals in his third season with Nashville, one in which the 5'10", 195-pounder had 54 points in 74 games.
The duo has been reunited in Washington, as Walker, who has two career hat tricks at the NHL level, and the Capitals seek to take the Eastern Conference crown before their road to the Cup begins.
"I would never have believed it," said Walker, of his lengthy NHL career. "But it's worked out well. I've told my kids that there are plenty of better players that haven't even played a game in the NHL and I've been fortunate to get to this number of games. I'm sure once my playing days are over I'll appreciate it even more."
For now, Walker will appreciate his time in Washington.
"I think they know what they are getting in me," said the native of Cambridge, Ontario. "Depth is a very important thing when it comes to being successful and whatever I need to do, I will. I'm just really excited."
And after that type of debut, why wouldn't he be?