Rupp Loves to Give Back
Penguins forward following NHLPA lead in traveling to Haiti to support earthquake-ravaged island nation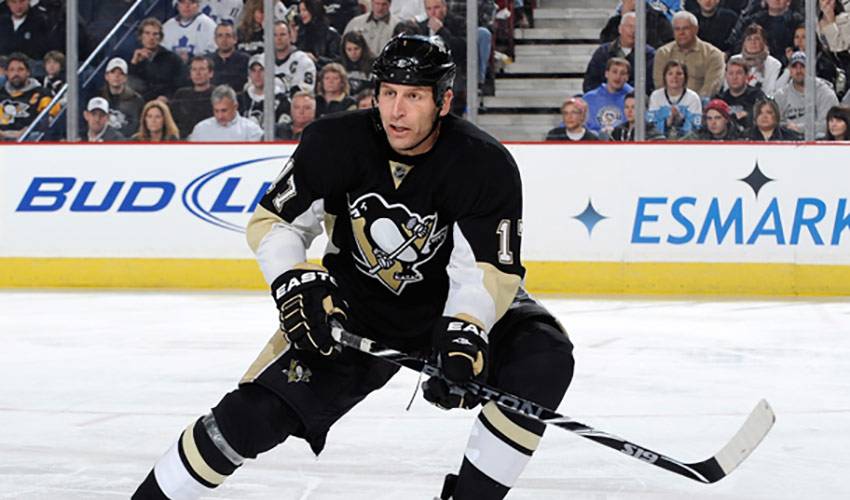 Mike Rupp isn't the type of person or player to do things half-hearted.
So when the opportunity to visit earthquake-ravaged Haiti came about, he wasted no time in taking up the offer.
Over his 400-plus games at the NHL level, Rupp, who will enter his second season with the Pittsburgh Penguins in 2010-11, has earned a reputation as a fierce competitor and loyal teammate.
Off the ice, the husband and father is the epitome of unselfish, someone who wants to make a difference in the lives of others.
So when he was recently asked by the Penguins' chaplain to accompany him to Haiti on August 20, the Cleveland, Ohio native jumped at the chance.
"My wife and I have always wanted to do something like this," said Rupp, who was originally selected in the first round, 9th overall by the New York Islanders in the 1998 NHL Entry Draft, before returning to the draft where he was selected 76th overall in 2000 by the New Jersey Devils.
"We sponsored nine children through an organization that allows you to write letters and send them things. You get pictures and updates in return. It was something that we got the kids involved in, too. And now, to be able to get an opportunity to actually to do this in person is amazing."
Rupp was impressed with the Hockey for Haiti initiative, a program that teamed the National Hockey League Players' Association (NHLPA), NHL veteran Georges Laraques and World Vision Canada in assisting the people of Haiti after the devastating earthquake that struck the country on January 12.
Hockey for Haiti is working to raise funds to help rebuild the Grace Children's Hospital in Port-au-Prince, Haiti, which was badly damaged in the earthquake. To launch Hockey for Haiti, the NHLPA Goals & Dreams'made an initial $100,000 donation.
On June 8, NHLPA representatives Georges Laraque, Dan Hamhuis, Devin Smith (Chairman, NHLPA Goals & Dreams) & Jonathan Weatherdon (NHLPA Director, Communications) travelled to Haiti with World Vision Canada to lend first-hand assistance to the effort.
To encourage fan participation, in May the NHLPA launched an online auction of 140 Olympic hockey jerseys worn by NHLPA members from 12 countries in the 2010 Olympics, including jerseys from Sidney Crosby, Alex Ovechkin, Jonathan Toews and Nick Lidstrom. The auction, which closed in June, gave its proceeds to Hockey for Haiti.
"It's a wonderful idea," said Rupp, who made his NHL debut in the 2002–03 season with the Devils where he helped them win the Stanley Cup, scoring the Cup-clinching goal, becoming the only player in Cup history to have his first playoff goal be the Stanley Cup-winning tally."Every guy wants to give back. Hockey players have an awareness when it comes to stepping up and taking action. What Georges did was great. But it's just what you'd expect from a player."
Rupp, much like Laraque said prior to his trip to Haiti, isn't quite what sure to expect when he arrives in Haiti.
"I know that to see this with my own eyes will be a very life-changing experience," admitted Rupp, who was traded by the Devils with a second-round draft pick to the Phoenix Coyotes for Jan Hrdina on March 5, 2004. "But you can't really know exactly how you will feel or react until you are there.
"I suppose the best thing I could do when I get there is to watch and react to what is going on. I remember my good friend (former New Jersey teammate) Patrik Elias telling me about some of his trips to places when he became a good-will ambassador for Unicef in 2006. Even the smallest of things, playing soccer with the kids, brought smiles to their faces. The reality is that there will be miserable conditions when we go to Haiti. But from what you have seen and heard, there is also hope and strength."
And while no one will know his career statistics or his Stanley Cup heroics, Rupp, who was dealt by the Coyotes along with Jason Chimera and Cale Hulse to the Columbus Blue Jackets for Geoff Sanderson and Tim Jackman on October 8, 2005, won't mind at all.
But that doesn't mean hockey won't have a place in his visit.
"We're bringing some street hockey gear, so you never know," said the forward, who returned to New Jersey for three seasons starting in 2006. "Maybe we'll have a little game with the kids and have some fun."
A game and an overall experience one of hockey's most stand-up citizens will remember for a lifetime.