Runnin' The Show
Tomas Kaberle continues to quarterback the blueline for the Maple Leafs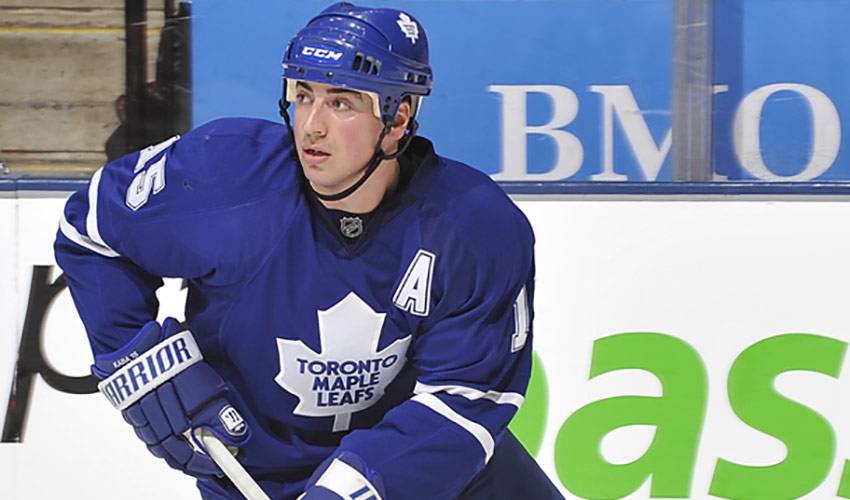 With 800-plus games to his name at the NHL level, armed with a reputation as one of the league's best blueliners, it's no wonder Tomas Kaberle is a wanted man.
Never one to seek the spotlight, the soft-spoken Kaberle has been a big-time contributor on the Toronto Maple Leafs blueline since 1998-99, his rookie season with the Original Six squad.
Not surprisingly, the agile defenceman has garnered a great deal of attention from several other NHL clubs over the past year and a half, teams eager to land his services.
Whether he stays in Toronto or finds himself wearing another NHL sweater is up for debate, but there's no denying his name will continue to be included in the list of top rearguards in the game today.
Just how valuable is the 32-year-old?
During a losing streak at the start of 2009–10, Kaberle, who scored one goal and contributed four assists, helped lead the Leafs to their first victory of the season, a 6–3 triumph over the Anaheim Ducks.
He wasn't done there.
The Czech Republic native began the season on an impressive streak, recording 22 points in the first 20 games, leading all NHL defencemen in scoring. On December 1, 2009, Kaberle passed former Maple Leaf great Tim Horton for second on the franchise all-time scoring list amongst defencemen with his 459th NHL point.
"When your name is connected to a player like Tim Horton, it means a lot," said Kaberle, who was selected 204th overall in the eighth round of the 1996 NHL Entry Draft by Toronto. "It was a special moment, for sure."
But it's far from the only one for Kaberle.
During the 2008 NHL All Star Game Skills Competition, Kaberle became just the fourth player, after Ray Bourque, Mark Messier, and Jeremy Roenick, to hit all four targets in four shots in the accuracy challenge.
It isn't just the NHL where Kaberle has made his mark. He's also made an impact on the international scene.
"When you play for your country it is a great honour and privilege," said Kaberle, whose father played on the Czechoslovakian national team. "That's what you feel when you have the chance to put on the Czech Republic sweater."
Kaberle played a lead role in helping the Czech junior team reach the medal round at the 1998 World Junior Championships in Zurich, Switzerland, where he recorded one goal and two assists in the tournament.
He and his older brother, Frantisek, were members of the Czech national ice hockey team at the 2005 World Ice Hockey Championships in Vienna, where they won gold. While Frantisek won the World Championships for the fifth time, it was the first victory for Tomas. In December of 2005, they were both named for the 2006 Winter Olympics in Turin, Italy, where they won bronze medals with the team. The next year, Kaberle accepted his nomination for 2006 World Championships in Riga where the Czechs won silver. Tomas also played in the 2010 Olympics with the Czech Republic
And while he showed poise on the ice from an early age, Kaberle wasn't always comfortable away from the rink.
"When I came to North America, I didn't speak any English," recalled Kaberle, who made his pro debut on October 10, 1998, against the Detroit Red Wings. "That's what scared me the most. But the guys helped me from the first day. They knew it was tough for me and they made me feel relaxed."
Thirteen days after suiting up for his first NHL game, Kaberle netted his first goal, against the Red Wings, making for one of the most memorable moments in his career.
Soon enough, Kaberle built up a reputation as one of hockey's most exciting young rearguards, a player that could get the puck out of his own end in a flash, as well as keeping it in the opposition's own end.
The key to his early success was rather simple…don't try and do too much, too soon.
"You try to do whatever you can to help your team win, but that can work against you," said Kaberle, who lists former defenceman Ray Bourque as his favourite sports personality. "I tried to keep things simple and that I think that helped me."
So, too, has Kaberle's understanding of just how important every game is.
"Things are so close in this league and there are any number of teams that can win it all," he said. "You need luck, but you also need to win every battle on the ice. You can't afford to make mistakes when so much is on the line."
Errors are indeed a rarity for one of hockey's smoothest offensive defencemen, a player who continues to be at the top of his game and at the top of many teams' wish lists.