Inspired Play
Komisarek finds inspiration in his late mother, the community and himself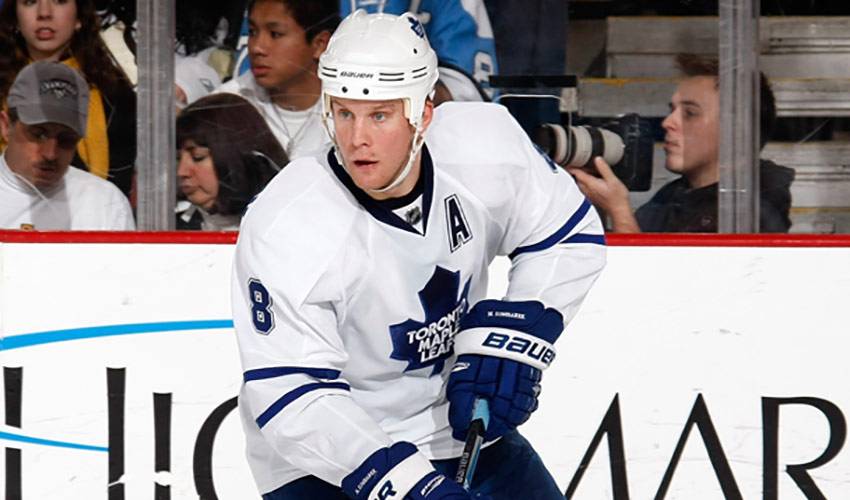 Chris Lomon - NHLPA.com
Inspiration, be it on or off the ice, is never hard to come by for Mike Komisarek.
His passion for the game of hockey is undeniable. So, too, is his dedication to making a difference in the community. It's an unyielding commitment Komisarek, the sturdy, hard-hitting Toronto Maple Leafs defenceman, learned at home.
As a youngster, Komisarek, who finds himself just five games away from 400 at the NHL level, would wake his mother early in the morning, armed with a cup of coffee and pillow, in the minutes before she would drive him to practice.
"She did everything for me," said Komisarek. "I was very lucky in every way."
Komisarek's mother died in 2005, slightly more than 10 months after she learned she had pancreatic cancer. She was 51.
"Not a day goes by that I don't think about her," said Komisarek, who played two seasons at the University of Michigan, recording 46 points and 145 penalty minutes in 80 games, while helping the Wolverines to a 55-24-10 mark, a CCHA title and two trips to the NCAA Frozen Four. "I know that she's smiling and looking after me. It's never an easy thing, but I was lucky enough to have in her in my life as long as I did. Some people don't even have that.
"It was true love and nurturing that my mom gave to me and my sister. She sacrificed everything so that we could have a good life."
It's something Komisarek, who selected seventh overall in the 2001 NHL Entry Draft by the Montreal Canadiens and played his first NHL game in the 2002–03 season with the Habs, has never forgotten. Not even in the face of adversity.
In July of 2009, Komisarek signed a five-year contract with the Toronto Maple Leafs. On January 2, the rugged blueliner injured his shoulder in a game against the Calgary Flames, and on February 3, it was revealed he would require season-ending surgery. It also meant he would miss the 2010 Winter Olympics.
So, in a season where little went right for Komisarek and the Maple Leafs, it would be understandable if he was bitter or overly eager to put the misfortune behind him.
But that's not the way it is.
"We had a tough start to the year and we didn't end up where we wanted to be," reflected Komisarek, who appeared in just 34 games with the Leafs before his injury. "But you can't dwell on that. We know we will be a better team this year."
Not surprisingly, Komisarek is looking forward to having his best year at the NHL level.
"When the game you love is taken away from you, it's hard," admitted Komisarek. "But I've been working my butt off to be ready for this year. For me, a big part of the process was to stay active mentally. Sometimes you try too hard to remedy things and you end up gripping your stick too hard and it doesn't go the way you hoped it would. It doesn't hurt to take a step back and realize you can do things to make it better."
It's not only on the ice where Komisarek is looking to make his mark.
This off-season, the 28-year-old is busier than ever, taking part in several charitable endeavors in Toronto.
"For me, this summer is all about establishing roots in the community," said Komisarek, who has appeared in 29 NHL playoff games. "From the first day I came to Toronto, you got a very good sense of how important the fans and the community are to the team."
Maintaining a strong tie to the city is something Komisarek takes great pride in.
"There is a responsibility of giving back," he offered. "I think the team does a good job of showing that. Athletes are often put on a pedestal and people really look up to them. I think there's an obligation to give back, to show you care, to show how important that side of the game is to you. I know there will come a time when people won't be asking for an autograph. Why wouldn't I want to have that connection with our fans?"
When the new season gets underway, there's no doubt Komisarek will be more prepared than he's ever been, as a player and as a representative within the community.
"I think there is a lot to look forward to this year," he said. "Hopefully, we can make this year a memorable one. I just want to do whatever I can to make a difference on and off the ice."
His mother would certainly be proud to know it.