Not Just a Flash in the Pan
Caps forward Tomas Fleischmann is off to another strong start in 2010-11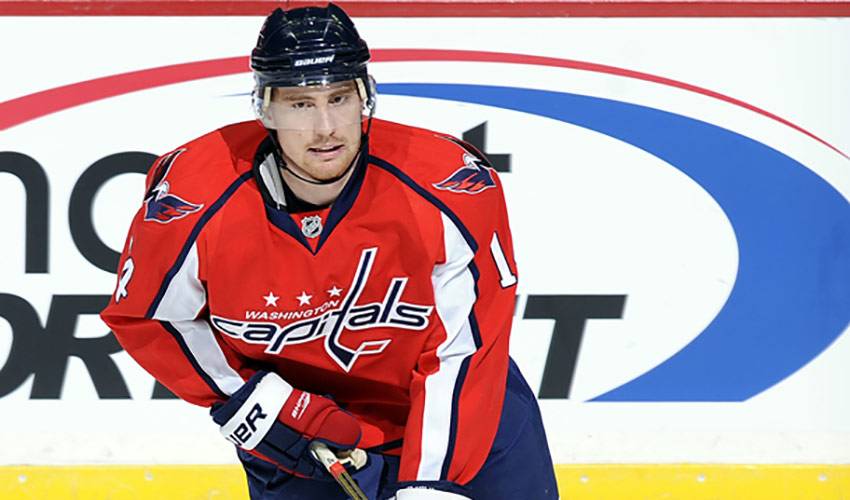 Last season, Tomas Fleischmann's year got off to a tough start, an injury putting him on the shelf for nearly a dozen games. But it did little to deter the soft-spoken forward, who went on to post his most prosperous campaign to date in his NHL career.
Coming off a 19-goal campaign in 2008-09, Fleischmann, the 63rd overall selection of the Detroit Red Wings in the 2002 NHL Entry Draft, had ample reason to believe last season could be his most memorable from a personal standpoint.
But missing the first 11 games of the season recovering from deep vein thrombosis in his leg put that in jeopardy, leaving the Washington Capitals' left-winger plenty of work to do upon his return.
"It was tough not being able to help the team, but I didn't want to get too down on myself," said the Czech Republic native, who returned to the lineup on October 29, 2009, against Atlanta. "I felt that I could have a good year and even though I didn't have the chance to start right away, I just wanted to come back as strong as I could.
And that he did.
Fleischmann became a solid contributor to the Capitals offensive attack, notching 23 goals over the course of the regular season. Many of those came at opportune times for the club, as Tomas scored 10 of his 23 goals in the first period and scored eight goals in the 10 games that three-time Ted Lindsay Award winner Alex Ovechkin was missing from the lineup.
The 26-year-old set career highs in goals (23), assists (28), points (51) and plus/minus (+9) in 2009-10. He finished sixth on the team in goals and seventh in points and ranked sixth in the NHL with a 19.0 shooting percentage.
"I think I'm like all players who want to get better each year and contribute more," said Fleischmann, who was shifted to centre on January 5, 2010, netting a goal and adding two assists in Washington's 4-2 win over Eastern Conference rival Montreal. "Expectations, not only for yourself, but for the team, always get higher. It's not really pressure, it's just the way it is."
Off to a strong start in 2010-11, Fleischmann is already on pace to best last year's banner season. But the man with nearly 275 games of NHL experience isn't the type to dwell on individual success.
Rather, Fleischmann is focused on playing his part in bringing Washington their first Stanley Cup championship.
"It's always great when you score or do something positive, but everyone here wants to win the Cup," admitted Fleischmann. "Everyone in the room is working hard to do that. We know we have a good team and we know we can win. We just have to go out there and do it."
Fleischmann has proven to be a good fit for the Caps, a versatile player who can play on the top line and top power-play unit, while providing goals at key points in a game.
It's something he did with great success during his time with the Moose Jaw Warriors of the Western Hockey League from 2002-04.
In 2002-03, Fleischmann skated in 65 games for Moose Jaw and netted 71 points, highlighted by 21 tallies. He was second on the team in points and assists, and tied for third with nine power-play goals. In 12 playoff games, he contributed four goals and a team-high 11 assists.
After 60 games with Moose Jaw in 2003-04, when he had career-best numbers in goals (33) and points (75), finishing second on the team in goals, points and assists (42), Fleischmann, who skated in the American Hockey League with Portland in 2004-05 and Hershey in 2005-06, got his first taste of life in the NHL in late 2005.
"You always wonder what it would be like to play in the NHL against the top players in the world," said Fleischmann. "It's a great feeling. I'm happy with the way things have gone. Really, I just hope to do all I can to help the team win."
If the beginning of this season is any indication of what's in store for Fleischmann and the Capitals, a group looking to erase memories of last year's Eastern Conference quarter-final loss to Montreal, he has to be thrilled.
"We have a good team and good guys," he offered. "We are all on the same page."
All of which a healthy Tomas Fleischmann hopes leads to a storybook ending in D.C.