Bruins Elder Statesman
Mark Recchi is the oldest active NHL player, but still bringing passion & dedication to his game in Boston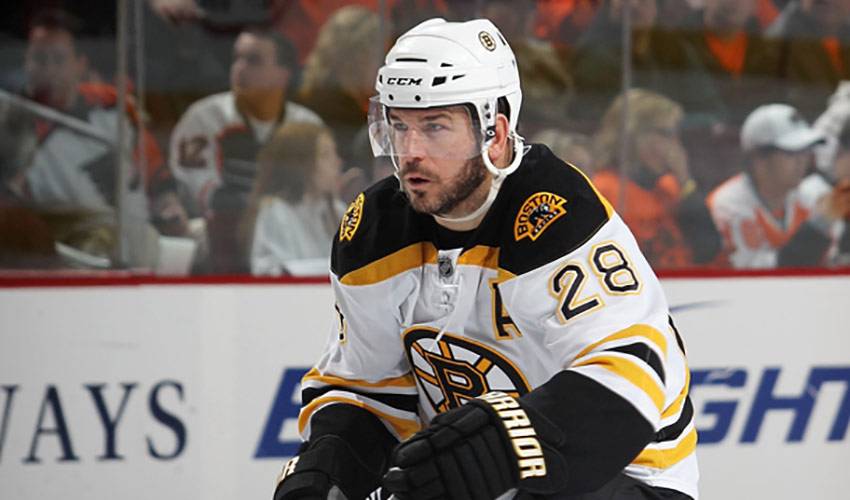 He might not know exactly how many points he has or where he ranks on the all-time scoring list, but when it comes to the numbers game, Mark Recchi is right on the mark.
At 42, he is the oldest active player in the NHL, a veteran who continues to excel players half his age. He ranks ninth on the all-time games played list with 1,606. He is 20th all-time with 570 goals, 14th all-time with 936 assists and 13th all-time with 1,506 points.
But when it comes to knowing where he stands against some of the greatest players to have ever skated in the NHL, Recchi admits he's not quite up to speed on his statistics.
"Other people know my stats better than I do," said the Kamloops, British Columbia native, who currently patrols the left wing for the Boston Bruins. "I didn't even know I scored my 570th goal. I knew I was around there, but actually the coaching staff after said that was 570. I wasn't sure. But the guys keep telling me, 'Oh, you're six games away.' When I was almost at 1,500 points, they said, 'You're getting close.' Then I was getting close to 1,600 games, and they told me I was getting close."
Perhaps Recchi's greatest thrill when it comes to his ever increasing list of milestones is seeing how others react.
"Teammates have been awesome with that and really made it enjoyable.
I think they've been -- really respect the fact that I've played a long time and really take pride in it and enjoy it with me, and that's the fun thing for me is seeing how excited they are for me."
His NHL career has been impressive almost from the moment he joined the big-league ranks in 1988-89.
Recchi, who played his junior hockey for the Kamloops Blazers of the Western Hockey League, had his number 8 retired by the team shortly after he left for the NHL. He was drafted by the Pittsburgh Penguins, first playing in the NHL 1988, and was a key contributor in their Stanley Cup championship in 1991.
Now, in his 22nd season, Recchi, a two-time Cup winner (also with Carolina in 2005), might have slowed down a step, but his leadership, work ethic and ability to come up big in the games that matter most, make him a coveted member of a Boston team eager to raise another Stanley Cup banner.
So, just how does it feel to be known as the oldest player in the league?
"I don't know if it's good or bad, but it's all how you feel," said the seven-time All-Star selection. "I still feel good, and every year you go into it when you're at the end of the season, see if I can do the training, and I've been feeling good, and health-wise, knock on wood, it's been really good. Then you just make that decision from there.
As long as I'm able to train and I think I can get in good enough shape, but there's going to be a time and point where it's going to be enough is enough."
As to whether or not he'll be back in 2011-12, Recchi isn't in a rush to make any decisions.
"At the end of the season I'll see," said Recchi, who was a finalist for the NHLPA's Ted Lindsay Award in 2000 (then known as the Lester B. Pearson Award). "I'll see how I feel and see how the rest of the year goes and how the playoffs go and see if I can make that commitment again in the summer to train and do what I need to do to get ready for a season.
"It obviously gets harder every year, and it's a pretty hard program I do and I've got to be ready to commit to it."
For now, Recchi's committed to seeing the Bruins take a serious Cup run, something he knows won't be easy, but a challenge he's eager to undertake.
Winning the Northeast Division would be a good launching pad, according to Recchi.
"We feel we're good enough we're going to get in regardless," he offered. "We just believe in ourselves, and we believe that we can get in. But winning the division obviously gives you an opportunity to get some home ice and gives you that little flavor of home ice where you can try and take advantage of that. Not that it's a huge thing in playoffs anymore like it used to be, but I still think it's somewhat important."
Having one of hockey's enduring stars still making a significant impact, Mark Recchi's teammates will tell you, is just as important.