McCormick Making Mark in Buffalo
Blue-collar player embraces blue-collar town, ready for 2nd-half push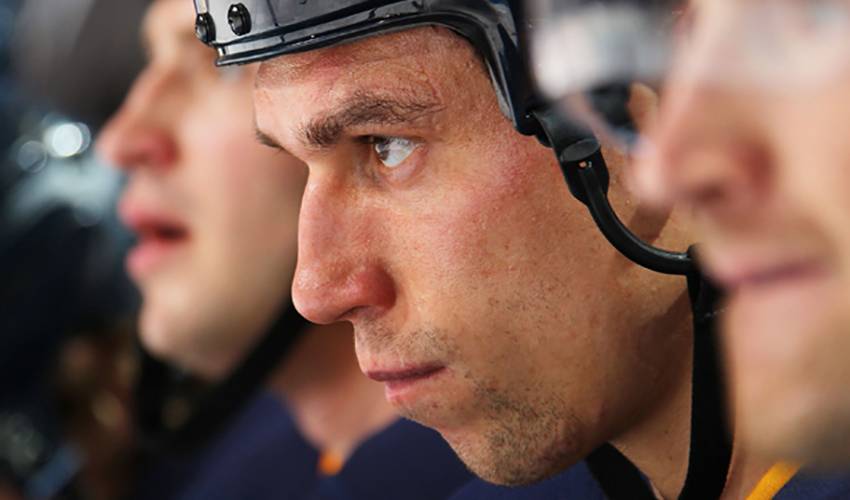 When it comes to inspiration, Cody McCormick admits he's doesn't have to look outside of his own team, even if one of his teammates can, on occasion, be bad for everyone's confidence.
He's the type of player any team would gladly take, a forward who can do a little bit of everything, including his knack for creating some timely offensive chances.
In his first full season with the Buffalo Sabres, McCormick, who came to Eastern Conference team after signing a one-year contract in August of 2009, has been a welcome contributor, including his brief, but solid showing in three post-season games in 2009-10.
This season, the 144th overall selection of the Colorado Avalanche in the 2001 NHL Entry Draft, is on top of his game, even if his own starting goaltender can leave him scratching his head during practices.
"He's unbelievable," said McCormick, of Ryan Miller, Buffalo's No. 1 backstopper and widely regarded as one of the best goaltenders in the game. "I'm certainly glad I don't have to go up against him in a game. It's tough enough to get one by him in practice."
So what happens when McCormick does get the better of Miller in the mornings?
"Oh, I definitely let him know about it," joked McCormick. "I'll tell him exactly what happened."
McCormick played three seasons of junior hockey with the Belleville Bulls of the Ontario Hockey League. In his last season, 2002–03, as captain, he had a breakout year offensively, recording 36 goals and 69 points in 61 games. He was selected to the OHL First All-Star Team and named the Best Checker in the OHL.
He turned professional in 2003–04, made his NHL debut with the Avalanche and spilt the year between Colorado and their American Hockey League affiliate, the Hershey Bears.
McCormick spent the next four campaigns between the Avalanche and the AHL before he found a full time role with Colorado in 2008–09 playing in an NHL-high 55 games and recording 12 points.
After signing with the Sabres, he was assigned to Buffalo's AHL affiliate, the Portland Pirates for the 2009–10 season, where he notched 17 goals and 29 points in 66 games.
During the playoffs with the Pirates, McCormick was recalled to Buffalo as an injury replacement. On April 21, 2010, he made his debut with the Sabres in Game 4 of the first round of the Eastern Conference playoffs against the Boston Bruins, posting an assist on a goal by Tim Kennedy.
"I really enjoy it here," said McCormick. "It's a blue-collar city and I think the fans appreciate a player like me. I didn't want to do anything different than what I've done in the past. I just wanted to play my game and create some offensive opportunities when I could. For me, it's all about bringing energy to help the team."
McCormick doesn't obsess about seeing his name on the scoresheet.
"It's always nice when you score or set up a goal, but if you land a big hit, get a key turnover or block a shot, those things are equally important in a game."
That was something McCormick learned during his experience in Colorado.
"I look at someone like Ian Laperriere, who I played with early in my career," said the 27-year-old centreman/right winger. "He gives everything of himself, someone who is willing to do anything to help the team win. Steve Konowalchuk (a former NHLPA member and now assistant coach with the Avs) was another player you could really pattern your game after. As a young player, I was lucky enough to be around those guys, soak in how they prepared for games and what they did to be a success."
McCormick has found another teammate, one who has over 1,000 games of NHL experience (a milestone recognized by the NHLPA), to learn from in Buffalo.
"Mike Grier plays his position as good as anybody I've ever seen," praised McCormick. "He knows where he should be, the angles he needs to be most effective and how to position his body in every situation.
McCormick, who stands 6'3" and weighs 215 pounds, is hoping his contributions can help land the Sabres a post-season berth.
Currently on the outside looking in, McCormick knows it won't get any easier as the Eastern Conference playoff race continues to intensify.
"One win can really help everyone rally around what we are looking for," offered McCormick, who scored in Buffalo's recent 4-2 road win over Boston. "We all have to be at the top of our respective games each and every night."
Perhaps getting the better of his own goaltender would be the perfect boost.
"He's amazing," said McCormick. "When the game is on the line, it's a good feeling knowing what he can do. But I don't mind the times when I actually get one behind him. It's not easy and it doesn't happen often, but I'll take it."