Happy, Healthy & Hungry
Jordin Tootoo is making his presence felt in the 2011 playoffs & he loves every minute of it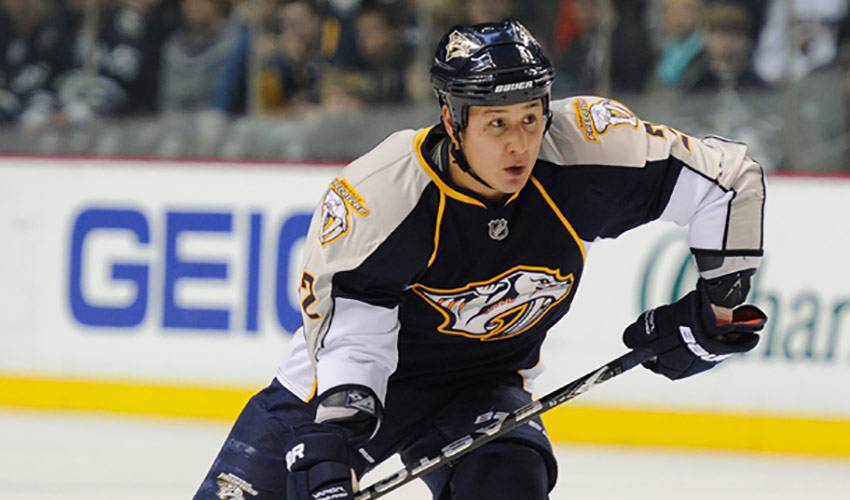 It was a happy Jordin Tootoo on the other end of the line, a player who has every reason, both on and off the ice, to be wearing a smile.
He had all the time in the world to talk, willing to speak about good times and bad. But his preferred topics of conversation were in reminiscing about Nashville's opening-round playoff triumph and the unwavering support of his teammates and the Predators' organization.
It didn't take long for Tootoo to answer when he was asked if this is the happiest he's been, career-wise, in his life.
"Absolutely," said the 28-year-old, who was the 98th overall selection of the Predators in 2001. "I just feel very content with myself and how things are going for me. I also have a lot of gratitude for my teammates and the organization for standing by me and supporting me. Obviously, I've had some ups and downs to contend with in my life, but I've never felt better and more optimistic."
The man who holds the distinction of being the first player of Inuit descent to play in the NHL just happens to be playing the best hockey of his big-league career.
In nine playoff games in 2010-11, Tootoo, who played for the Brandon Wheat Kings in the Western Hockey League (WHL) from 1999 to 2003, has five points.
But it's not just that Tootoo is contributing timely assists, it's what he's doing with his overall game, namely his ability to provide a positive spark at both ends of the ice.
Still, the forward who was nominated as Manitoba's Sportsman of the Year for 2000, was the WHL Player of the Month for December, 2001 and played in the 2001 CHL/NHL Top Prospects Game, admits he's quite proud to offer the Predators some welcome offensive punch.
"In junior, I showed that I could score, so to be able to do that and to know that it is helping the team win, that's a great feeling for me," said Tootoo, who had one 20-goal campaign and two 30-goal seasons with the Wheat Kings, including 74 points in his final year with Brandon in 2002-03. "But a lot of the credit goes to my teammates and linemates. I like the way we are playing and it's nice to see that every single guy is contributing."
One of Tootoo's teammates, Colin Wilson, suggested what makes Nashville a tough team to play against is their workmanlike and unyielding ways.
Tootoo concurs.
"I think what we are all about is being a team that plays a full 60 minutes or more," said the 5'9", 200-pounder. "We find ways to get the win and we won't give up ever. And if we have a bad game, a bad period or a bad shift, we find a way to be resilient."
That was evident in Nashville's opening-round series win over the Anaheim Ducks in six games, the Predators first playoff triumph in franchise history.
The win was an extremely meaningful one, including for Tootoo.
"I've been here for all the times we tried to get that first playoff win and it didn't work out in our favour," said Tootoo, who scored his first playoff goal on April 10, 2008, against the Detroit Red Wings in the second period of Game 1 of the 2008 Western Conference Quarter Finals in a 3-1 loss. "It was great for us and for the fans to finally get our first one. We're lucky to have such great support and it showed that we can play with any team."
It also gave the players an extra boost of confidence as they headed into their Western Conference semifinal against the top seeded Vancouver Canucks.
Tootoo is ready for the challenge.
"You don't have very long to celebrate when you're in the playoffs," said the native of Churchill, Manitoba. "You recognize the things you did well that helped you move on, but you also look at the things you need to improve upon. It was very competitive throughout the whole regular season and it's only going to get more intense. The key is being prepared in every way possible."
As for what his own personal expectations are for the rest of the playoffs, consistency is first and foremost on Tootoo's list.
"If I can do anything, big or small, to help the Nashville Predators win, I'll do it. I'm proud to wear this jersey."
He's also a happy man.
"I am. I feel great about a lot of things."